Alumni Spotlight: Lily Vistica MFT '12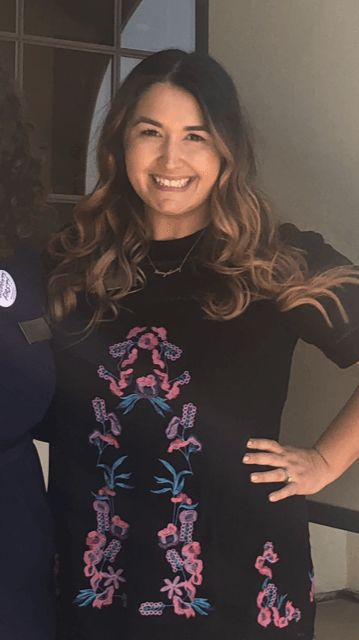 begin quote

The faculty educated us on the needs of underserved communities and encouraged us to find work in community mental health programs post-graduation.
Please tell us about your degree program and why you chose it.
I was first drawn to USD because of its reputation for giving back to the community and commitment to social justice. Learning that the Marital and Family Therapy program had a focus on integrated care and global mental health sealed the deal.
I connected with the program's systemic perspective and being able to view an individual influencing and being influenced by their context. I also could tell how much the current students who participated in my in-person interview really enjoyed the program and were happy with their practicum placements.
What is your fondest memory of being at USD and SOLES?
My fondest memory did not happen on campus, but during my global courses I took during the program. I created very close friendships in the program and I have never laughed so hard and as often than I did when I went to Costa Rica with my Human Diversity course and Hong Kong with my Family Development course.
What is your favorite place on campus and why?
My favorite place on campus is the Reading Room (aka Harry Potter Room), in Mother Rosalie Hill Hall. My fellow classmates and I would meet there before and after class to study together. We kept each other motivated and the comfy chairs and big tables were perfect for long study sessions.
Who was your favorite USD professor or class?
This question is hard to answer, now that I work with my past professors! My favorite class that had the biggest impact on my life was Dr. Lee Williams' Couples and Sex Therapy class. I had no interest in working with couples when I started the program, but when I took his class, my attitude completely changed and I ended up going to a practicum site where I worked primarily with couples. I was lucky enough to then get to do co-therapy with Dr. Lee Williams at my practicum site and I am so grateful to USD for that opportunity.
How have you remained involved with USD since graduation?
Two years after I graduated, I was invited back for an alumni panel for current students and really enjoyed the experience. A few months later, Dr. Todd Edwards offered me the MFT Program Specialist position. It was a great opportunity for me because I had just decided to stay home with my first child. The part-time position allowed me to stay involved in the MFT field while enjoying being a new mom.
If you could offer a current USD student / SOLES student advice, what would it be?
My best advice is to get to know your classmates and the students in the other programs in the department. Being a beginning therapist is not easy and having the support of others going through the same experience will be needed. You will build lifelong friendships in graduate school and they potentially will support you in your personal and professional life for years to come.
Tell us a little about your journey since your graduation.
After graduation I worked for a non-profit, Community Research Foundation, on an Assertive Community Treatment team, working with homeless adults struggling with severe mental illness. I really enjoyed working on a multidisciplinary team that showed unwavering commitment to the clients they served. After I had my first child, I was offered the MFT Program Specialist position at USD. It was a great part-time job because it allowed me to be home while my children were babies and still stay in the field. In October 2017, the CMFT department was awarded a HRSA grant and I was offered the Project Coordinator position. In my current role, I oversee the operations of the project and work closely with students to connect them to financial stipends, professional development and training opportunities. I enjoy when I get to conduct recruitment and outreach for all three programs in the department. I recently visited Hispanic Serving Institutions in New Mexico and Texas to discuss behavioral health workforce needs and the admission process with prospective students.
How has your SOLES education impacted your career and your career goals?
I felt the faculty educated us on the needs of underserved communities and encouraged us to find work in community mental health programs post-graduation. They helped us all realize we had the skills and training to make a real difference in the lives of individuals and families. If Dr. Todd Edwards had not offered me the program specialist position, I would have never uncovered my passion for working in higher education. I feel grateful I get to recruit students to pursue a degree that will prepare them to work in the behavioral health field and meet the needs of underserved communities.