SOLES Alumna Spotlight: Lara Angeles '17 (MEd), Curriculum and Instruction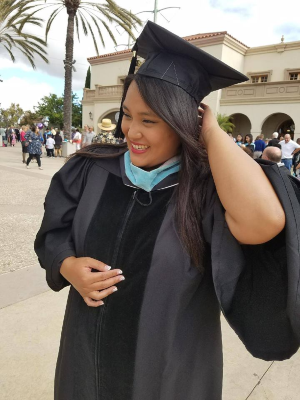 begin quote

Without the education and the experience I had at SOLES, there is no way I would have been able to come this far.
Please tell us about your degree program and why you chose it.
I was in the one-year master's credential cohort from 2016-2017. Prior to that I taught English in Korea for five years. That is why I chose to follow a career path in education. I was drawn to the program at USD because of the option to complete my degree in one year. It was very streamlined and small enough so I could get all the necessary information as well as practical experience in a shorter amount of time.
What is your fondest memory of being here at USD and SOLES?
It was Dr. Bobbi Hansen's curriculum methods class. She is an amazing professor. The class taught me about teaching in a different way. The way she taught us was so engaging. That was the biggest takeaway for me during the program, plus learning from my peers and learning along with them. It was an environment where we were very much hands-on. We were delving into history books, we were doing reader's theater — things that we want our own students to accomplish and which I am actually implementing in my own classroom today.
What is your favorite place on campus and why?
My favorite place on campus is the graduate student lounge in the University Center, which is funny because it's on the complete opposite side of campus from SOLES. It was the first place I found to study that was outside of the classroom, and it was where two of my cohort-mates and I bonded. It wasn't so much the studying I got done there, which was a lot. It was the relationships I was able to have with people I barely knew. We were thrown into a situation where we had to get everything done quickly. The student lounge was a nice, quiet place to get a lot of things done and build relationships.
Who was your favorite USD professor or class?
Dr. Bobbi Hansen, hands down. I had amazing professors with whom I still keep in touch. Dr. Hansen is the one I keep in touch with the most since leaving USD. I consider her my mentor. Now, as a teacher, if I ever have any problems, or want to share an accomplishment in the classroom, she is the first one I email. She has encouraged me. If I ever want to get my doctorate degree, she is behind me every step of the way.
How have you remained involved with USD since graduation?
I stayed on as a SOLES ambassador for a little bit after I graduated. I attended the MCC 1 over the summer for the new cohort and answered questions. I was invited back by Dr. Hansen to speak as a panelist for first grade teachers. I went back in November to speak and answer questions for the current students about graduation, job hunting and my experiences in the classroom. I still keep in touch with a lot of people there.
If you could offer a current USD student / SOLES student advice, what would it be?
Build relationships, whether it's with your cohort-mates or your professors. These people will support you, lift you up. It's amazing the type of relationships you build when you are buried in books, and knee deep in grading papers. They understand your frustrations as well as your accomplishments. One of my cohort-mates is now a colleague at the school where I work. The relationships will propel you forward in your career.
Tell us a little about your journey since your graduation.
I was hired at a brand new school called Scholarship Prep Charter. It's a K through 8 school. I'm at the second campus in Oceanside and currently teaching 6th grade, I have a group of 18 students and my focus is on ELA. We are in our inaugural year, which makes me one of the founding staff. With all of that comes a lot of challenges I had not expected as a first year teacher, but there has been tremendous growth. I never realized how much needed to be done to start a school. I've learned so much, not just as a teacher, but as a leader. We all had to step up. I am still learning and growing. I definitely feel like I'll be a step ahead if and when I choose to move on. I also recently had the incredible opportunity to take all of my students Catalina Island Marine Institute for a 3-day, 2-night science camp at the end of February to supplement their learning of Earth's geological history, human impacts on the environment, and moon phases and their effects on Earth's tides.
How has your SOLES education impacted your career and your career goals?
Without the education and the experience I had at SOLES there is no way I would have been able to come this far. During our professional development days I am praised for my classroom management and the high standards I set for my students. I help them get there. Without having that example set for me at SOLES I probably would not have had the ability to do it for my own students. Also, everything we had to get done in one year at SOLES prepared me for the challenges of opening up a brand new school. The whole piece about caring for the kids, caring for their growth, was a huge takeaway from the SOLES experience.