Alumni Spotlight: Lallia Allali '16 MA, Leadership Studies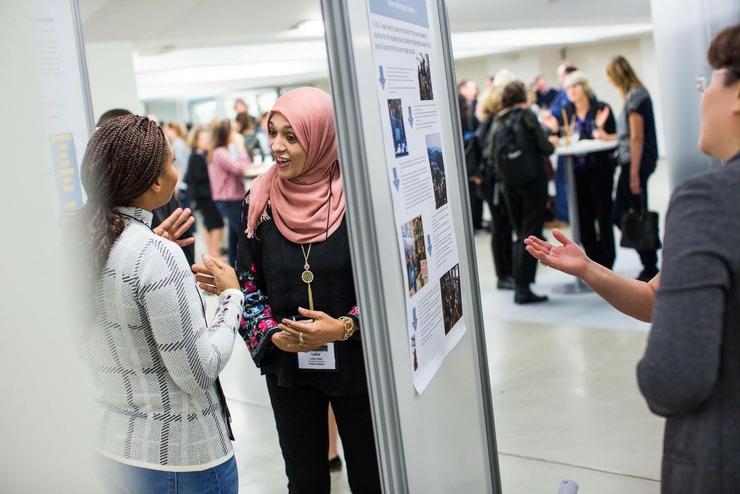 begin quote

Graduate school is great!
Why Leadership?
The after-shock of 9/11 on Muslims continues to this day. Muslims all over America realized that many stereotypes and misconceptions have been brought about our religion and felt the need to combat them using our spiritual teachings of peace, love and humility. The Muslim community has extraordinary goals for battling what became known as Islamophobia, the fear of Islam, but our community needs more influential leaders. I became determined to take on leadership to set an example for my community and encourage several members to study leadership to become the influential leaders our community is lacking. I also chose leadership to aid my community and become the tool to maximize our capabilities and create a positive communal cloud.

Tell us about your journey post graduation. How has your SOLES education impacted your career and/or career goals?
At the beginning of my journey into the program reading papers or discussing ideas appeared to be an easy and stress free task, now I am learning to read analyze and evaluate papers. I am looking at a random idea as a notion that could gradually evolve into a deep concept. At times, I find myself embracing the ability to change, believing that my thoughts and expectations are not always true and allowing new ideas to grow. I am embracing and critiquing my opinions before critiquing others. After graduating I took leadership roles in several Muslim organizations: I am leading the anti- Islamophobia initiative within San Diego Unified School District, I also started "Empowering Muslim Women" classes.

How have you applied leadership practices into your professional life?
Its very challenging to apply the leadership concepts into any professional life but what has helped me a lot is adapting myself to the various situations I face. I work hard to develop new capabilities and strategies to address changes in the environment and realize strategic goals. I also understand that change and learning can be painful for people.
Which class has impacted you the most? Why?
There are many useful things I have gained from all my classes but LEAD 550 Integral Leadership and Practice impressed me the most. At the beginning of the class I was very confused but now I understand that the class was in fact an adaptive leadership practice, where learning, is a collective, collaborative effort of teachers and students that results in a whole greater than the sum of its parts.
What is your favorite place on campus, why?
Bert's Bistro and the Inner Courtyard where I spend more time working on group projects and build great relationships.
If you could offer a current USD student advice, what would it be?
Graduate school is great! You will feel fulfilled and wonderfully encouraged and edified.When else will you ever have the time to study what you want for hours on end, talk to just as interested others about it, and live in an intellectual community of professors and scholars? So enjoy this time!