Alumni Spotlight: Carolina Rostworowski '16 MEd, Language, Literacy & Culture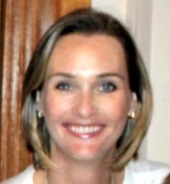 begin quote

USD offers the most solid Master's program in TESOL, the most charming campus of all, and the warmest community of students, professors and staff.
What brought you to USD?
When I decided to pursue a Master's degree in the US, I looked for a school that offered a strong academic foundation at the same time as a welcoming environment where I could develop as a person, as a student, and as a professional. Among the schools that I researched, USD was the one offering the most solid Master's program in TESOL, the most charming campus of all, and the warmest community of students, professors and staff.
Tell us about your journey post graduation.
After graduating from USD in May 16', I went straight into a PhD Program. Parallel to my doctorate studies and my academic research in Education, I am also working in the field of TESOL as an ESL and Linguistics instructor.
How has your SOLES education impacted your career and/or career goals?
Every professor I had at USD was inspiring and challenging at the same time. I sensed that they cared about my studies, and gave me all the support I needed to succeed. At the same time, they provoked me into deeper thinking and prepared me to make the necessary connections between theory and practice. USD also offered me the opportunity to experience the field through hands-on activities, such as classroom observation and work with the local community. All these factors helped build my self-confidence and readiness for the field.
Which class has impacted you the most? Why?
All classes were important and influenced me in meaningful ways. I can say that the biggest breakthrough that I had during my two years at USD was regarding the whole experience of a language learner - including myself. Each and every class helped me look deeper into my own language learning experience, on my journey as an English language learner, and on my identity and those of my students. It was really an authentic invitation to dive into myself and to make sense of the journey lived by language learners.
What is your favorite place on campus?
I love the open patio outside Bert's Bistro. The view of the bay and the ocean breeze makes it a very inspiring place to sit and study, talk to colleagues and professors, enjoy a snack, or simply chill for a while before or after class.
If you could offer a current USD student advice, what would it be?
Enjoy your time here! Connect with people, accept the challenges, embrace the experience, and take advantage of the resources offered on campus! Your time here will fly and I am positive that you are very likely to miss it when you leave.
Would you like to be a future SOLES Alumni Spotlight?