Alumni Spotlight: Shannon Sampson '08 MA, Marriage & Family Counseling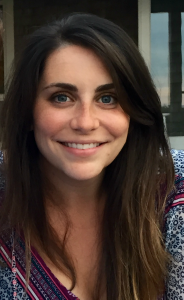 begin quote

Embrace the opportunity to look within and do your own work through this program.
What brought you to the Marriage & Family Therapy program at SOLES?
I applied to 5 MFT/psych masters programs after graduating from college. USD had the only program that required an in-person interview, which I both respected and appreciated. I was able to come to campus, meet professors, learn about and get a feel for the program in-person, ask questions, and of course give them a chance to get to know me as a prospective student. I am also a born and raised San Diegan, but had been living in LA for the prior decade, so this was an excellent opportunity to return to the city I love.

Tell us about your journey post graduation.
My traineeship placement was at UCSD Family Medicine. I graduated in 2008, and stayed at UCSD as a part-time paid intern until 2010. During this time, I also gained hours toward licensure working part-time at UCSD Pediatrics. My now husband was then accepted for fellowship training in North Carolina, so we moved there for one year in 2010. Prior to our move, I had obtained enough hours for NC licensure, so I took the National Exam while still in San Diego, and passed. This made seeking and obtaining my first licensed job significantly easier! Once in NC, I worked at a community mental health agency as a licensed clinician. The population I served included clients with general mental health needs, as well as child sexual and physical abuse cases, and work included significant collaboration with the local child welfare department.
Upon returning to SD in 2011, I was accepted back at UCSD Family Medicine and Pediatrics, again as an intern, while I waited for the BBS to approve my hours and allow me to sit for licensure. At the time, the wait was 9 months from submitting hours. Eventually, I sat for and passed the CA licensing exam. I continued my position at UCSD on a part-time basis, and simultaneously opened my private practice (2012). I taught the Child Abuse Intercession course at SOLES in the spring. I also lectured extensively to residents, medical students, and nursing students on issues related to mental health in primary care.
In 2014, I was offered a position with the Department of Defense as a clinician in the Family Advocacy Program (DV and child abuse cases) on base at MCAS Miramar. I remained at this position, working predominantly with involuntary active duty Marines and their families with a history of DV and child abuse. I then had my first child in 2015 and left the position, while maintaining a part-time private practice. I had my second child in 2016, and continue to maintain my practice part-time, while spending the majority of my time with my children.
How has your SOLES education impacted your career and/or career goals?
I have always felt, and members of my cohort agree, that the USD education we received has given us a leg up in the field. By this, I mean that I have heard from every supervisor I have had, that it is evident that I had solid training that has prepared me well. I was always highly motivated by my professors, who indicated from the get-go that they had high expectations of us as students and clinicians-in- training. Originally, I had planned to extend my training into a PhD, but after my education and experiences through USD and beyond, I decided that I did not need to pursue additional education to feel I had successfully achieved what I had intended, to be a strong clinician serving my community, and to be my own boss!
How have you applied what you have learned into your professional life?
I always rely on my training in clinical theory. I take an eclectic approach to treating my clients, so I pull from a number of theories regularly, but feel confident in the extent and breadth of my knowledge in theoretical concepts.
Which class has impacted you the most? Why?
Dr. Todd Edwards' class, Family Systems. While Theories and Law & Ethics are clearly essential to our professional training, I gained a tremendous amount of personal growth and insights from Todd's class, in which we delved more deeply into our own families, lives and backgrounds. This piece of my education was so powerful for me, as I had really just stepped out on my own for the first time (was only a year out of college) and had never explored some of my own issues and challenges. Like many of my peers, I concurrently attended my own therapy, and this sparked a great deal of introspection and insight into my family of origin, as I progressed toward starting a family of my own.
What is your favorite place on campus? Why?
First and foremost, the Immaculata, as I married my husband there in 2013. We met during the first months of my traineeship at my practicum placement site, and USD has always held a special place in my heart as a result. Secondly, behind the School of Peace Studies are some beautiful views of the ocean with peaceful grounds and areas to walk. Such a wonderful place to clear ones head or practice self-care!
If you could offer a current USD student advice, what would it be?
Embrace the opportunity to look within and do your own work through this program. It will make you a stronger therapist. Also, remain open, whether in contemplating different practicum sites or working with clients different than you. Every experience can be a learning opportunity. I sought opportunities throughout internship and early licensure to work with different populations and gain experience that would make me a more well-rounded clinician. I believe this helped prepare me for private practice. Though I have now developed my niche and area of expertise, I can also say that I have worked with many different people/backgrounds/needs. This increased both my competence and my confidence in myself as a clinician, and remains a strength and asset.
Would you like to be a future SOLES Alumni Spotlight?