Alumni Spotlight: Rose Schafer '13 MA, Marital & Family Therapy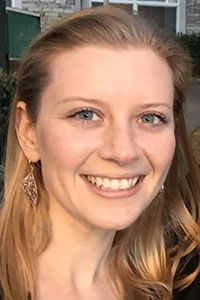 begin quote

Without the reputation, alumni support, and stellar education that I received at SOLES, I do not believe I would have had access to the same opportunities.
What brought you to the Marriage & Family Therapy program at SOLES?
I was drawn to the MFT program at SOLES due to the faculty's prioritization of collaborative care, evidence-based practice, and neuroscience in family therapy. This resonated with my personal interests and professional values. It also helped me feel confident that I would be matched with practicum sites that also shared these core professional values, which I believed was crucial in laying the foundation for me post-graduation life.
Tell us about your journey post-graduation.
Following completion of the MFT program at SOLES, I have worked in a variety of clinical settings including a crisis house, private practice, and outpatient hospital-based programs. The majority of my clinical work has been focused on serving underprivileged adults with SMI at UCSD. In this role, I've predominantly provided individual, group, and family psychotherapy to adults facing severe psycho-social stress and psychiatric illness. I was also awarded the opportunity to take on a leadership role within the clinic, teaching seminars to graduate students and managing a QM team. In addition to my clinical work, I have been teaching undergraduate psychology courses within the local community colleges and completed special projects focused on integrating trauma-informed practices into reproductive health care. Most recently I have left UCSD to transition into a role as a PERT clinician, helping law enforcement response effectively to mental health related 911 calls.

How has your SOLES education impacted your career and/or career goals?
My SOLES education has had a dramatic impact on the course of my career. Without the reputation, alumni support, and stellar education that I received at SOLES, I do not believe I would have had access to the same opportunities. In particular I believe that the MFT program's relationship with exceptional practicum sites changed the course of my career. As a practicum student I was able to work with leaders in the field, which helped shape my professional network, views, and goals. As a result I feel that I have been able to reach some of my professional milestones ahead of colleagues that were educated at other institutions.

How have you applied what you have learned into your professional life?
My SOLES education comes to life in all of my clinical decision making, the ways I collaborate with other disciplines, and the populations I choose to serve. In particular I think that my SOLES education has helped me feel more confident interacting within interdisciplinary team in medical settings, which I firmly believe has impacted the quality of care my patients receive.

Which class impacted you the most? Why?
that Psychopathology with Dr. Jo Ellen Patterson changed my views. This class helped me understand that importance of collaborative care and prepared me best for the challenges I would face operating as a MFT within the medical model. The course discussions helped me understand the historical context that I would be facing as a young professional, and that continues to support my everyday practice.

Would you like to be a future SOLES Alumni Spotlight?