Alumnus Social Entrepreneur Creates Inner City Change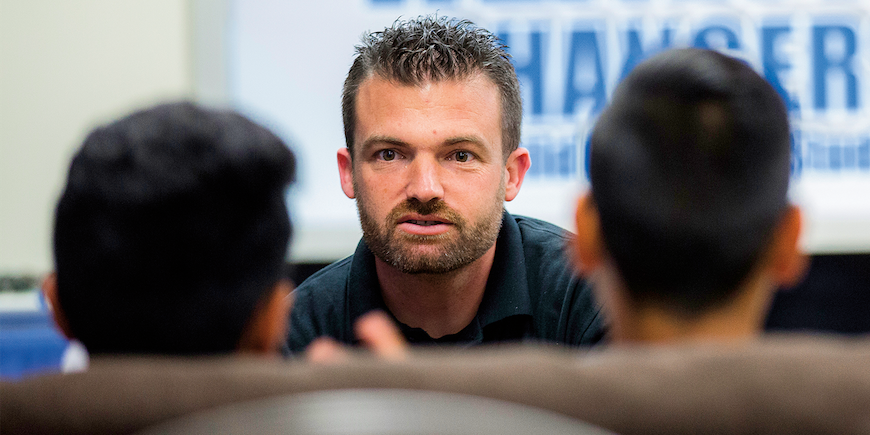 begin quote

When I came to the Kroc School I really wanted to make peace on the streets and in the community. But by studying peace I learned how to affect cultures and build subcultures that could thrive in inner city San Diego where injustice dominates.
Making his own luck
It's not everyday, or any day for most of us, that a spin on Wheel of Fortune leads to a $23,200 haul that gets parlayed into a non-profit operating under a $2.2 million annual budget. But for Christopher Yanov, those winnings were the seed money that funded his passion for helping troubled youth and enabled his nonprofit, Reality Changers, to flourish. With a mission of helping San Diego's low income youth become first generation college students, Chris learned early on that his strategy of helping them by focusing on negative influences like violence and drugs was all wrong. In the gang-controlled streets in one of San Diego's poorest neighborhoods, City Heights, Chris had to find a better way. What he found was the Kroc School of Peace Studies.
A worldview in real time
Inside the MA in Peace and Justice program, Chris was gaining a worldly insight from students and faculty of various ethnicities and cultural backgrounds. He was building a cabinet of peers who would become invaluable resources. "There were 13 students in my Masters class from nine different countries. I'd had experience with other cultures across Latin America, but this was the first time I became real friends with people from different hemispheres, they brought all their countries into the conversations. Our teachings and readings came to life through their experiences."
On campus, there were days when he recalls having big-world discussions about peacemaking and wondering how he would take these concepts back to the City Heights neighborhood and put them into action—tomorrow. That time was coming, but it required patience. "There was a lecture at the Institute for Peace and Justice that completely changed my thinking about the inner city. The idea was that without a strong central government, or state, that people believe in, the communities become strong. And because issues like safety, health, and income stability are daily constants for residents of low-income communities, gangs can provide a structure that oftentimes isn't readily present in low-income neighborhoods The Kroc School taught me how to make subcultures thrive in places where there is a dominant culture of injustice."
In the business of change
As a social entrepreneur leading an organization that has significantly impacted the youth in San Diego, Chris is applying his own "Tightrope Theory," based on issues discussed at the Kroc School like the Truth and Reconciliation Commission in South Africa or the aftermath of the Rwandan genocide, to empower youth to go to college. "I don't want to magnify all the dangers. Those are all around. It's just like crossing a tightrope. I have to keep our students' eyes on the goals so they can get across." His impact has reached over 100 colleges and universities across the U.S. in the form of more than 1,000 first-generation students who never imagined they'd leave City Heights. Former President of Mexico, Vicente Fox, has met with Chris to apply his Tightrope Theory to keeping kids out of Mexican drug cartels. So now Chris' wiser self can tell that eager kid back on the USD campus in 2002 how those big world discussions are changing lives in the streets of San Diego and far beyond. "Out of all of this madness, when we take the right approach, there are students who are able to change."
Map
5998 Alcalá Park
San Diego, CA 92110