How Cultural Diversity Became an Impetus for Change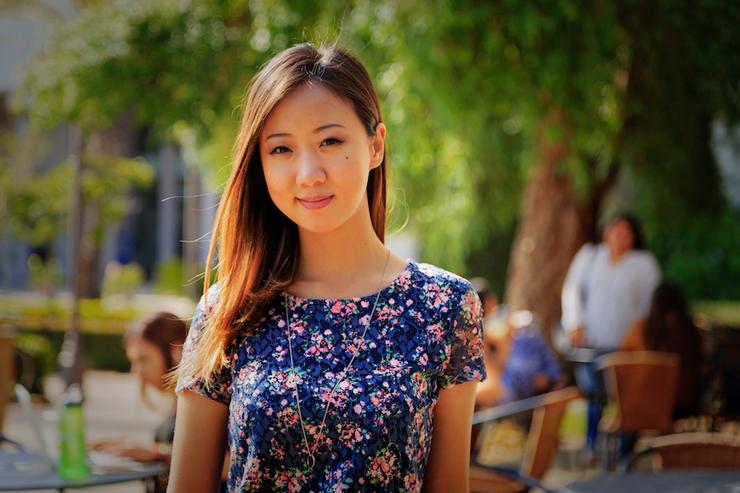 begin quote

When I think about the struggles people face every day, it could be easy to feel down. But in academia, learning what scholars think and hearing their approach to solving these problems, I start to feel more enriched and empowered.
Advocate for change
Take a Korean heritage, add a Kazakhstani upbringing, then sprinkle in study and service trips to India, Uganda and the Philippines, and you get a cultural synthesis of experiences that put Kate Lee on the path of peace studies. And while her extensive travels opened this Fulbright Scholar's eyes and broadened her perspective, she didn't have to go far from home to discover her passion for peacebuilding. "Since middle school in Kazakhstan I've felt drawn to making a change in this world. Many kids of my age didn't really care, but being a minority I was picked on and even this made me want to help those facing injustice."
But how to make real change was something Kate struggled with as she pursued dual degrees in two languages– International Studies in English and Diplomacy in Korean at Hankuk University of Foreign Studies in South Korea. Her intense drive, along with her impressive academic record and passion for peacebuilding got the attention of the Fulbright Scholarship board. Out of 10,000 applicants, and through rigorous tests and interviews, Kate was one of three scholars selected from Kazakhstan. "During the process, I thought a lot about which school would be the ultimate perfect match. My Fulbright advisor recommended the Kroc School, and now I can say that it was absolutely the best option."
Putting peace into practice
With her first steps on U.S. soil Kate encountered the friendly people, the sunny climate, the coastal lifestyle and the vibrant music, arts, and cafe scene of San Diego. On campus she found herself surrounded by the multi-cultural views and backgrounds of peers and faculty. "I come from very traditional places where I felt really shy. Back home we are taught you always have something to learn, so listen. I admire how outspoken my classmates are – how they can be constructive with their criticism. We can all learn from these conversations. Even though I have strong opinions and ideas, I've never been one to speak up about them. Here, I can, and it's actually encouraged and no one's going to put you down when you do."
During her second semester, Kate quickly discovered that at the Kroc School learning only starts in the classroom. She's taking an eyes wide open approach to the opportunities all around with one of her first stops: The Women PeaceMakers program. Here, Kate has heard stories of peace and change from award-winning women activists on topics ranging from advocating for imprisoned and tortured women in Namibia to promoting peaceful relations between women in Israel and Palestine. From those lectures, conversations, and narratives being archived by the Institute for Peace and Justice, Kate is gaining insight that will shape her future work. "Even though it's just one person's story and vision, to hear of their experience straight from their perspective made all of these issues more colorful and personal." Through a summer internship with a San Diego-based NGO, she'll be putting her knowledge into practice.
Bringing it home With an air of quiet passion, Kate pursues peace using equal doses of her heart and her head. She is wise to the global issues getting in the way of peace and justice, but not discouraged by their vastness. Her focus on human security is where she wants to make a difference back in her homeland of Kazakhstan. "I feel this is something people who don't have money or connections struggle with. They are marginalized because no one speaks up or gets organized. Human security works to eliminate these vulnerabilities alongside structural violence. But to make this change, I need to be empowered, knowledgeable and connected to communities. It's about getting people involved. And this is what I'm learning, how to influence change."
Throughout her experience at the Kroc School Kate remains focused on why she came here in the first place– to gain the knowledge and courage to speak up for others who can't speak for themselves. "If you think it's the right thing to do, go for it. Even if it seems impossible. This world needs more people who care and who care about what happens to others." And for the people in a diverse community in Kazakhstan, Kate is ready to put this experience into action, for good.
Map
5998 Alcalá Park
San Diego, CA 92110