An IDEAL Path to Social Change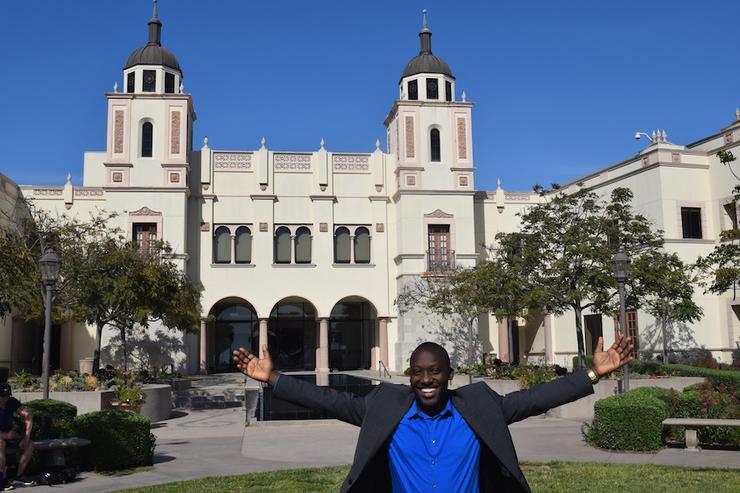 begin quote

The Social Innovation Challenge gave me the tools to develop a meaningful proposal from just an idea to a real business"
Sparking social change
Growing up in Burundi, East Africa, Isidore Niyongabo spent his childhood like many other boys in his small village: going to school then tending sheep and goats in his spare time. Despite the simple upbringing, education was highly valued by his father. So much so that when Isidore contracted spinal meningitis at age 10 and became deaf as a result, he rode Isidore on bike for 13 hours to get to a school that could cater to his son's redefined learning needs. At his new school, Isidore learned to not only cope with his hearing impairment, but also to persevere using creative solutions to solve seemingly impossible challenges.
While his educational pursuits brought Isidore to college in the U.S., personal passion brought him to the Kroc School. "A friend noticed the energy I put into advocating for equal access to education and quality of life for deaf children in developing countries and recommended the Joan B. Kroc School of Peace Studies. I quickly realized that this was the right program for me, one that would allow me to create many paths as an advocate, a peacemaker and an entrepreneur."
Drawing on his own experiences, Isidore unearthed an idea that he couldn't get off his mind—bringing education to the 57 million deaf people in developing countries. It's a grand ambition for a man from humble roots, but connecting with the Center for Peace and Commerce's Social Innovation Challenge showed Isidore how it could become reality. "The Social Innovation Challenge (SIC) taught me how to put the idea and vision together and connect that to the global problem inspired by my life experience. Through Idea Labs and free workshops, I developed a complete plan that identified the key stakeholders, beneficiaries and prospective partners." And with this training, his pitch was ready for the judges.
Funding a global changemaker
Isidore's vison came to life on that stage, and IDEAL (International Deaf Education Advocacy and Leadership) was launched when he took the top prize, given to one of 5 social innovation finalists, at the 2013 SIC competition. Isidore set out to deliver on the company's mission of providing education and opportunity to deaf youth in developing nations. With the $15,000 seed money, IDEAL hosted the first East Africa Deaf Youth Leadership Summit, which served as the catalyst for continued growth of the program across Africa. Isidore sees it as a prime example of how social change stems from peace.
"I used to think that peacebuilding was mainly related to community organizing and negotiation and mediation during conflict," he says, "that it only involved top-level government leaders and rebels or opposition groups." Through his professors Isidore came to understand the complexity of systematic peacebuilding and how it involves many groups of people, from the grassroots community to the international community. And to continue the path he's on with IDEAL, Isidore is leveraging this knowledge of peacebuilding and applying it to the business of changemaking.
Today, IDEAL continues to empower deaf youth through education and opportunity. Whether it's bringing sign language interpreters into mainstream classrooms in Rwanda, granting scholarships that allow deaf men and women to graduate from University, or helping East African deaf youth get selected for President Obama's Young Africa Leadership Institute, Isidore's original vision has taken root. And with his mindset as a social entrepreneur, it's destined to flourish across Africa and beyond. "It's because of the Kroc School and the Social Innovation Challenge that I'm able to integrate all the talents I have, all skills I learned across my whole academic journey, and put them to work in my professional life for good."
Map
5998 Alcalá Park
San Diego, CA 92110