Robert C. and Julianne D. Fellmeth—Lifelong Leadership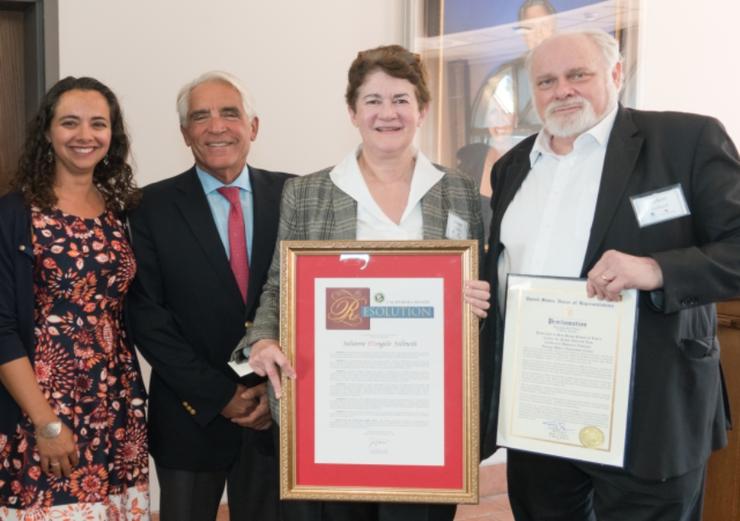 Together, Bob and Julie Fellmeth have made an unbeatable team at the USD School of Law for almost 35 years.In 1980, Bob established the Center for Public Interest Law to focus on the study of a powerful—yet often overlooked—level of government: state agencies that regulate business, professions, trades, education, and the environment.In 1986, Julie (JD '83) returned as CPIL Administrative Director and took over much of CPIL's advocacy and the publication of its journal, the California Regulatory Law Reporter. In 1989, Bob founded the Children's Advocacy Institute, and in 2005 he established the Energy Policy Initiatives Center.Each of these centers offers a strong academic program at the USD School of Law.Thanks to the Sol Price family, Paul Peterson, former San Diego District Attorney Bonnie Dumanis, and others, Bob and Julie have arranged endowments for all three centers so their academic programs will continue as part of USD's legal curriculum.Each program forms the nucleus for three of the law school's "concentration" areas: public interest law, child rights, and environmental and energy law.
Bob Fellmeth has worked on countless consumer rights and regulatory agency issues, including his 1987 appointment as State Bar Discipline Monitor by then-Attorney General John Van de Kamp, and his drafting and sponsorship of successful 1988 legislation creating the nation's only State Bar Court independent of attorney influence or other conflicts.With the creation of CAI in 1989, he has been involved in dozens of child safety and protection statutes, court precedents, and major studies and reports on the plight of abused children in particular.Julie D'Angelo Fellmeth has been the major force behind many consumer protections, including bills that have reformed the California Board of Accountancy, the Contractors' State License Board, and the Medical Board of California.From 2003–05, she served by appointment as the Medical Board Enforcement Monitor, auditing the Board's enforcement program and its diversion program for substance-abusing physicians; her research and reports led to substantial reforms in both programs.She drafted legislation requiring each occupational licensing agency to elevate public protection as its "paramount priority," instead of protecting the profession it regulates.She has been involved in many other agency reforms and has provided detailed legislative testimony that has resulted in improvements at California regulatory agencies.
Both of the Fellmeths take particular pride in the success of their students — over 1,100 have now graduated from their programs.Many of these students worked in CPIL/CAI/EPIC policy clinics to conduct research, draft reports, and assist in legislative, agency, and/or courtroom advocacy.And many of them have gone on to successful and rewarding careers in the public interest.
For decades, the Fellmeths have devoted their professional lives to speaking out on behalf of children, especially foster youth, consumers, everyday citizens, the future, and the environment. With the academic programs successfully endowed, Bob and Julie have chosen to dedicate most of their personal assets to endow the advocacy programs of CPIL and CAI that operate from offices at USD, Sacramento, and Washington, D.C. That advocacy—which has produced over 70 enacted statutes and millions in budget commitments for consumers, children, and the environment—will be funded through an endowment established by Bob and Julie that will be named in honor of their mothers, Nancy D'Angelo and Jane Fellmeth.Leaving a lasting legacy through a planned gift or a bequest in your estate plan is a meaningful way to support the work you admire most at the USD School of Law.By choosing to remember the USD School of Law in their estate plan, the Fellmeths have extended their profound legacy at the law school.
On October 7, 2018, the School of Law honored CPIL, CAI, and EPIC by hosting a Changemaker Brunch to celebrate the accomplishments of California's premiere academic, research, and advocacy organizations seeking to improve the lives of children and youth, defend the rights of consumers, and study energy policy issues affecting California.More than 150 former students, administrators, supporters, and graduates were on hand to congratulate the Fellmeths for the work that they have so successfully accomplished, their intellectual prowess, and their political knowledge and understanding of the legislative system that is needed to protect the interests of the most vulnerable members of our collective communities.
As Paul Peterson, co-founder of the Fellmeth-Peterson Faculty Chair in Child Rights at the USD School of Law, says, "Bob Fellmeth is a WARRIOR. He fights for those who cannot stick up for themselves." And as Sarah Huchel, Principal Consultant to the Senate Committee on Business, Professions and Economic Development, stated in her tribute to the Fellmeths during the Changemaker Brunch, their work "has and will improve the lives of millions and millions of people." Huchel, in presenting a resolution to Julie from the State Senate, stated about her: "What Julie did far transcends any particular bill or legislation. What she did, nearly single handedly, armed with nothing other than grit, passion, and a surpassing intelligence, was to change the very DNA of California government. Go to any licensing board meeting, attend any legislative committee hearing, talk to any staffer working for any licensing board, and the primacy of consumer and patient protection is a given. Julie changed the very earth under which patients and consumers are protected in California."
Thanks to Bob and Julie's generous estate gift, the advocacy efforts of their centers will continue in perpetuity and touch millions more—including USD law students who will continue that work on behalf of the public interest, children, and the environment.
---
If you're interested in contributing to law school scholarships or getting involved at the law school, contact Debbie Rider at (619) 260-4692.