Ashlee Walcott—Gratitude. Determination. Evolution of a Career Path.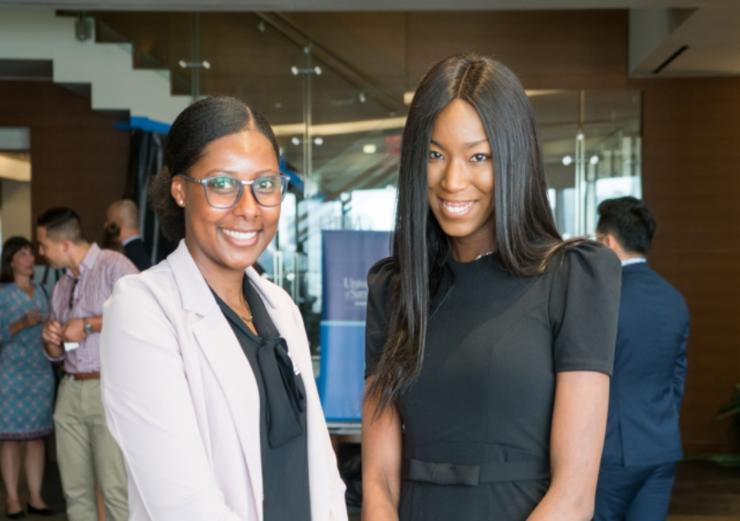 Have you ever wondered what the real impact of your donation is? Ashlee Walcott has been the recipient of several USD School of Law scholarships.They have made her law school years a reality and not simply an aspiration.
Ashlee is the first in her family to graduate from college, and the first to attend law school. She comes from a family that understands the importance of effecting change and giving back to her community via service.Before deciding to attend law school, Ashlee worked as a county contracted social worker, in Murrieta, Calif., with a focus on foster and probation youth."Don't Just Survive—Thrive!" was the organization's motto.
Ashlee has thrived in her pursuit of a Juris Doctor degree.Ashlee has been diligent in seeking insightful advice from legal community pillars, with regard to helping those less fortunate, through child welfare and juvenile justice systems, and advocating against elder abuse.
USD's Robert Fellmeth helped her shape a future career path.As a student in Professor Fellmeth's fall 2017 Child Right's class, Ashlee met with Bob to discuss interning at the San Diego Public Defenders Delinquency division.The program allows young offenders to be processed through a civil trial rather than a criminal trial; the civil hearing is vested with all the rights and responsibilities of the criminal trial.
At the urging of Elisa Weichel, who serves as Administrative Director and Senior Staff Attorney for the Children's Advocacy Institute (CAI), part of the Center for Public Interest Law (CPIL), Ashlee decided to become a certified intern at the Public Defender's office.This would allow her to represent clients and speak on the record to lessen the caseload for the attorneys in the office.Ashlee saw an opportunity to help others, and to receive practical hands on experience.She further went on to assist her training attorney with the caseload in JFAST Court.The Juvenile Forensic Assistance for Stabilization and Treatment Program is designed to support recovery for mentally ill youth by providing access to individualized treatment and strengthening family stability.
Eager to put her law school education to good use, prior to working at the Public Defender's office, during the summer of 2017, at the end of her first year of law school, Ashlee worked at Community Legal Services of Compton, Calif., at the self-help center assisting litigants with family law, domestic violence, and unlawful detainer cases.The following summer she represented neglected and abused children at Children's Law Center of Los Angeles in Monterrey Park.
Just recently, the Fellmeths invited Ashlee to the Changemaker Brunch to highlight the work of the Center for Public Interest Law.There she met Deputy Attorney General Christine Riehl, California Department of Justice/Bureau of Children's Justice; Ashlee seized the opportunity to discuss her desire to pursue a career in children's rights.
Personal determination and the generosity of dedicated scholarship supporters are making it possible for Ashlee to serve the interests of the most vulnerable children in our legal system.Upon admission to USD, she received Alumni Scholarship and Merit Scholarship funding.Loans, grants and private scholarships have made it possible to this hard-working woman to seek out meaningful experiences that have honed her specialized legal skills that will make her a valuable advocate for children's rights.Just recently, Ashlee learned that she is being honored with the Higgs Fletcher & Mack (HFM) Diversity Scholarship and Antonyan Miranda Scholarship.Thanks to the support of HFM, the law firm of Antonyan Miranda, and donors like you, law students throughout USD have been able to engage in work that is meaningful to them.
A law school education would not be possible for many students at USD without the contributions and generosity of others. Ashlee is grateful to those that have helped her. "I am very appreciative of the money that has been donated because it has given me the opportunity to pursue internships that were unaffordable otherwise." Because of the scholarship support, mentorship and encouragement I have received for the past three years at USD School of Law, as an alumna I plan to give back and donate to scholarships; I see how beneficial and life-changing that kind of help can be."
---
If you're interested in contributing to law school scholarships or getting involved at the law school, contact Debbie Rider at (619) 260-4692.