Force Multiplier: The Schons Effect
Scholarships are the gifts that keep on giving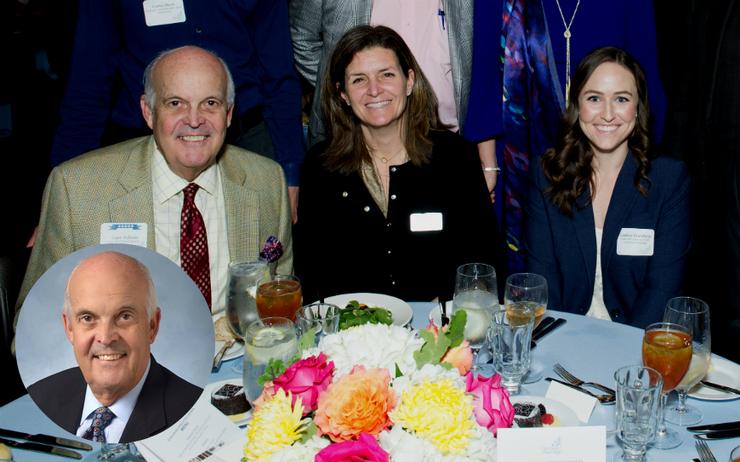 begin quote

"If I can connect friends or other graduates to USD to mentor students, coach or judge moot court, teach or appear as a guest lecturer in classes, or perhaps to contribute money, that multiplies the force of the small contributions that I've made."
If you've ever wondered about the long term effects of a full merit scholarship, look no further than Gary Schons, '76 (JD), '73 (BA). Schons, a "double domer" (he received both an undergraduate and graduate degree from the University of San Diego), had a lot going for him when applying to law school. The one thing he did not have was enough money to pay tuition.
"I couldn't afford to go to law school at USD," said Schons in a recent interview. "It was around 800 bucks a semester, if you can believe that. So I applied to the UCs, was accepted at UC Davis, and was set on going there because the tuition was only 200 bucks a semester."
While planning to leave for Davis, Schons received an envelope from USD School of Law, where he had also been admitted but was not planning to attend due to tuition costs. The letter—seemingly out of nowhere—informed him he was the recipient of the Dean's Scholarship, which would pay for his law school tuition in full.
"I don't know where that came from. I didn't recall applying for a scholarship and didn't even know it existed," he said still somewhat shocked all these years later. "They gave me a free ride!"
USD School of Law automatically considers awarding Dean's Scholarships to admitted students who possess high incoming credentials—undergraduate grade point average and LSAT score. Admitted students need not apply. Schons had performed well academically and was active in leadership roles throughout his undergraduate career. He was an ideal law school candidate.
Schons was no stranger to the world of merit scholarships. His hard work and diligence in grammar school and high school paid off, and the State of California paid for his undergraduate degree tuition, while he worked to pay for room and board, books, and living expenses. He would not have been able to attend college without the help since he and his friends were "very, very middle class," according to him. "We weren't even upper middle class."
"I went all eight years to the same Catholic grammar school in West Covina—St. Christopher's. When I graduated, I was the head altar boy in the parish, the valedictorian, and president of my class, although that wasn't a big deal," he said with a laugh. "When I got to high school at Bishop Amat Memorial, my social life and my 'stardom' came to a crashing halt."
A six-foot-tall, 125-pound speech and debate enthusiast doesn't exactly rule the roost at a high school known for its football team. So Schons had to claw his way back to some "social respectability." It took a couple years, but by his junior year, he was back up on his feet with a good group of friends and a dream to attend law school.
Back in those days, family college visits didn't really exist, so Schons and some of his buddies drove all over the state to visit campuses, sleeping in the back of vans and VW Bugs.
"A buddy of mine and I had parked behind the Goshen Street apartments across the street from the school," said Schons. "I remember we got up that morning, looked out at the landscape, and like Brigham Young said, 'This is the place.'"
Schons fell in love with USD the first week he was there. As is tradition at USD, the college started the freshmen early. "There were only two- or three-hundred of us" he said. "It was like a seven-day picnic with activities on the lawn and all over campus, which was a lot more sparsely build out in those days. But even in those days, it was just stunningly beautiful and very Ivory Tower-ish up on the hill."
His love affair with USD blossomed as Schons had a wonderful experience all through college. He enjoyed his studies and building relationships with his Tau Kappa Epsilon fraternity brothers, classmates, and others. He was very active in student government and served as the Secretary of Academics in his junior year, which was the third ranking position in student government.
"I worked with Art Hughs, who had just arrived my sophomore year as president [of the university] and with [Sister] Sally Furry," he recalled. "We worked on long-range planning for the university." Schons even helped Sister Sally design the American Studies Major.
In his senior year, Schons ran for ASB president and lost, which had a significant effect on his life. Rather than spending the year being student body president, he met a wonderful USD aluma by the name of Sandy Walton (now Sandra W. Rugg), '72 (BA), at the start of the school year, got engaged by Halloween, and married her in the Immaculata just before Christmas.
Happily married, but still intent on attending law school after graduation, Schons applied to and was accepted at more than one school. With Sandy working as a secretary in La Jolla as their primary income, they didn't have the resources to be choosey. He was prepared to make the trek to Davis for law school, when he opened the letter from USD. "When the law school gave me a full ride, I stayed here and went to the law school obviously."
Having achieved his dream to attend law school, Schons devoured his studies, revelled in the law, learned legal writing and advocacy skills, and continued meeting and getting to know as many people as possible, satisfying his curiosity about his fellow human beings and expanding his network.
After graduation from law school and passing the Bar exam, Schons joined the Criminal Division of the San Diego Attorney General's Office as a deputy attorney general, handling felony appeals, writs, and trial matters. He also bolstered his relationship with the law school, coaching a number of moot court teams over the first few years he was out of school to give back to the institution that had made his burgeoning career possible.
In 1979, he matriculated for the law school's newly minted Masters of Laws in Criminal Law program. His first seminar class was created and taught by Ed Meese, who later became counsel to President Ronald Reagan and then Attorney General of the United States. About midway through the semester Meese notified the students that he would not finish the class because Ronald Reagan called and wanted him to help him run for President.
"I was in the Attorney General's office at that point in my career, so Ed turned to me and said, 'Well, Gary, you're the most experienced criminal law practitioner here in the class so why don't you just take over the class and finish it for me,'" recalled Schons. "It wasn't as if I had to give lectures. Ed had set up the class to bring in speakers every week, so all I had to do was be the emcee. So I did. At the end of the semester, I decided that if I could lead the class, I didn't need a master's degree and went back to work."
Back at the Attorney General's office, Schons was assigned to the Special Prosecutions Unit, where he investigated and prosecuted organized crime cases, major narcotics and major fraud, and was cross-designated as a special assistant United States attorney. He later organized and led the office's Asset Forfeiture Unit.
In 1989, he was appointed to head the police misconduct section of the San Diego Homicide Task Force. And in 1991, he was appointed senior assistant attorney general and headed the Criminal Division in the San Diego office for nearly 20 years, supervising capital cases, felony appeals, writs and trial prosecutions.
His career as a public lawyer was productive and noteworthy. The California District Attorneys Association awarded him the William E. James Award in 1990 as their office's outstanding member. And in 2002, he received the law school's Distinguished Alumni Award, presented to USD School of Law alumni who have distinguished themselves in the legal field or other chosen profession at an exemplary level and who embody the high ethical standards and commitment to community service USD seeks to instill in its graduates.
"I received the Distinguished Alumni Award years ago, and I still pop my buttons whenever I think about it," said Schons, "just to be honored by the place that you think is so special."
In 2011, Schons retired from the Attorney General's Office and joined the San Diego District Attorney's Office where he served for nearly three years as senior advisor for law and policy. And in 2015, he went into private practice, joining the firm of Best Best & Krieger, where he currently heads the firm's Public Policy & Ethics Compliance Group.
Throughout his busy career, Schons helped the law school. He was president of the Law School Alumni Association and has served on the law school's Board of Visitors for more than a decade. When asked why he grew his involvement over the years, Schons beams enthusiasm.
His philosophy is simple. When you graduate from a school, you have an investment in that school, and you want to increase the value of that degree hanging on the wall. "USD was not nearly the law school it is today when I graduated in 1976," said Schons. "Over the years, through all the work of the alumni, faculty, staff, and deans, we've all managed to increase the value of USD School of Law and the degrees it bestows. We've made it a better law school."
But anyone who talks to Schons sees it goes even deeper with him. He's dead serious when he says he loves USD.
"My wife Judy (Schons remarried in 1998) and I had the opportunity to to move up to San Luis Obispo a few years ago," he said. "We made a list of all the things we would be giving up if we moved. For her, it was her family. For me, it was USD. She said, 'You won't have that school anymore.' She was right; I would miss USD too much. I'm up on campus at least 50 times a year for various functions. It's a big part of my life." Needless to say, they stayed in San Diego.
Debbie Rider, '84 JD, the law school's director of development and donor relations, says Schons is a USD evangelist, dyed-in-the-wool Torero through and through. "As a member of the Board of Visitors, Gary takes his responsibility to be a good steward of the law school very seriously," she said. "He is on the lookout for good opportunities to connect our alumni to the work of the law school on many different levels—to volunteer to work with students; to volunteer with bolstering alumni reunions, receptions, and special events; and to bring together fellow alumni who harbor philanthropic goals/wishes for the law school."
To the extent Schons can get more people contributing to the school with their time, talent, and money, the better he feels about his own efforts. "If I can connect friends of mine or other graduates to USD to mentor students, coach or judge moot court, teach or appear as a guest lecturer in classes, or perhaps to contribute money, that multiplies the force of the small contributions that I've made," he said. "My money goes further, so to speak, and has more of an impact."
An he's absolutely right. When more alumni participate, mentoring spreads wider and has a greater impact for the school in terms of turning out students who are better prepared to enter the legal profession. The downrange effects include USD alumni being recognized for their work, elevated to the bench, or becoming leaders in their law firms and public law offices.
"It's the old pebble in a pond metaphor," said Schons. "It just ripples out. The more of us there are doing those types of things, the wider the ripples are and the greater the impact."
"Gary makes waves, not just ripples," says Rider. "He—and other board members like him—are responsible in great part for the law school's momentum. And Gary's desire to help the law school is contagious."
His infectious passion for raising scholarship money should come as no surprise. As a scholarship recipient himself, he knows firsthand the importance and the difference it makes to a bright student in need. As a board member, he now knows the strategic institutional value of scholarships.
"For the most part when you're asking people to contribute, you're asking for scholarship money," he said. "The more scholarship money we have, the better the quality of students we can attract to the school. The cynergy of that is that when you have better students, you up the metrics of the school, and you somewhat induce higher quality faculty to come and stay at the school because faculty want to teach to high quality students."
According to Rider, scholarships—in conjunction with faculty support, capital improvements, and research funding—provide fuel for a cycle of improvement across the law school. She also points out that scholarships have another hidden but powerful benefit. They plant seeds within future community leaders that have the potential to grow into force multipliers just like Schons, who perpetuate the cycle of improvement.
"That's the Schons Effect," said Rider. "A dedicated alumnus with a deep appreciation and genuine affection for the law school who is willing to help is a true changemaker. That one person can do more to move USD forward in one year than I can do in 10."
Gary Schons proves that the concerted efforts of one person can make a big difference over time. If one humble scholarship recipient in 1973 became one of the driving forces of improvement at USD School of Law, just imagine what two scholarship recipients can do.
---
If you're interested in contributing to law school scholarships or getting involved at the law school, contact Debbie Rider at (619) 260-4692.