A son's lasting tribute honors the father he lost more than a decade ago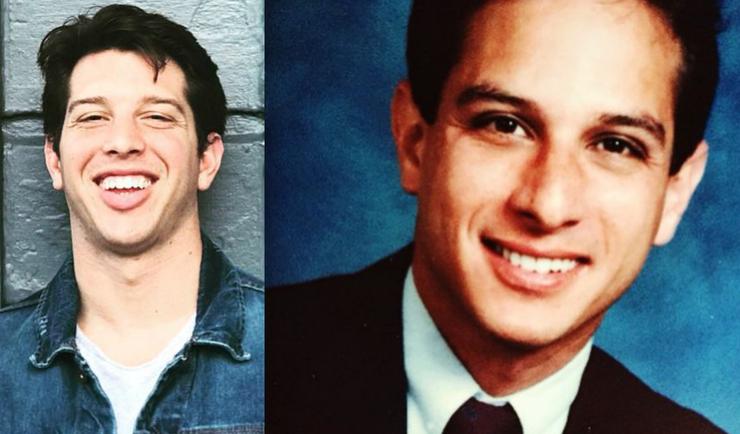 begin quote

"Unlike many people who may never enjoy what they do for a living, my father loved every second of what he did for his career."
It's never easy to lose a parent, but for a 13-year-old boy, it's even harder. Nick Robbin's father passed away in 2006 after a four-year battle with chronic lymphocytic leukemia.
"Toward the end, he was sick and not really himself," said Nick. "He was bedridden the last six months of his life. It was tough."
Anyone can hear the loss in his voice when he talks about his dad, but Nick—just as his beloved father often did—finds the joy in his heart and remembers his hero in his glory days.
David S. Robbin, '80 (JD), practiced real estate and property management law, primarily representing landlords in disputes with tenants. For more than 20 years, he never lost a case, a fact David shared with Nick's third grade class when he spoke at Career Day in 2001.
"I remember the kids being very impressed with him when he spoke," recalled Nick. "Being a lawyer can be dry, but dad made the subject matter interesting to a classroom full of 8-year-olds. I was very proud to be his son that day."
David graduated from Point Loma High School in 1973 and in 1977 from the University of California San Diego, where he majored in sociology and political science. He received his JD from USD in 1980 and was admitted to the State Bar that same year. He began practicing law with Bob Lowell in 1982, and together they formed their law firm Lowell & Robbin in 1985.
Nick's mother Vicki remembers her husband as a great partner and parent. "We really shared the parenting duties," she said. "David made sure to attend all the kids' functions. He managed his time well, didn't work late nights, and although he occasionally brought work home, he was always there and available to the kids."
Twelve years after his father's death, Nick—now a young adult of 25 starting his own career—was contemplating an idea to create a memorial scholarship in his father's name.
"I wanted to do something to honor him," said Nick. "If we raise enough money, the scholarship will forever bear his name, and I think that's pretty awesome."
Vicki too thought about doing something to memorialize her husband when he passed away in 2006, but at that time, she wasn't in a position to do so. She forgot about the idea until a few months ago, around David's birthday—which the family acknowledges every year—when Nick shared his desire to honor his father.
"He came up with the scholarship idea on his own, without me saying anything," Vicki said. "We talked about it. Nick's two sisters were on board. I thought it was a really nice thing for Nick to do."
After gaining the family's approval, Nick reached out to Debbie Rider, USD School of Law's Director of Development. Debbie met with Nick and Vicki over lunch and laid out the options for a memorial scholarship in David's name at the law school.
"Basically, we have five years to raise $50,000." said Nick. "We're trying to raise $10,000 each year."
Nick didn't waste any time. Following a growing trend on social media where people ask friends to donate to a chosen charity in lieu of gifts, he launched his own Facebook birthday fundraiser on July 5, 2018, with an unofficial goal to raise $2,000 for his father's memorial scholarship.
"I am creating this scholarship because my dad loved being a lawyer, and I know he would be so happy to help someone that is looking to go to law school," Nick wrote in his Facebook post. "Unlike many people who may never enjoy what they do for a living, my father loved every second of what he did for his career."
And that's the whole point. The family wants to help someone who loves the law attend law school. "Someone who really needs a scholarship would make an ideal recipient," said Nick.
"I'd love to see someone who is enthusiastic about the profession and wants to make a difference," said Vicki, "someone who really wants to be an attorney."
According to Vicki, David was an honest individual; he was well liked and he had a great sense of humor. "One thing about my husband is he really was a person of integrity, and that's really important," she noted. "He was very diligent, very professional. He built strong relationships. People trusted him." That's the kind of person the family would like to see as the first recipient of the scholarship.
Around Thanksgiving and with the help of Rider, the family plans to send a letter to people who knew David informing them about the memorial scholarship in hopes that they will wish to contribute to the fund over the holidays. Nick is hopeful and looking forward to the day he can smile knowing the family's loss was transformed into helping someone like dad make a difference in the world.
"David had an impact on many lives throughout his career," said Rider. "I'm sure with Nick's enthusiasm and Vicki's guidance, they will be successful, and the David S. Robbin Memorial Scholarship will be there to help a deserving law student start her or his journey to becoming an attorney."
When asked what David would think about Nick's efforts to establish the scholarship, Vicki said, "You know what? I think he would really, really be touched. I think he would be honored. I think it's wonderful, and I'm so happy Nick wanted to do this."
---
Give to the David S. Robbin Memorial Scholarship fund.
To learn more about how to start your own memorial scholarship or other ways to honor a loved one, please contact Debbie Rider at (619) 260-5955.