Influencer Marketing with Heart and Humility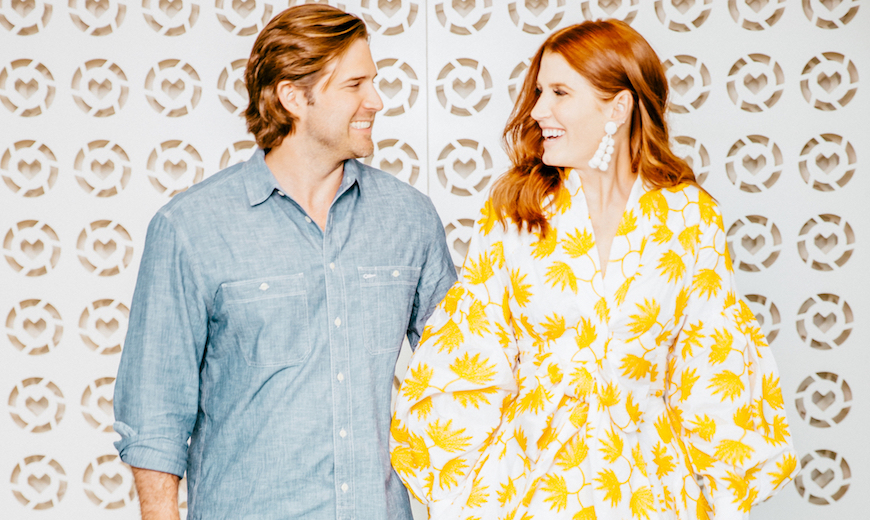 Before "influencer" became a household word, Baxter Box '06 and his wife, Amber Venz Box, had a vision for channeling her fashion influencer style and his technical expertise into a source of revenue. If they could find a way to monetize her lifestyle influencer brand, then they could do it for others, as well.
It was 10 years ago that the couple took this idea and founded rewardStyle.com, which is now a global online platform that has monetized the digital space for over 100,000 influencers and one million brand partners across more than 100 countries. A source of pride for Baxter and Amber is that since the founding of the company, 100 of those influencers have earned over $1M through using the rewardStyle platform.
The power couple shared their 10-year story of building rewardStyle.com and their more recent LikeToKnowIt shopping app with alumni and students from across the University of San Diego during the Shiley-Marcos School of Engineering's virtual Ignite Innovation event.
In the beginning, they focused on combining Baxter's passion for building things with Amber's style and fashion sense. They were pioneering a new industry and it wasn't always easy. Although the platform now represents over 5,000 brands, they described how they built that portfolio one brand at a time.
"Although rewardStyle can sometimes seem very complicated, it is analogous to other businesses, "Amber explained. "Think about what Airbnb has done for the hospitality industry. That's what rewardStyle has done for these content creators. There was something happening online that had value, but nobody had quantified it. So that's what we did."
Now, looking back, they shared three key learnings over the ten years in building this business:
Find your sweet spot
Figure out what you are passionate about and what you are good at and try to find that nexus. As Baxter described, "I loved building products and creating innovation. Amber loved the fashion and style world and wanted to promote her brand and help others promote theirs. That combination was our sweet spot."
Have a servant mindset
When we started the company, we were friends with our clients. We cared about their well-being tremendously and wanted to serve all of our clients with that same mindset. Internally, we also consider the needs of our team, including how best to serve even the most junior team member. This builds a supportive company culture.
Enjoy the ride
"When you're building a company, you often either feel like you are going into a storm or just coming out of one," Baxter said. He described that he and Amber were traveling all around the globe building their business. Yes, they were exhausted, but they wish they had taken more time to enjoy it and recognize the amazing journey they were on. Even when things are not going exactly as you had envisioned, it's important to celebrate along the way.
When asked how they built their supportive company culture, they explained that they did it very intentionally. They remained dedicated to their core values, along with the importance of fun, grit and hustle. They maintain high quality food items on-sight for their team members to enjoy for free, including gourmet cheeses and even Keto-friendly chocolate. They created rewardStyle holidays for employees, where the entire company is hosted with their families at the Texas State Fair. This year, due to COVID, they hired a gourmet chef to curate a Zoom cooking class for the entire team. Prior to the event, each employee received a food box at their home that they used during the event.
Finally, there were questions about how the couple navigated being married to each other while building a business together. In the beginning, they shared a desk, listened to and critiqued each other's phone calls at work, and then went home and found themselves discussing a work issue at 10:00 p.m.. Wisely, they decided to put boundaries around their work and home lives.
Amber explained, "It's important for us to stay in our lanes. He does some things really well in his lane, and I do other things in my lane. On the weekend, if one of us really wants to talk to the other about something work-related, we set up a meeting for during the week. That gives us more time to flesh out whatever the thought was, and doesn't interrupt our home life. Sometimes just pausing before discussing something makes you realize that you don't actually want to pursue that train of thought after all. That practice allows us to exhale on the weekends."
Very grounded advice for such a young couple who have already accomplished so much. We can't wait to see what the next 10 years bring!
— Elisa Lurkis