Venkat Shastri, PhD Named Engineering Spotlight Award Recipient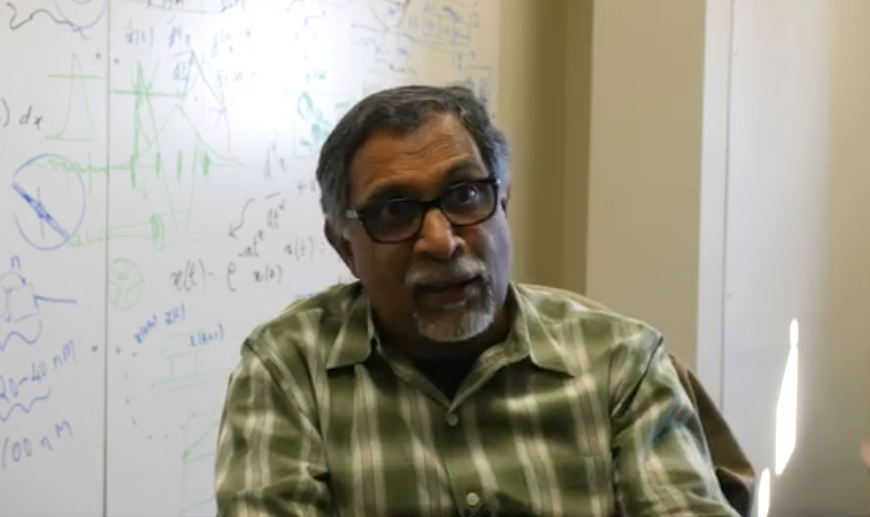 "There are only two ways to live your life. One is as though nothing is a miracle. The other is as though everything is a miracle." — Albert Einstein
Born in Mumbai, Venkat Shastri immigrated to the United States with his mother and family in the early 1980's. Settling in on the east coast, he attended the University of Massachusetts and earned his PhD in Electrical and Computer Engineering with a specialization in Robotics. His first dream at that time was to become an astronaut in the NASA program. Given his inability to even sit in the small rides in Disneyland, a degree in robotics seemed like the best second option. And what a joy it was for him to get the opportunity to work for Jet Propulsion Laboratory (JPL) after his PhD.
"My life professionally and personally has been a string of little miracles," says Shastri with a confident grin. "The first occurred when I graduated from high school."
Shastri applied at two colleges and was rejected by both. He also applied for an out of state college, Delhi Technological University (DTU), but oddly he never received a response. With nothing in the pipeline for college, panic quickly set in.
Then, out of the blue, a telegram came from DTU just two weeks before school started in the Fall. It had been addressed to his uncle, whose name was misspelled and the address was entirely missing. Somehow the telegram made it to his home — against all odds.
"It was an admission telegram saying I was accepted to the engineering program. I was on my way to become an engineer."
His journey was helped in no small part by his family. Following his mother, all members emigrated to the U.S. The first job his mother got was that of a babysitter. What she had saved was just enough to pay for his first semester at UMass. Wide eyed, Venkat arrived with $250 in American Express travelers checks, two suitcases containing all that he owned, and just enough funds to take him to his first winter in western Massachusetts.
While working on his Masters, the Director of the UMass International Students' Office suggested he talk to a School of Engineering professor who might have an assistantship. The professor did have a teaching assistant position open for someone to teach Introduction to Fortran Programming Language.
"When asked if I could do it, I said 'Absolutely' despite having no experience with Fortran. I learned what I needed to teach at night and taught my students during the day. Go figure!"
"Two things drive me the most," admits Shastri. "First, have fun. And second, if you tell me it can't be done, I will show you otherwise."
One week after finishing his PhD, Shastri moved to California and seamlessly transitioned into industry. He had been offered a job at JPL, where he worked in the Space Telerobotics, Mars Pathfinder and Sample Return programs.
He took a sabbatical from JPL in 1994 and got the chance to work at Yale University as a research scientist. After two years, he came back to California where took over the robotics program at SRI International (SRI) and served as a consulting professor at Stanford. At SRI, he conducted research in robotic manipulation, legged locomotion, adaptive control and nonlinear systems.
In 2000, Shastri realized that he was becoming more and more interested in the process of turning technology into products. He took over the automation group at KLA-Tencor as a Senior Director of Engineering and Product Development. Unbeknownst to him, this was the time when the semiconductor industry was transitioning from 200mm to 300mm wafers, and this caused an exponential growth of automation in wafer fabs. The work experience at KLA-Tencor, and his subsequent role as the VP of Engineering at Palomar Technologies were some of the most fast paced and exciting years of his professional life. The miracle had struck again and helped him revive his passion.
"My first CEO gig was at PCN Technology (PCN). I heard about the opportunity because I met a guy whose son was friends with my son," says Shastri. "Despite being a scientist, I cannot to this day draw a logical connection between my first meeting with him and leading a company for the first time." Today, Shastri serves on the Board of three companies and is leading a diagnostics company called ALZPath.
"In 2015, as PCN was getting into its growth phase, I decided to switch to something that would have more of an academic focus. I talked to the folks I knew at SDSU, UCSD and USD. My thought was whether I would be able to take all that I had learned as a professional and an entrepreneur, and help develop the next generation of founders. I contacted Kathleen (Kramer) who introduced me to Ming (Huang) at USD," recalls Shastri. "Ming really took an interest in me and introduced me to Chell (Dean Roberts). I can say without hesitation that Ming is the reason why I am here in USD today."
Shastri started teaching as an adjunct at USD's Shiley-Marcos School of Engineering and was quickly hired as a visiting professor with a full teaching load. In December 2016, the startup company he previously led was running out of money. "I was being paid as an advisor while working at USD, but with that loss in income, it was not enough to survive."
As fate would have it, Dean Roberts asked Shastri to take over industry partnerships and serve as a professor of practice, with a full-time salary starting the following month.
That year Shastri kicked off the engineering entrepreneurship program, the Etrack Initiative, within the Shiley-Marcos School of Engineering with the first cohort of budding and innovative students.
"I will never forget, on April 1, 2018, I got a call from industry pro Don De Sanctis confirming he wanted to endow a position for entrepreneurship for the school, and he wanted it to go to me. I was stunned — was this an April fool's joke?" Shastri laughed.
He was honored, but suggested that De Sanctis talk to Dean Roberts about the opportunity. "I told Don I didn't know if Chell would think of me or if he had anyone else in mind, and to ask Chell what he wants." Roberts confidently proposed Venkat Shastri for the position — a perfect match.
Eighteen months later, as Roberts and Shastri were launching multiple online Master's programs — from Applied Artificial Intelligence and Data Science to Innovation, Technology and Entrepreneurship — Roberts named Venkat Shastri as Associate Dean of Graduate Programs.
Roberts attributes Shastri's success to his immense breadth of involvement that spans across the USD campus and into the community. "From university committees, grant writing and curriculum development at the undergraduate and graduate levels to entrepreneurship, senior design and industry engagement, Venkat is one of the most broadly engaged members of the engineering faculty — a heavy load he takes on voluntarily and with passion."
"I've always been a person driven by passion and instinct. I place a great deal of trust that things will work out, so I am not afraid to try new things. I am grateful to Chell for breaking through traditional boundaries of what faculty should and can do. I love what I do. As I said, every one of the things that happened in my life, to get to where I am today, I consider to be tiny miracles."
Shastri holds patents in controls, robotics, Bio-MEMS and electro-active polymers, and has served as Principal or Co-Principal Investigator on large multicenter research grants and contracts. He is also the author of a book entitled, "Dexterous Robot Hands,'' (Springer-Verlag, 1990), and has published over 30 scientific articles in journals, magazines and conferences.
When Shastri isn't busy launching the next online masters program or helping student teams launch their own business ventures, he loves spending time with his family — wife, Lynelle, two sons, a step son and a step daughter. Fortunately, his nuclear family is here in the United States.
Shatri is a self-admitted 'wine and coffee snob' and loves to cook. "My mom's an amazing cook and inspired me to follow in her footsteps. Now when she comes to visit, I show off and make one of her meals. I even get positive feedback from her, so I can't be too bad."
— Michelle Sztupkay