USD Rugby's Mickey Miller '20: Anxious to Get Back on the Pitch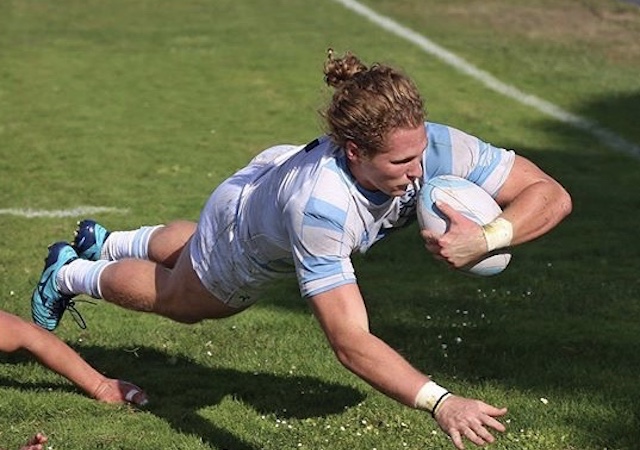 The Shiley-Marcos School of Engineering reached out to recent electrical engineering alumnus and USD rugby player, Michael (Mickey) Miller '20, to find out how his athletic prowess and mental tenacity have helped him navigate through the COVID-19 crisis.
What made you decide to study electrical engineering?
USD does a great job of giving young engineers exposure to different areas in engineering through the core requirements of the engineering degree. One of those courses required is an introduction to circuits. I took this course with Dr. Ernie Kim, the spring of my second year at USD and I absolutely loved it. Both how Dr. Kim conveyed the technical information of the course, and the course material itself was so intriguing and fun. I have never looked back.
How did you first get introduced to the sport of rugby?
I first was introduced to rugby during my freshman year at University of Colorado-Boulder, where I watched most of the 2015 World Cup games and was in awe of the athleticism and power of the game.
What position(s) do you play?
At USD, I started out playing prop and lock, as I was one of the stronger players on the team. I am 6'2" and weigh 225 lbs, so my strength and size helped with set piece play, pushing in the scrum and lifting in the lineout. As I became more fit athletically and gained a higher rugby IQ — a commonly used term meaning knowledge of the game, such as the various rules and strategies that can be used and situational awareness — through playing more games and watching rugby, I shifted to playing 12 (inside center). At this position I was required to do more passing and be a more dynamic runner.
I am a local — from Point Loma, so during the summers I started playing 7's — a variation of rugby where there are seven players for each team on the pitch at one time rather than 15 like in normal Rugby Union — with the Old Mission Beach Athletic Club (OMBAC) Men's Club team in San Diego. This improved my passing skills drastically and made me a far better rugby player.
With the campus shutdown, were you able to complete the season?
No, after COVID-19 became a prevalent threat to public health, all rugby and athletics were shut down across America and unfortunately, the season was cancelled before the halfway point.
How did the COVID-19 shutdown affect your ability to train for the Major League Rugby (MLR) draft?
The shutdown made it nearly impossible to train for the draft. Gyms weren't open, so I have had to train with whatever weights I had at home, which are extremely limited. Fields were closed, which meant any running or sprinting had to be done on streets and in alleys near my home. Also people weren't allowed to gather in groups, and must stay six feet apart, which meant I couldn't train or work on skills with my friends and teammates during the shutdown.
That being said, I am extremely driven and found ways to train hard at home doing various exercises to work on all the necessary muscle groups. I have been using a stationary bike at home and running all around Point Loma for fitness. Luckily, I have a brother at home who also plays rugby, so I've been able to work on passing and other rugby specific drills with him.
Were you able to participate in the Major League Rugby draft on June 13?
I did participate in the virtual MLR draft. There were 400 applicants and only 24 were drafted. Unfortunately, I was not selected, but I will continue to pursue my dream of becoming a professional athlete and professional rugby player in the months and years to come using whatever avenues possible.
Are you continuing to pursue full-time employment now that you have graduated with your BS/BA in electrical engineering this past May?
I knew there were no guarantees with the draft, so I have been pursuing my career in engineering, simultaneously. I have had some very interesting companies that I have been in contact with, and I just completed my first job interview with Booz Allen Hamilton. I'm excited to be a professional engineer and pursue rugby at the same time.
What is your greatest takeaway from your rugby experience amidst the pandemic?
Although rugby is a collision sport and requires the most physicality of any sport other than combat sports, it teaches you how to be mentally tough. During this pandemic I have used that mental toughness built into the sport of rugby every day. Being patient, strategizing and keeping my composure during an extremely frustrating time has been so important. Without my experiences playing rugby I wouldn't have been able to adjust as well and stay strong through this time. I can not wait to get back on the pitch!