A Conversation with 2020-21 Associated Student Government Vice President-Elect, Justin Daus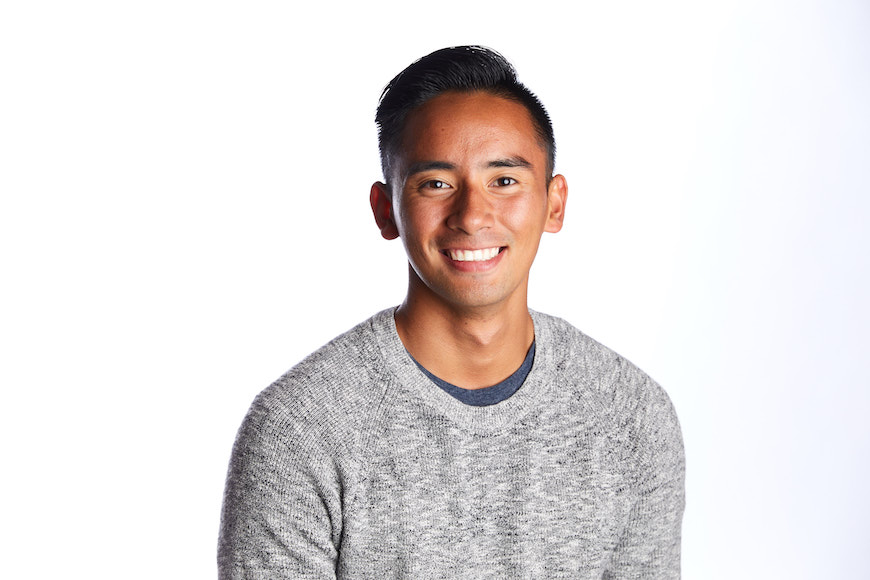 With student government elections behind him, Justin Daus looks forward to fulfilling his role as Associated Student Government (ASG) Vice President in the 2020-21 academic year — to bring a sense of hope and opportunity to the USD student population amidst the ongoing challenges brought on by the COVID-19 health pandemic.
Join Michelle Sztupkay, marketing and communications manager for the Shiley-Marcos School of Engineering, as she poses questions that navigate Daus's inspriational pathway to USD, how he came to answer the call for student representation and how his major in Industrial & Systems Engineering and minor in Naval Science have positioned him as a problem solver in finding solutions to optimize the student experience at USD.
Describe your pathway that led you to study Industrial and Systems Engineering at USD and how this major proves resourceful in your new role as ASG Vice President.
Justin Daus: I grew up in Las Vegas, NV as the youngest of three children under the roof of my mom. I knew I wanted to be an engineer when I first visited USD. My high school self was not the best in regards to academics, but USD showed me that I could overcome the obstacles that were in my path. I chose to be an engineer because they are problem solvers — I like that. I was super blessed to have received the NROTC National Scholarship, which opened up an opportunity for me to receive my undergraduate degree at USD without having to place further financial burden on my mother.
During my ENGR 101 course with Dr. Khalil, I had an extensive conversation about what Industrial & Systems Engineering (ISyE) is. The emphasis on the human portion of it and process improvements really grew on me. I loved the fact that ISyE was present in almost every industry. For example, my mother is an ICU nurse, and she's tackling the COVID-19 pandemic head on. In an ISyE perspective, my classes are getting involved in the pandemic by looking at supply chain logistics for the medical supplies of which my mother is experiencing a shortage of.
Tell me about your Naval Science Minor.
Daus: While I am working on my engineering degree, I have joined the Midshipmen in NROTC to train to be officers in the military at the same time. Every Midshipmen in the NROTC program must take a set amount of Naval Science —or NAVS— classes here before they graduate. It is part of our requirements before we graduate —just like physical training or drill is required. It adds up to a three-unit course each semester. We learn different aspects about the Navy along with critical information pertaining to our growth as future officers. All that adds up to satisfy a Naval Science Minor when we graduate. The people, the classes and the community have welcomed me ever since my first day here as a student. USD has been a second home from that day forward.
Describe your prior experience with the Associated Government Students.
Daus: I began my experience in ASG this school year, my Junior year, as one of USD's Shiley-Marcos School of Engineering Academic Senators. Since then, I have spent time advocating for the school on several initiatives, including the addition of external power strips for the ASML Ideation Space. This semester, I became the Chair of Academics in ASG. My committee and I work towards initiatives that aid the academic experience of the student body. Since the remote learning change, we have taken on an even greater responsibility to assist our constituents during this challenging time. My committee and I have played a role in implementing the pass/fail option for all students and we have awarded Academic Research Grants for students who need funding for their projects — a few of those recipients are within the Shiley-Marcos School of Engineering.
We are striving to move forward with plans for mid-year graduates to walk in the postponed commencement that will be taking place during Homecoming Weekend this October. Currently, there is no mid-year graduation ceremony for fall graduates, and many of these students are unable to return to walk in May; these include international students and students who are part of an ROTC branch. We hope to work with faculty to accommodate these students so that they may celebrate their achievements with their families this October.
How do you feel you best served your constituencies in your role as one of the Shiley-Marcos School of Engineering Academic Senators?
Daus: Being part of the process this year in ASG showed me that students can have their visions executed. In my role, I think I was most successful in focusing on pure advocacy for the voices of our students.
One of the best examples I can think of in which I served my constituents was during Fall 2019. The College Readership Program was on the chopping block, and many students' voices who advocated for it were not being heard. This was a resource that provided free accessibility to news journals for students and faculty alike. I felt that students — regardless of what area of study — must be provided access to reliable and unbiased news in order to foster our liberal arts education and be better stewards in society. My former Shiley-Marcos School of Engineering Senator, Daniella Walter, and I publicly defended these students and the College Readership Program. Unfortunately, we lost seven votes to 22, and that resource went away. Even in that failure, I saw that those students needed to have their voices heard — the same students who waited in the Senate and formed petitions. We provided that aid to them, and I aim to fix those challenges with the College Readership Program during my upcoming term as Vice President.
What made you run for the Vice President position?
Daus: The relationships and memories I have made with my peers and professors at this university have led me to strive to spend my senior year in service to them as Vice President. When I started my undergraduate journey at USD, I had no intentions of taking part in ASG, and I certainly had no intentions of running for Vice President. However, I did not foresee the incredible people that I would come to know in my studies — whether it was physical training with my NROTC friends early in the morning, late study sessions with my STEM friends in the engineering building or enlightening retreats with University Ministry. It was these experiences at USD that shaped my understanding of the role. Now, more than ever, with the COVID-19 crisis, everyone is in a period of extreme uncertainty. I feel that I can adapt to these challenges to help us all get through it to the other side.
How will you serve your new constituents in your role as Vice President?
Daus: I aim to bring the knowledge and connections I have developed from my current role as Chair of Academics into my new role as Vice President to aid everyone in any way that I can. As an engineer, I understand what it is like to toil late nights over seemingly impossible problems. As a Midshipman, I know the discipline of early mornings and professional development. Putting the students' needs first — all students regardless of race, religion, color, creed or sexual orientation.We are all part of the Torero family, and I hope to find new ways to approach these difficult issues we all now face. My specific niche is in aiding Toreros in academics. I also plan to foster transparency, mental health and wellness awareness and improved hygienic practices. As I am sure all my fellow engineers understand, we are often faced with impossible problems with no solution in sight. I aim to approach each obstacle as a challenge to both rise above and to turn into a learning experience.
To learn more about USD's Associated Student Government, please visit the website: https://www.sandiego.edu/associated-students/