USD Underdogs Prevail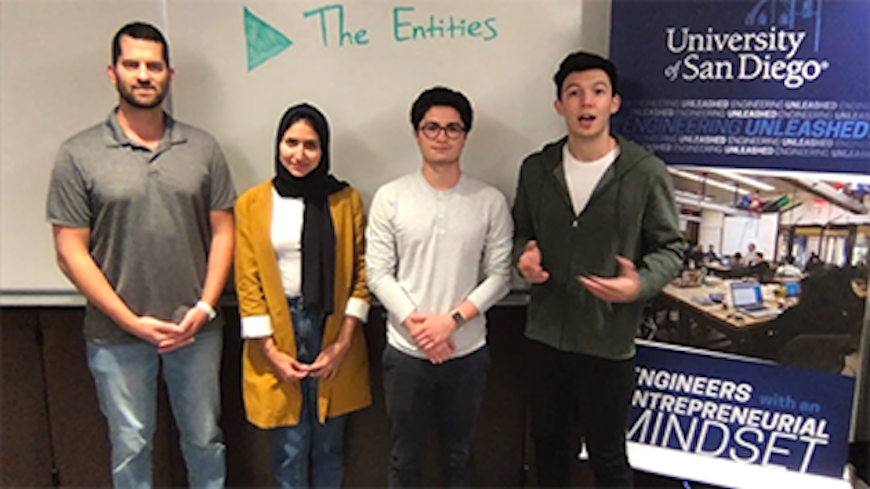 An unprecedented two Industrial and Systems Engineering teams from the University of San Diego were winners in this year's Simio Student Simulation Competition.
Over 1,500 students from around the world competed in the December 2019 simulation competition to solve the real-world problem of evaluating improvement projects at a regional airport to reduce passenger congestion, while enhancing the passenger experience.
Students were required to "develop a model of the current airport operations to serve as the baseline to compare the impact of the improvement options, then evaluate the proposals to provide an overall recommendation for the most cost-effective operations."
Judging was based on a 10-item scoring system with ten evaluation areas.
"This year's competition placed a heavier emphasis on the students' ability to perform statistical analysis on raw data of airport operations, even before creating any simulation models," says USD Assistant Professor of Industrial and Systems Engineering Jae Kim.
This is Kim's sixth year serving as the instructor for the simulation class (ISYE 420/420L) that competes in the competition to fulfill the course project requirement. He devotes a great deal of time preparing his students for the intricacies of the competition and has high expectations — which has paid off. USD has secured wins in three of the four years in which the school has participated in this challenging international event.
"Students must make real-world decisions to find any insights to help them move forward. They must take all of their analysis and knowledge of the system and apply them to building simulation models that capture the random behavior of these complex systems," says Kim.
The Entities team earned an impressive 2nd place in the 2019 competition. Team members Caleb Benson, Daniel Ley, Rana Sadik and John Pendas were thrilled with the win.
Team member Ley found out about the team's win while studying abroad in London over intersession. "I felt overjoyed and I was immediately reminded that all of the hard work and long nights my team and I spent working on this project had paid off."
"The Entities had a great balance of statistical analysis, modeling skills and presentation quality," reports Kim. "The depth of their analysis was very good, especially at an undergraduate level."
A second USD team, Sim Diego, won an Honorable Mention for Good Modeling Detail and Approach. Team members Ali Ali, Shahad Alkazemi, Elizabeth Sampson and Shane Wells worked well together as a team and clearly delegated the tasks among themselves to secure the victory.
" I felt very proud to represent USD's industrial and systems engineering program," says an elated Sampson. "I was grateful to Dr. Kim for being such an amazing instructor."
Other past winners from USD include Honorable Mentions in 2018 for The Alpinist team for Best Modeling Skills, and again in 2016 for the Simio Elites team for Creative Use of Dashboards.
The simulation competition problems offer students an invaluable experience, solving real-world problems with a high degree of complexity using data from actual problems faced by companies, governments and others institutions around the world.
When The Entities team first looked at the problem statement for the project, they had "no idea where to begin," admits Ley. "Although you may not have the knowledge or skills to complete a project at the beginning, by utilizing the problem-solving skills we learn as engineers and dedicating yourself to learning new skills, you can accomplish a lot more than you think is possible."
By participating and ultimately winning prizes in this international competition, Kim believes the USD students gain a great deal of confidence because it demonstrates that they are capable of competing with some of the best engineers nationwide. "We are going up against large schools with graduate students, so we are always an underdog, punching well above our weight class."