Steve Saxer Named Engineering Spotlight Award Recipient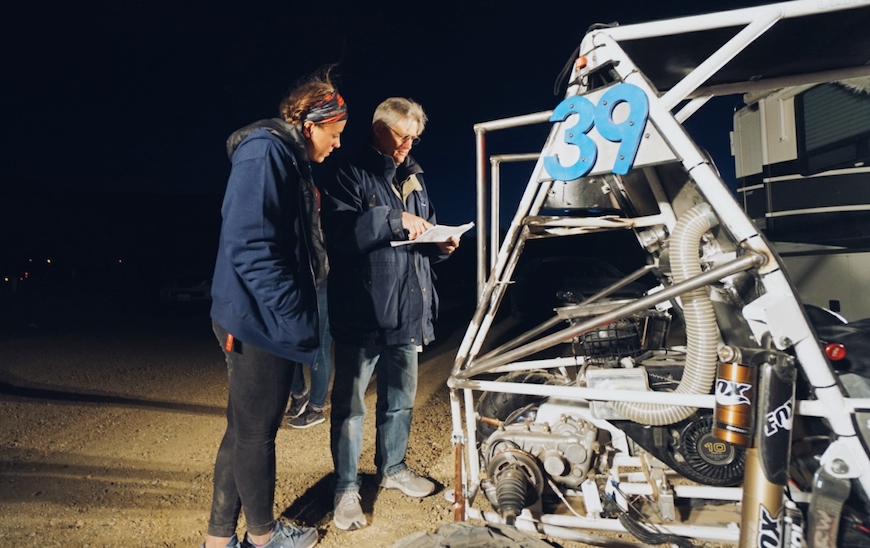 "If you break something, you have to fix it." Words to live by in the Saxer household, when USD's Mechanical Shop Manager Steve Saxer was growing up in Lakeside, California.
"My dad was a radio man in the Navy, raising our family on a Navy mans' salary. He always encouraged us to find a solution. If something was broken, there was not a new one coming to replace it," recalls Saxer. "Needless to say, with five of us kids, there were a lot of 'fixings' around the house."
Inspired by his father, Saxer started out as an electrical engineer at San Diego State University (SDSU), but he quickly got discouraged in college because "we never did any engineering."
"It was a typical first two year curriculum," says Saxer. "There were two problems — I wanted to do exciting engineering things and I didn't know how to do homework. So for me, classes were tough and I didn't finish the program."
Fast forward several years. Saxer was now married and working as a manager for a custom autoparts / race equipment supplier. By this time, he had a lot of experience under his belt and his interests had changed — he liked things that moved. While his wife, Kathy, was working on her Master's degree, Saxer returned to SDSU to finish up his undergraduate degree in mechanical engineering.
With his Bachelor's degree under his belt, he worked as an engineer within a wide variety of industries, ranging from large load monitoring systems, contract manufacturers of medical devices and even for a company that grew human skin.
Saxer had been one of Advanced Tissue Sciences suppliers who built bioreactors for growing skin for diabetic foot ulcers. He reflects on a particularly unique user experience, "We had a woman who had a rare interaction with a sulfa drug that caused all of her skin to start sloughing off. When her boyfriend picked her up from the couch to take her to UCSD, the skin from her entire back side remained on the couch. Fortunately for her, there was a burn unit doctor on duty."
With graftings and surgical applications of the skin grown at Advanced Tissue Sciences, the woman was able to make a full recovery. "It was unbelievable. We never expected her to survive."
After moving on from Advanced Tissue Sciences, he worked at the same physical location for years. The businesses that occupied that space turned over repeatedly, and he found himself working for four different owners, one after the next, at the same address.
Loyal and hard working, Saxer's goal was always to find a place to call home and to work his entire career.
"I found a USD advertisement online and applied." He met with Assistant Professor of Mechanical Engineering Danny Codd and Ming Huang, who served at the time as chair of the mechanical engineering department.
"My last meeting was with the Dean. Although I didn't have a Master's degree, I hold a state of California Professional Engineer (PE) license, which I think made a difference. I'll never forget, Chell called me when I was in Hawaii to offer me the position."
Saxer starts his sixth year in July 2020 at the Shiley-Marcos School of Engineering. In his role, he has one direct report, Lab Technician Sam Burt, and together they work closely with the mechanical engineering students in the fabrication lab, machine shop and wood shop.
"I enjoy working with the students and not having a large staff, as I have held in prior positions," says Saxer. "Sam does his job fabulously. I enjoy working with the students and seeing the light go on in their minds as they find out how difficult it can be to go from art to part (drawings and models to real items)."
Reflecting on his time working at USD, he has seen an evolution in the school's direction and its programs. "I see a large emphasis on sustainability and social justice — how your work as an engineer affects the environment. And from a pure engineers standpoint, the basics of engineering still have to be taught. What my engineering degree showed me was how to find a solution or answer. It all has to be done."
For recreation, Saxer likes to ride his bicycle. He is also an avid scuba diver. "Jamaica is the easiest for diving because of the great visibility and most places are protected bays and have no current or surge. Hawaii has the largest variety of sea life."
Of particular note, Saxer is in his 56th year as a Boy Scout. "Of the 10 males in my family, I am the 3rd Eagle Scout. All of my brothers, my nephews and my sons are Eagle Scouts. It runs in our family."
Saxer is also a proud senior mentor for the Santana High School robotics team in Santee. He got involved in mentoring 15 years ago starting with his sons.
"This is Santana's 9th year in the Robotics World Championship competition. Over 8,000 teams participate worldwide and ours is the only team in east county. I let them build whatever they want to build. Sometimes it works. Sometimes it doesn't. In all, we have been regional winners three times and were sub-division finalists at the 2018 world championships."
In work and beyond, Steve Saxer is carrying on his "fix it" tradition his father so poignantly shared with him growing up. "You have to be able to use the tools available to find answers to problems. There are no shortcuts."