Engineering Students Harvest Award in International Simio Simulation Competition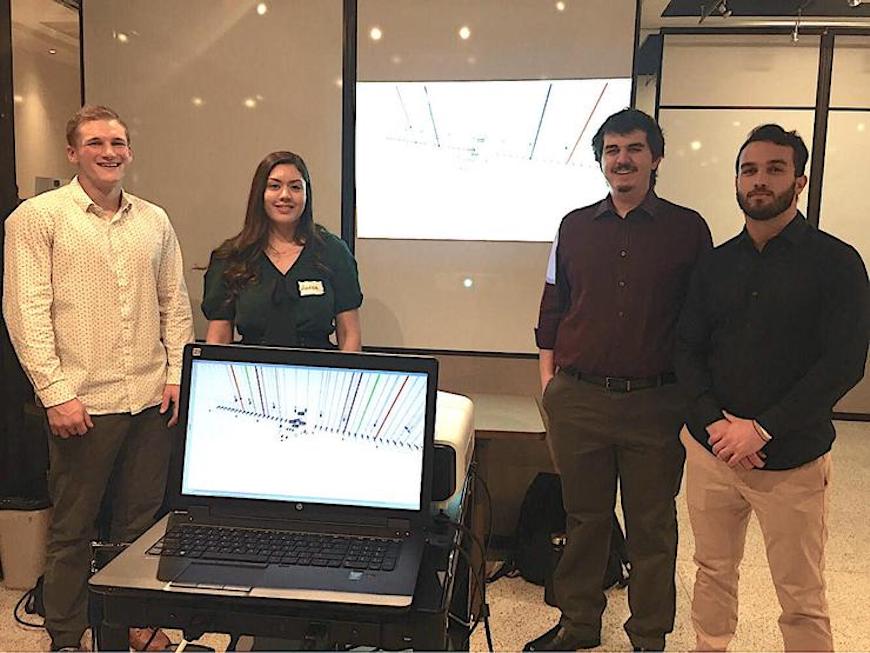 Putting their skills to the test, a team of USD industrial & systems engineering students recently finished in the top 10 in the Simio International Student Simulation competition.
Out of 300 undergraduate and graduate teams, the USD team of Vanessa Felix, Daniel Gadeloff Chambers, Alp Oktay and William Trevena finished in the top three percent earning the award Honorable Mention -- Best Modeling Skills.
Sponsored by Simio LLC, the competition asks students to use the company's software to model a corn seed sorting and processing plant, taking into account the product portfolio, material, shipping and other constraints. Teams were judged on a variety of factors, including model design, analysis and overall project quality.
"We are really proud of them," said Assistant Professor of Industrial & Systems Engineering Jae Kim. "They took a very innovative approach using the flow library which is very hard to use. Modeling approaches they took have very nitty gritty details."
"Engineering isn't just hard work, it is indeed a team effort," said Felix. "We spent a lot of time communicating our ideas through brainstorming, implementing and even failing. The small moments of joy and achievement that resulted after successfully implementing important logical steps from the real-life system into our model are what made the project worthy."
Kim uses the competition as part of ISYE 420, a course in simulation of production and service systems, requiring students to simulate the operations of a complex operation like an oil rig or currency exchange system.
"The extensive support and guidance we received from Dr. Kim was essential to our success and he helped ensure we made it to the very end," added Oktay.
Team members also said the competition gave them a sense of confidence as they prepare to enter the professional engineering workforce. "We feel very confident we can construct simulation models that represent real-world systems and that we can help motivate a team to push through adversity to achieve a common goal," said Trevena.