Into the E-Maelstrom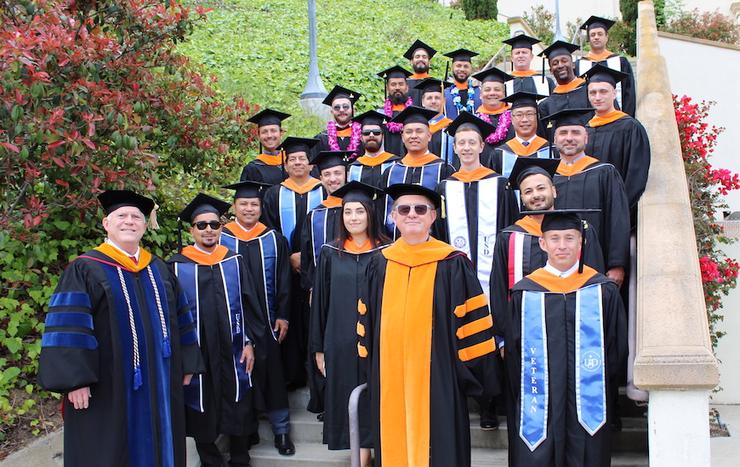 Late in 1988, a college student named Robert Morris wrote a program designed to propagate across the network of computers and terminals that was yet to be popularly known as the internet. The Morris worm replicated aggressively and slowed activity across a web of some 60,000 machines worldwide to a worm's pace. It was the first cyberattack.
Flash forward to 2015, when USD launched the Master of Science in CyberSecurity Engineering and Technology. A Yahoo hack just two years before had compromised some three billion accounts. Soon after the first students began the program, Marriott International would announce that more than 380 million customer accounts, including credit card and passport numbers, had been hacked for years before the intrusion was even discovered.
Chuck Bane, professor of practice at USD's Shiley-Marcos School of Engineering, says the USD program is unique in having two degree offerings. First, an online track that focuses on the business and administrative side of cybersecurity, and an on-ground intensive, hands-on engineering-focused program.
"Our mission is to provide a holistic education that does more than prepare students to meet industry demands," says Bane. "We created a program where students not only have a thorough understanding of the engineering involved in cybersecurity, but they are also versed in the professional and ethical aspects of an enormous global problem."
Cyberattacks take on a myriad of forms, from compromising everyday debitcard transactions to stealing classified military data and compromising a presidential election. Forbes estimates the international cost of cybercrime to be some $6 trillion a year through 2021. And then it'll get expensive. The first graduates from the innovate USD program have taken their training into this e-maelstrom.
Haydar Majeed was working as a credit union financial advisor when a chance meeting with USD's Center for Cybersecurity Engineering and Technology (CCSET) founding director took his life and career in a new direction.
"She personally took me on a campus tour as one of the first prospective students," he recalls, "and introduced me to the faculty and explained the hands-on engineering focus. I enrolled the next week."
Majeed realized that this industry, known for the multitrillion-dollar costs of cybercrime, was going to be a highly profitable endeavor, and he decided to take action. He founded CRIPTIQ (the Cyber Readiness and Information Protection Technology of Iraq) to assist and support the Iraqi government in their efforts to digitalize, secure and maintain their data and operations. Majeed grew up in Iraq and felt that with his skills, education and experience he could now make a difference in the lives of his family and friends back home by helping solve cybersecurity issues that the Iraqi government is facing.
"Iraq is a good country, but the computing infrastructure there is almost nonexistent," Majeed says. "Using the principles I learned at USD, we are helping the government secure its data with encryption and better technical and administrative control.
We're trying to equip the people and agencies with the technology that will enable them to establish peace, stability and prosperity, not only for the Iraqi people, but for the entire region."
From his desk as an oil industry analyst at Phillips 66, James Elumogo saw an opportunity in cybersecurity. He also felt an obligation. Elumogo watched the 2016 presidential debates and heard the major party candidates agree on the threat cybercrime posed for the U.S.
"They talked about how we need to improve our issues in regard to cybersecurity. It sparked inspiration in my heart with the hopes of making an impact to support our nation."
He says the USD experience gave him something more than a foundation. "The professors helped me dive deep into the subject. You know that expression 'do the math'? Well, we did the math, got down to a very granular level. We learned to solve problems. We learned how to actually secure systems, not just bring them into compliance."
Now a cybersecurity engineer at Northrop Grumman working on the Battlefield Airborne Communications Node the U.S. military uses to monitor battlefield operations, Elumogo sees himself as part of a larger, more patriotic effort.
"I had always been very excited about working for the Department of Defense, but cybersecurity is very much a concern for our president and I wanted to help."
Richard Rositas knows a little something about the relationship of cybersecurity to national security. He retired from the Air Force after 20 years of operating, maintaining and protecting programs like the U.S. global positioning satellite system, Global Broadcast Service, Airforce Satellite Control Network and theIntegrated Tactical Warning/Attack Assessment (ITW/AA) program. He entered the on-ground USD master's program with the goal of sharing his expertise with the next generations of cybersecurity personnel.
"I've got a lot of real-world experience, but the USD program really challenged me to learn and understand the engineering piece," says Rositas, who recently accepted a new position as director of information technology and cybersecurity, working for EMOLBI LLC at the Space and Missile Systems Center in Los Angeles, California. "We did a lot of advanced research and development in the Air Force to protect those networks, and the USD program has really helped me understand what's new and what's becoming obsolete — and why. Cybersecurity as an industry is starting to formalize roles and responsibilities, and it's really exciting to be a part of that."
Bane shakes his head in wonder as he talks about the program's successes that include the Ties that Bind Award, presented in 2018 by InfraGard San Diego, a partnership between the FBI and members of the private sector; the awarding of the student scholarship by SIM San Diego, the premier association for top technology executives in San Diego; and USD's Center of CyberSecurity Engineering and Technology's fourth consecutive awarding of the GenCyber Academy for Excellence grant by the National Security Agency and the National Science Foundation, designed to increase interest in cybersecurity careers and diversity in the workforce.
"We've come so far so fast," he says. "USD has shot to the top of cybersecurity programs nationally, and will continue to do so as our graduates continue to make their marks."
— Timothy McKernan