Deep Bedi '11: Engineering Alum, former SIBC President Named to Forbes' 30 Under 30 in Asia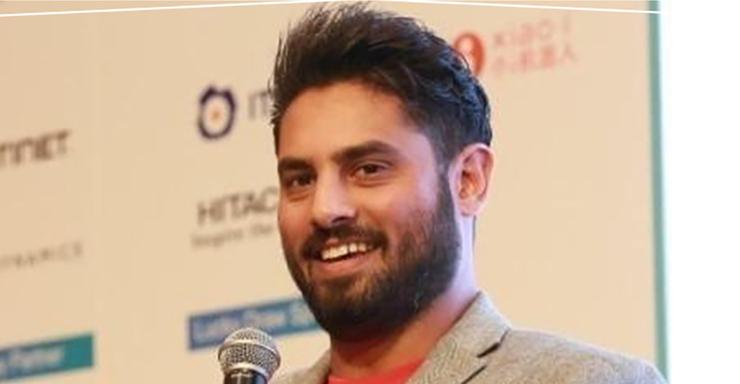 begin quote

I think SIBC really accelerated my path to leadership. It not only enabled me to understand how to run an organization and how to communicate effectively, but it also helped me early on in my career when I was pitching ideas in a startup environment.
Intrapreneurship is the ability to be an entrepreneur within a large organization. But spend five minutes with Deep Bedi, and you'll quickly see that it means and entails much more.
"For me, it's about having a strong ambition to create something great — something different," he said. "Even more so, it's about helping my team reach its full potential to realize that ambition."
Bedi is Chief Product Officer for PayMe from HSBC, a mobile app that allows anyone in Hong Kong to send and receive money instantly, for free. PayMe is helping to shape the fintech landscape in Hong Kong, which, for Bedi, meant going head-to-head with some of the world's leading financial technology companies to establish and defend a technology-driven profit margin for HSBC in a massive market.
"That was the kind of potential impact that really excited me," he said.
PayMe has surpassed over one million users within 17 months from launch and with that, it has changed the lives of millions in Hong Kong — an achievement that got Bedi on the list of Forbes' 30 under 30 in Asia.
Bedi's journey to intrapreneurship started at USD, where he majored in industrial and systems engineering – a program that allowed him to combine his passion for business with a growing propensity for engineering.
"The industrial and systems engineering program seemed like a natural fit for my personality and interests."
From classmates to professors, Bedi found in USD a group of passionate, like-minded individuals supportive of one another's entrepreneurial ambitions. He spent time each week with Professor of Industrial and Systems Engineering Dr. Rick Olson, pitching and brainstorming ideas for businesses and products. Dr. Olson, he said, would work with him to determine the feasibility of his ideas.
"Everyone at USD was very supportive of going out and doing something on your own," he said. "It was an environment that fostered business and creativity — and the ability to create something new."
While at USD, Bedi served for two years as President of USD School of Business' Student International Business Council (SIBC), an endowed student-led organization which — along with similar organizations at the University of Notre Dame and Benedictine College — provides students with an opportunity to work on real-world, team-oriented business projects, developing leadership skills, entrepreneurial ability and global interaction. It was an experience that, unbeknownst to him at the time, he would draw on throughout his career.
"I think SIBC really accelerated my path to leadership," he said. "It not only enabled me to understand how to run an organization and how to communicate effectively, but it also helped me early on in my career when I was pitching ideas in a startup environment. I learned to be confident enough to talk about my ideas, my products and what I was building."
SIBC's purpose is built on peace through commerce and on making a positive impact on society, a concept that struck a chord within Bedi.
"It was my responsibility as president of SIBC to ensure my peers were getting true value from the organization, which included having real-world projects to work on, bringing in thought leaders to speak to the group, and providing networking opportunities," Bedi said. "I left the program with the essential toolkit of servant-based leadership, as well as a heightened awareness of cultural differences and how they influence personal behavior and team dynamics."
Bedi graduated from USD in 2011, and, like many intra and entrepreneurial journeys, took a few detours before arriving in Hong Kong. After graduation, he and a group of his USD peers decided to move to his hometown of San Francisco — aptly, one of the world's leading hubs for tech startups — to collaborate on ideas around potential business ventures.
After a few ups and downs, the team shifted focus, establishing the agency Third Throne Interactive and designing mobile apps for one of the world's leading video game companies, among other big-name clients. But while the work was in their wheelhouse and the money was good, Bedi still had ambitions of starting something of his own.
"I really wanted to own a product from end to end – and to develop something that would make an impact," he said.
After stepping away from Third Throne Interactive, making a few phone calls and undergoing several rounds of interviews, Bedi was presented with an offer he couldn't pass up – a move overseas to "transition Hong Kong into the digital economy."
"I never thought I would move to Hong Kong, but I loved the opportunity and I loved the excitement of being able to work internationally," he said.
Bedi joined HSBC as Senior Digital Product Manager, leading the development of the PayMe product. Today, he oversees the product and design team as CPO. In both of these roles, Bedi has found himself continuously drawing on the academic and professional experiences that have shaped him as a global business leader — and led him to become part of the Forbes 30 Under 30 Asia, Class of 2019.
"When it comes to global business and intrapreneurship, organizations are looking for the types of changemakers USD works to create," he said. "People who have the ambition to improve products and systems, but who can do it by motivating and collaborating with others. The organization has to be on that journey with you."