John Glick, PhD Named Faculty Spotlight Award Recipient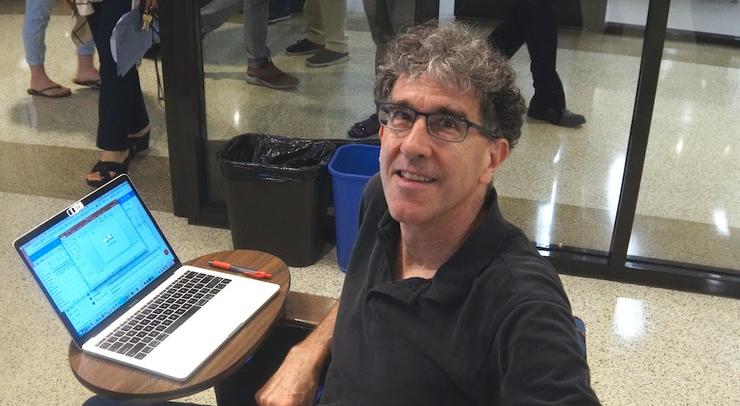 Professor and Chair of Computer Science at USD's Shiley Marcos School of Engineering did not start out his academic journey in the field of computer science, as one might imagine. Rather, he earned his undergraduate degree at the University of Kansas in chemical engineering.
"I went into it for all the wrong reasons," admits Glick. "I was good at math and science and my sister majored in it. In the mid 70's there were lots of jobs in chemical engineering. So, that's what I did."
Glick's first job was with Dupont as a process engineer in a chemical plant near the Delaware Memorial Bridge in New Jersey. He later transferred to another plant within the company and wasn't particularly happy with either of his roles. After thoughtful consideration, he elected to go back to graduate school at Northwestern University to earn his Masters in Chemical Engineering.
It was there that his thesis work on modeling the movement of materials between units in chemical plants required him to learn about data structures and algorithms. "That is when I fell in love with computer science," admits Glick. "After earning my masters in chemical engineering, I went to the University of Minnesota — they call it 'the U' up there — and I earned my second master's in computer science. I did a little teaching in grad school and really liked it."
With his two master's degrees in hand, he secured a job programming in an engineering research group at Sandia National Labs, where he worked for four years. "Ironically, it was within the same group that Professor Imane Khalil headed some years later," says Glick.
With a few years of industry experience under his belt, he decided that what he really wanted to do with his career was to teach. He earned his PhD from the University of Minnesota in computer science and started interviewing and applying for jobs.
"Would you believe, the first job offer I received and accepted was with the University of San Diego?" reflects Glick with a smile. "I had never thought about living in California at the time, and now I have been here for 26 years."
Computer science enrollment at USD has been very cycliclical over the decades. Glick explains, "I was the only PhD in computer science at the time I joined the University. The classes were very small and math faculty also taught the classes. It was hard finding computer science faculty in the 1990's. I remember a time when there were only three or four students in a class."
In 2000, the dot com boom reflected big numbers in the classroom. Those numbers quickly shrank with the bust of the dot com era. Enrollment remained flat for a while until recent years, where the numbers have been growing rapidly nationwide.
Glick became chair of the math department in 2003 for seven years. He returned to the role later for a year, and has now served as chair full time over the computer science department since the program moved to the Shiley-Marcos School of Engineering in Fall 2016.
In addition to the growing enrollment in computer science, Glick discusses two other major changes over his 26 years with the university.
"I think when I got here in 1993, we were still more of a regional school," he says. "Most students were coming from Southern California and Arizona — maybe some from the northwest. More students are now coming from different parts of the U.S., even from around the world. We are have become a national university over the years."
"Research is more a important part of faculty jobs now more than ever. This is a big change at USD," Glick adds. "My research was on parallel algorithms. I got promoted to full professor based partly on that work."
As we honor Professor Glick today as the Shiley-Marcos School of Engineering Faculty Spotlight Honoree for April 2019, we thank him for his years of immense dedication to his students and to his work.
"I like to teach. I like working with students in class and during office hours. I am not cut out for an 8:00 - 5:00 desk job. That's why I kept going back to school," Glick admits. "I like being in an academic environment. I like constantly learning new things. When I have to teach a new class, I get to learn about it."
Glick balances his demanding, but rewarding, academic career with his home life. Even though his family does a lot of traveling, cooking and hiking together, they consider themselves to be home bodies.
"My wife loves to cook and I like to help by chopping and prepping. My daughter and I like to go hiking together, a favorite pastime of mine dating back to my youth in Kansas hiking at Rocky Mountain National Park. We also enjoy taking side trips to Japan, China, Hong Kong or Thailand," he confirms.
"My life is routine. We visit my family in Philadelphia every year and spend summers in Taiwan — my wife is from there. My daughter has been going since she was born and says it's just a different life. In Taiwan, we stay in a high rise apartment. There are shows everywhere outside and street markets. My daughter has her family she visits. When we come back to the United Stats and re-enter our suburban life, we realize she is not only bilingual, but bicultural."
"I love my family," professes Professor Glick, heartfully. "Although we are home bodies, we enjoy our life."