USD: Home Away From Home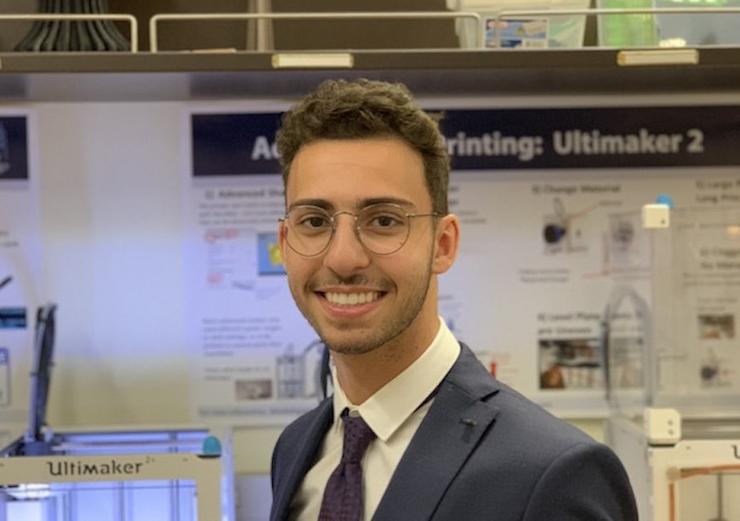 As the crow flies, the distance between Saudi Arabia and San Diego is 8,366 miles — roughly an 16-hour flight. For a 17-year-old venturing out away from home on their own for the first time, moving from one continent to another is more than just the number of miles separating the two countries. It is a life journey that opens up boundless opportunities for those bold enough to take that leap of faith.
Meet Yousuf Alireza; an energetic and passionate fourth year Industrial and Systems Engineering student at the University of San Diego, who was born in Saudi Arabia.
"I come from a family of pioneers," explains Alireza. "I have always been exposed to people from industry who have given me advice and enriched me with their knowledge and experiences. I believe that in life, experience is the key to success."
Alireza took that motto to heart. With an adventurous spirit, a love of nature, and a passion for an active lifestyle — coupled with the fact that all of his uncles and grandfathers studied in the United States — Alireza started his search for universities in the U.S. He applied for and was accepted into the University of San Diego.
"I've always been drawn to engineering, but I didn't know which branch, specifically. As I started with my summer work experiences, I found I was increasingly engaged in learning about managing systems, allocating resources and making things more efficient." Alireza continues, "I felt I could develop and improve something that could make a change in the workplace. These experiences made me realize that Industrial and systems engineering (ISyE) was exactly what I was looking for."
Alireza was warmly welcomed to USD by the Office of International Students and Scholars (OISS) team. "This was a huge transition for me," says Alireza. "They welcomed me very warmly, talked about expectations and were incredibly considerate."
Director of OISS, Chia-Yen Lin, attests to her team's commitment, "What sets us apart is how we genuinely value and cultivate the relationship with our international students. Many of them attend USD because their family members or friends attended the university and had fond memories of their time here. Who wouldn't want to study in a place they could consider their home away from home?"
Alireza quickly acclimated to his new environment. He connected with friends from Saudi Arabia who mentored and encouraged him, and his engineering classmates provided an additional support system for social and academic success.
"We encourage each other to succeed and have become a family because of the journey we are taking together. We see each other every day, sharing perspectives, culture, traditions and stories from home."
In addition to being an active member of The Institute of Industrial & Systems Engineering (IISE), he also started getting involved in extracurricular activities, including intramural soccer, golf, the psychology club and the dancing club.
"I just want to make sure I familiarize myself with diverse things I was unaccustomed to — I wanted to be well rounded," confirms Alireza.
Alireza has made the honor roll thrice and attributes much of his academic success to the professor-student relationship. "The professors care about the students," explains Alireza. "They talk about their careers and provide tips for internships, which gives us an idea of career paths we can choose."
During his summers, Alireza returned to Saudi Arabia and interned in various industries. From training at a pharmaceutical company to learning about supply chain at a seaport container terminal, Alireza found the experience to be very relevant and helped him better relate to the material he was learning in school. It was all coming together.
Alireza discusses one of his personal greatest accomplishments. He began his academic journey as a self-sponsored student. Although Saudi students have the right to apply for a scholarship, his major was saturated, and thus, he was required to change it in order to be granted the scholarship.
"It was very hard for me to accept the situation, but I stuck with my major because I believed that this was what I was good at. Even though it was nearly impossible to be granted the scholarship, I didn't give up. It took me three years, going through hundreds of steps. Due to my true will, they had finally given it to me under a specific exception from the cultural head attachee of the embassy."
As Yousuf Alireza prepares for his final semester, he reflects on his four years at USD, "My experience has exceeded my expectations. I am very grateful for the opportunity to have learned about the different fields in engineering, combined with philosophy, ethics, social sciences and communications. The ISyE major helps me to improve myself and to improve things around me. I have become a Changemaker Engineer and this diversified experience has helped me know myself better as a person — to better understand my surroundings. USD has become a home to me and my friends have become like family."
"A home away from home is not just a slogan," concludes Lin. "It's a feeling that is mutually shared by our international students. They know there is a place they can always go on campus to share their ups and downs...or stop by for a hug."