James Kohl, PhD, Named Engineering Spotlight Award Recipient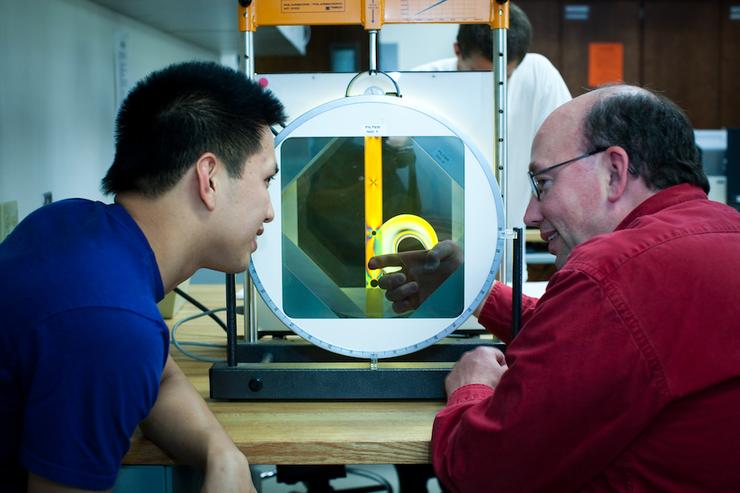 When asked if he had any puns for his Statics course, Professor of Mechanical Engineering James Kohl, replies, "Sure, but they just don't seem to go anywhere (boo, hiss, boo, hiss)."
Kohl has always approached life with his own personal style. Happy to tell a joke to start off a meeting or a pun in the courses he teaches, his focus has always been one of humor and teamwork. "We all need to work together towards a common goal — to support one another." For Dr. Kohl, the best route to achieving this is through laughter and hard work.
Raised in East Fishkill, N.Y., Kohl always dreamed of attending Rensselaer Polytechnic Institute (RPI). "RPI was the first engineering school, in 1824, to offer a degree in engineering," says Kohl. "West Point was the first to offer engineering programs, (not degrees) in 1802."
On his journey towards accomplishing his ambitious plan, Kohl completed his undergraduate work at Western New England College after attending a two-year community college. "It made complete sense to me to start at a small, local school for my first two years, then finish at a great school," says Kohl with confidence.
After achieving his BSME — studying mechanical engineering — Kohl completed his MSME at the University of Massachusetts Amherst, where he studied materials science in mechanical engineering. Kohl earned his PhD at Rensselaer Polytechnic Institute in mechanics, a lifelong dream realized.
After grad school, he was a Postdoctoral Fellow in the Tribology Section at the Naval Research Laboratory where he won best paper in the Chemistry Division — "It was a great job located in Washington, D.C.," says Kohl.
After his post-doc, he went to work in industry. For five years, Kohl utilized his strong technical and management skills, alongside his quirky sense of humor, and found he thrived in the professional setting. Over this span of five years, he dazzled the management team at Chromalloy, in Dallas, Texas, with his technical prowess and inherent ability to motivate his team to work cohesively. He successfully brought down turn time and significantly improved customer service, resulting in promotions and tremendous professional success.
Kohl worked his way up quickly at the company, starting as a program coordinator, then promoted to technical director. And ultimately, he served as vice president of Airfoil Operations and Engineering, where he had managerial oversight at a peak employment of 300 employees in Dallas and 200 in Mexico, although layoffs would subsequently reduce these numbers.
Kohl left Chromalloy to teach at the U.S. Military Academy at West Point for two years.
In Fall 2004, Kohl accepted a position as assistant professor at the University of San Diego. After five years, he progressed to associate professor and in Fall 2014 became professor of mechanical engineering.
When asked what he finds most satisfying about his role at USD, he answers quickly, "I like teaching. I like to incorporate jokes and puns in my classes to create a relaxed atmosphere for learning."
Kohl likes to keep his mind sharp. Over 14 years he has taught 20 different lectures and labs. He likes research, with interests primarily in mechanical properties and failure analysis of polymer materials and adhesion of silicone coatings and tribology.
Kohl has co-authored 22 peer-review journal articles at USD (30 total in his career), including seven papers with nine students as co-authors.
"I like to help the students. They get to show their quality research work to their potential employers or when they apply for grad school," Kohl says.
Dr. Kohl was married in China and considers his children to be his best personal accomplishments. He enjoys movies, playing pool, ping pong … and of course telling jokes.