Perfecting Pasta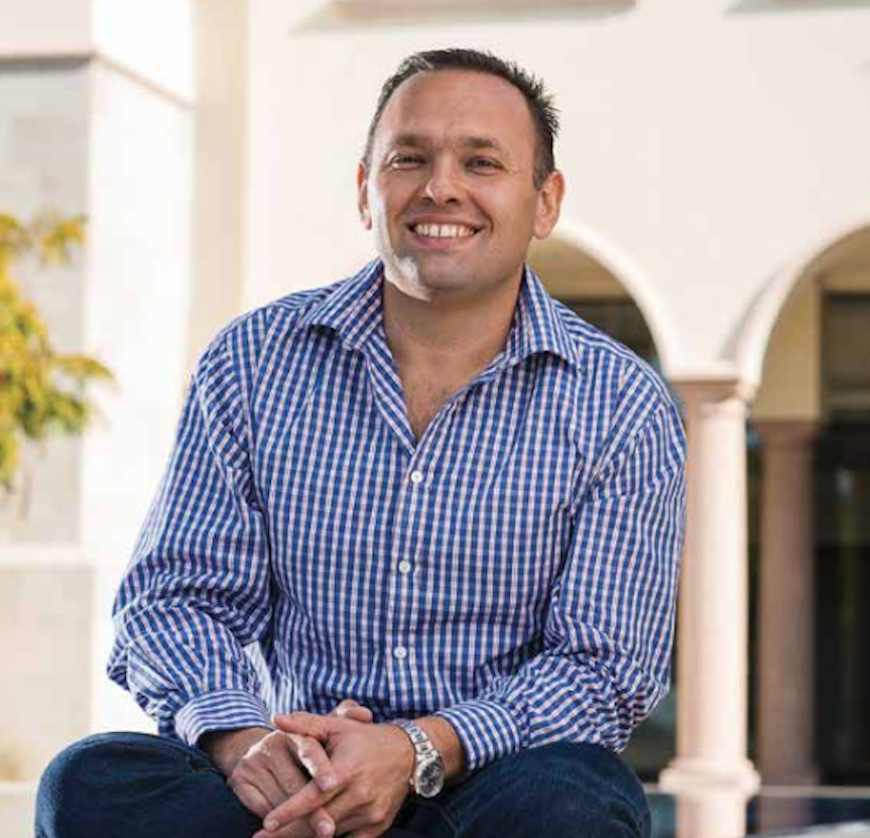 Ask an average person to name a country normally associated with producing pasta, and most people would likely think of Italy. So, it may come as a surprise to learn that a world-class pasta company, Pagasa Pasta, is located in Tijuana, just south of the San Diego- Mexico border.
At the helm of this company is CEO Emiliano Gallego, a dual alumnus of the University of San Diego, who earned his BS/BA in engineering and a Masters of Executive Leadership (MSEL) from the School of Business Administration. He credits much of his professional success to his education at USD. "I was very lucky; the engineering depart- ment had just opened the industrial and systems program," recalls Gallego. "I had only one other classmate, and all my classes were so personal."
After graduating from USD in 2000, Emiliano began working for Pagasa Pasta. The family-owned and operated company was established in 1958 by Emiliano's grandfather, Francisco Gallego, who started the business with six employees and produced 10 varieties of pasta. "I was able to get involved in all departments of the company from the manufacturing of pasta to the sales floor," he explains. "I saw so many opportunities to implement change, some that were so obvious that the ease of doing so made me doubt myself."
Emiliano works with his cousins, Cesar Gallego '03 (BBA) and Gerardo Gallego '06 (BBA); the third generation involved in managing the family business. When Emiliano first arrived at the company, decisions were made by intuition and gut feelings, while local millers interpreted products and recipes, a system that produced inefficient and inconsistent results.
"After seven years, I was named CEO and I led the company with a very structured, methodical and firm hand," he says.
Emiliano returned to USD in 2011 to earn his MSEL degree. "My education was paying off. I was able to understand processes, whether they dealt with service or manufacturing. I not only understood the processes, but was able to analyze and change them for the better."
His collective experience and education taught him to make decisions based on metrics and industry standards. The results have been staggering: Under Emiliano's leadership, Pagasa Pasta has tripled its sales and production capacity and is now a multi-national company, with products sold throughout Mexico, the United States and Canada. The company has more than 400 employees, and produces more than 20 different types of pasta and 15 different cookie varieties. Furthermore, it's currently the only pasta company in Mexico to have FSSC certification, guaranteeing global standards in quality and hygiene. Pagasa Pasta has been certified by the American Institute of Baking, received kosher certification in 2011 and is taking strides to implement green business practices. The company has received more than $10 million in federal grants for its innovative machinery design and production workflow.
The engineer who re-imagined the production process has also immersed himself in its promotion. Emiliano and his cousin, Cesar, personally negotiate sales and distribution deals. And while most of Pagasa Pasta's competitors have marketing budgets in the millions of dollars, the Gallego family prefers to let a quality product at an aggressive price point speak for itself.
Today, Emiliano serves on various education-related boards, including the governing board at El Centro de Enseñanza Técnica y Superior Universidad, USD's Comité Mexico advisory board and the advisory board for USD's Shiley-Marcos School of Engineering. He was honored in April 2015 as the second recipient of the school's Author E. Hughes Career Achievement award. He is also president of the Fondo Francisco Gallego Monge Entrepreneurship Fund, which supports the new ventures of young entrepreneurs.
Emilano embodies the Gallego family tradition both at work and in his personal life. "I married the girl I had a crush on since the 6th grade," Gallego says with a laugh. He and his wife, Naomi, who live in San Diego, are focused on raising their three children, Siriana, Demitrio and Emilliano, part of a large and loving extended family.
While it has been a long journey from the company's humble beginnings, Francisco Gallego's spirit is still very much a part of Pagasa Pasta's success. Not only would he most certainly take pride in the product, but also the fact that his grandson, Emilano, has re-engineered the family business so that family is the business.
by Michelle Sztupkay