Michaella Wittmann: Changemaking Engineer Spotlight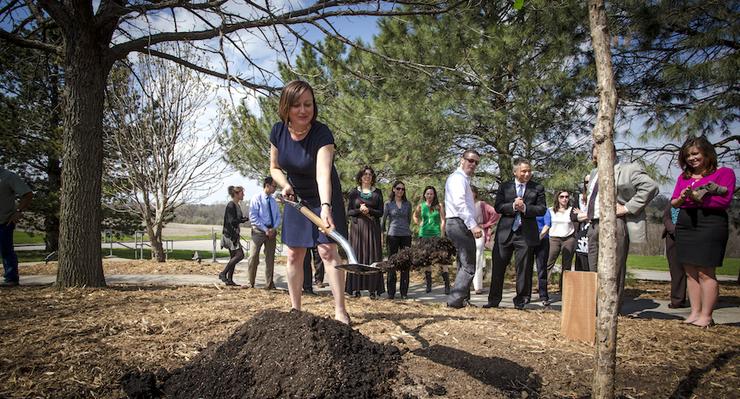 Michaella Wittmann '92 (EE), sustainability director of HDR Archiecture, is a leader with more than two decades of experience in the sustainability and green building industry. Follow her quest to transform our built environment through passionate dedication and an intense focus on water conservation, energy efficiency and renewable energy.
WHAT'S THE STORY: Michaella Wittmann may have started her 20-plus-year career at HDR Architecture as an electrical project designer, but her true calling was the environment. As fate would have it, she attended a conference in 1995 where she met the team that was forming the U.S. Green Building conference.
"That transformed my entire career focus, as I was able to see how sustainability could fit into my current job," explains Wittmann. "I started HDR's sustainability program in 1995 and, over the course of a couple of years, transitioned from electrical work to working solely on sustainability in building projects."
Through the years, Wittmann has earned numerous accolades within her field of expertise. In 2002, she was honored with a Presidential Award for Leadership in Federal Energy Management for her work on two Leadership in Energy and Environmental Design (LEED) projects with the Pentagon Renovation Office.
In 2004, she oversaw the Oregon Department of Transportation's sustainability program for the repair and replacement of over 300 bridges statewide. In 2007, Wittmann was included twice in the distinguished list of 40 Under 40 Awards by both Building Design and Construction and the Midlands Business Journal. And in 2011, Wittmann was selected into the first class of LEED Fellows.
Wittmann currently leads HDR's Office of Sustainability, which oversees the integration of sustainability into the company's projects and daily operations.
In sum, Michaella Wittmann is a devoted Changemaking Engneer. She has completed work on more than 20 LEED projects, trained ove 3,000 people on sustainability, written sustainability guidelines for private, institutional and governmental clients and was one of the first individuals in the nation to become an Envision sustainability professional.
THE WAY I SEE IT: "One of my favorite Einstein quotes is, 'The significant problems we face cannot be solved at the same level of thinking we were at when we created them.'A big part of my job is challenging the way things have always been done, and to find different solutions that are better for people and the planet. Engineering has always been about finding solutions; but today, considering the social impacts of projects is essential to being successful."
WHAT'S NEXT? "One of my areas of focus recently has been on the topic of resiliency. Because the climate is changing so dramatically, engineers must think very differently about the possible impacts of the climate to projects and people. Resilient infrastructure is, and will continue to be, necessary and is transforming the way we think about the built environment. In a way, old design standards are becoming irrelevant because the climate is becoming so dynamic."
by Michelle Sztupkay