Meet Shiley-Marcos School of Engineering's 2018 Valedictorian: Anthony Shao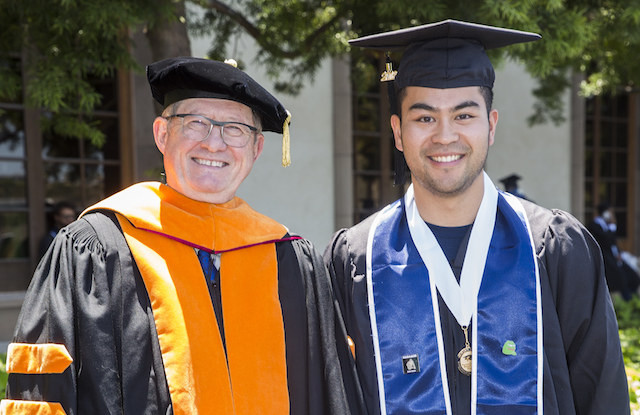 The best of the best. Among some 1,400 students who comprised the University of San Diego's undergraduate class of 2018, Anthony Shao was selected as one of USD's valedictorians. Being engineering valedictorian is already a special achievement since engineering students earn a dual degree, which for Shao was a BS/BA in electrical engineering. While the dual degree is part of USD's uniqueness among undergraduate engineering programs nationwide, Shao sought more. Shao also gained a BBA in finance and minored in mathematics.
Based on the academic work Anthony Shao put in, it's easy to consider that his Shiley-Marcos School of Engineering valedictorian recognition is a celebration reserved for one.
But Shao, humbled by the honor, refused to take all the credit. "Having double majored in two fields, it's a testament to not only things I've done, but also people I've worked with, such as Dr. (Mikaya) Lumori, Dr. (Ernie) Kim and virtually all engineering staff who've taught me. I give a special shout-out to (Theology and Religious Studies Professor) Dr. Joel Gruber who definitely revolutionized the way I've been thinking and the way I see the world, which is for the better."
Upon his selection as valedictorian, Shao's interest was mainly to keep it a secret from his Northern California-based parents. "My parents have always pushed me to be the very best since I was a young child and I know they'll be proud, but I've always wanted to surprise them and show them I made the right decision to come to USD and that all my hard work paid off. That's what they told me from Day One and I just wanted to see what their faces would look like when I'd walk onto the stage and give a speech."
Shao's secret, however, was leaked the day before graduation. "They were both very shocked, but mostly because I had directly told my mom I didn't get it (as a joke). My dad likes to say he had an inkling, but I think he was just pulling my leg."
Getting to see their son speak meant hearing him discuss "the essence of balancing open-mindedness with genuine curiosity," and how one's childhood makes an impact still today.
"A child's mind works in a very interesting and beautiful way: no matter how many times you tell a child to do or not do something, they tend to want to see and feel everything for themselves. In this way, they can experientially understand what they're told and validate their experience of the world. Perhaps, this curiosity is how we engineered our first views of the world and created our aspirations to attend college as an engineer," Shao said.
He shared his feelings about today's college student letting go of their child-like curiosity. "When we're lost in the hustle and bustle of everyday life, the curious and experiential aspects of our lives are cast aside, eventually abandoned because we're too busy trying to figure out what our next move in life is. Has the curiosity that once drove us to understand the world and eventually choose a profession been replaced by time wasted over worrying about grades rather than knowledge? Have we forgotten that it is essential to be curious enough to question the truths dictated to us so that we can live a life that makes each one of us happy? To be honest, I think losing that hunger to question the world frightens me more than the prospect of a 9-to-5 job."
Shao credited his dual degree in engineering, USD's liberal arts education — "The BS part of my degree, engineering, gives us a logical way of dissecting the world; when it is paired with the BA's humanistic approach and a healthy sense of skepticism, we can recreate a child's intellectual freedom" — and Dr. Gruber's advice to carve a successful pathway.
"When I first came to campus, I thought I was set on the way I was going to study and the way I'd do my academics – solely getting the grades — but I realized after my junior year that with the course load and being in two different schools, that wasn't going to fly. Dr. Gruber told me to 'appreciate the moment.' That was a key factor that turned it around for me. I stopped worrying about what would happen with tests and grades and just started appreciating the kind of learning I received. It then became how could I push that learning onto other people, to help others and be less adversarial in the engineering building."
Being an engineering and business major helped Shao get internships. When it came time to do his engineering senior design project, Shao utilized his dual knowledge. "Having both opened a lot of opportunities and different schools of thought. I interned at General Atomics and HP (Hewlett-Packard). Having a business side to understand the logistics and understand the finance of a certain project, it's definitely been important."
Shao worked on an entrepreneurial engineering senior project with classmates Andrew Booth, Colby Bishop, Eric Greene and Jacques (Jack) Yeager in the 2016-17 school year. Today, Shao, Bishop and Yeager are still working on the project. They created a company, Darroch Medical Solutions, Inc., to create a product originally called the POD, that creates health status updates for medical practitioners to help bridge gaps in communication and improve efficiency.
Given his accomplishments and focus, one might think Shao's USD experience has been all work and no play. Quite the contrary. His love for playing basketball — "a huge stress reliever" — turned into a unique opportunity.
He spent time as a practice player for the USD's women's basketball team, helping them prepare for games. "I play a lot of pick-up basketball and I do it to have fun and meet new people. But the most fun experience I've had was playing with the women's team. It was great to be around a group of people who love the game of basketball just as much as I do. They're stellar athletes, smart and talented and it brought out the best version of myself."
Valedictorians do know best.
— Ryan T. Blystone