Soaring to Greater Heights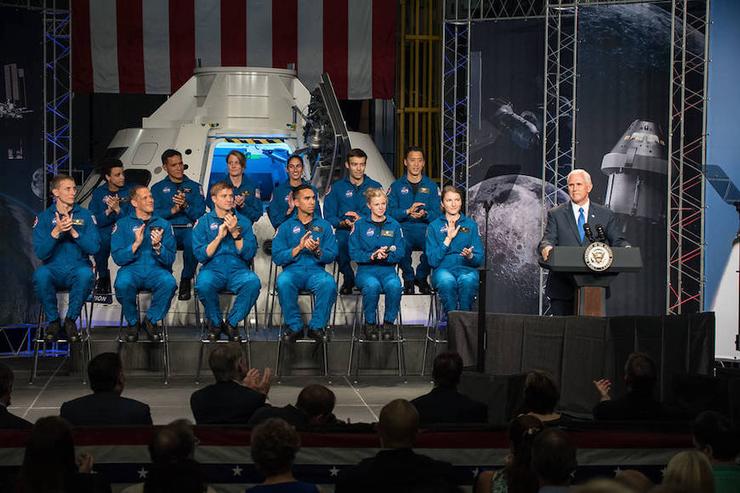 begin quote

"Engineering for me at USD was unique. The well-rounded background of the liberal arts degree, combined with being an engineer, was really important to me."
Thrilling. Unprecedented. Amazing. Mere words aren't enough to express our pride that two USD alumni have been selected as NASA's newest astronaut candidates among thousands vying for this awe-inspiring mission.
In the years since the original seven American astronauts were selected in 1959 to fly on National Aeronautics and Space Administration (NASA) manned orbital spacecraft, the agency has selected a total of 350 astronauts, an elite group which includes the latest members of the 2017 astronaut candidate class — the largest astronaut class since 2000. The 12 candidates were selected from a record-breaking 18,300+ applicants.
Now, two University of San Diego alumni are included among the ranks of such historic figures as John Glenn, Gus Grissom and Alan Shepard.
Navy Lieutenant Commander Matthew Dominick '05 (BS/BA), who earned his degree in electrical engineering from the Shiley-Marcos School of Engineering, and Dr. Jonathan (Jonny) Kim '02 (BA), an active-duty reservist with the rank of lieutenant in the U.S. Navy, were among the seven men and five women who were selected by NASA this year.
"USD is a campus of Changemakers who aspire to reach their full potential in and out of the classroom," says President James T. Harris III. "We are so proud to acknowledge the recent accomplishments of USD alumni Dr. Jonny Kim and Matthew Dominick, who've been selected by NASA to join the 2017 Astronaut Candidate Class."
The astronaut candidates — Dominick, Kim, Kayla Barron, Zena Cardman, Jasmin Moghbeli, Loral O'Hara, Jessica Watkins, Frank Rubio, Robb Kulin, Warren Hoburg, Bob Hines and Raja Chari — were introduced on June 7, 2017, by NASA's acting administrator, Robert Lightfoot, and Vice President Mike Pence.
"These are 12 men and women whose personal excellence and whose personal courage will carry our nation to even greater heights of discovery and who I know will inspire our children and our grandchildren every bit as much as your forebears have done so in this storied American program," Pence said. "And to this newest class of astronauts, it's my honor to bring the sincere congratulations of the 45th president of the United States of America, President Donald Trump. Your president is proud of you, and so am I."
The candidates returned to Johnson Space Center in August 2017 to begin two years of training, according to NASA. Upon successful completion, they could be assigned to any of a variety of missions, including performing research on the International Space Station, launching from American soil on spacecraft built by commercial companies and departing for deep space missions on NASA's new Orion spacecraft and Space Launch System rocket.
"We look forward to the energy and talent of these astronauts fueling our exciting future of discovery," NASA's Lightfoot said. "Between expanding the crew on board the space station to conduct more research than ever before, and making preparations to send humans farther into space than we've ever been, we are going to keep them busy. These candidates are an important addition to the NASA family and the nation's human space flight team."
Dominick, from Wheat Ridge, Colo., has a master's degree in systems engineering from the Naval Postgraduate School. He graduated from the U.S. Naval Test Pilot School and, according to NASA's website, the 35-year-old was at sea on the USS Ronald Reagan serving as department head for Strike Fighter Squadron 115 when he learned that he'd been selected as an astronaut candidate. In addition to his dual engineering degree from USD, Dominick has minors in math and physics.
Kim, who is from Los Angeles, currently lives in Massachusetts and is a resident physician at Massachusetts General Hospital. The 33-year-old earned his Doctorate of Medicine at Harvard Medical School in May 2016. Prior to attending USD, Kim enlisted in the U.S. Navy, where he trained and operated as a Navy SEAL, completing more than 100 combat operations. He earned a Silver Star and Bronze Star.
"The University of San Diego is a small private school with a focused mission to teach undergraduates to become the best in the world," says Chell Roberts, Dean of the Shiley-Marcos School of Engineering." USD now has two astronauts who graduated from our programs, and that's just really cool."
Compiled by USD News Center staff