I Learned How to Learn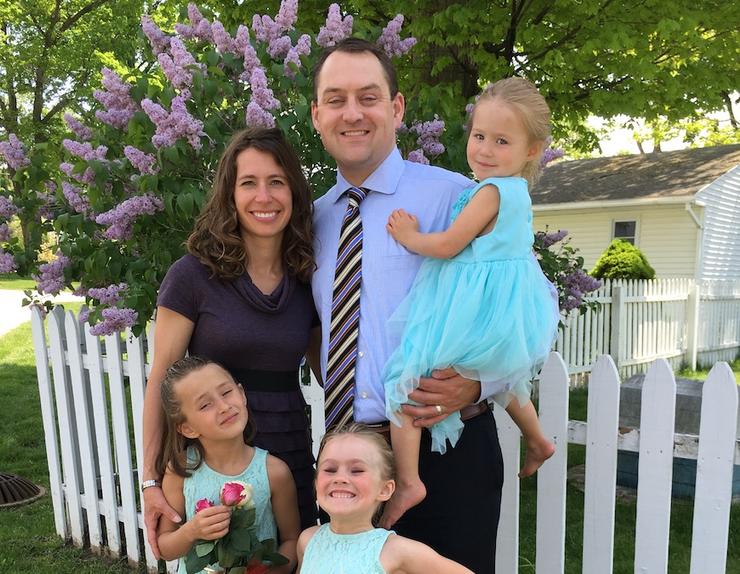 2017 USD Alumni Honors recipient, Matt Craig '03 (ISyE), willed himself to an engineering degree — and an amazing career.
Matt Craig's first year at the University of San Diego was a success — everywhere but in the classroom.
Craig's passion — and energy — was directed toward the football field. He devoted long hours to training and practice. His hard work was rewarded with a starting position on the defensive line. On the field, Matt Craig was a force with which to be reckoned.
The classroom, however, was a different story. First-year classes for the industrial and systems engineering major were a confounding struggle. Frustrated that he was not winning in class as he was used to doing on the field, Craig sought counsel from his academic preceptor, Professor Rick Olson.
"I was already spending plenty of time in the weight room, in the film room and on the field," Craig remembers. "I was struggling to learn the concepts in the classroom in the time I had left. He told me I needed to be as focused on the classroom as I was on football."
Craig started to apply the same discipline to academics as he had to his training regimen.
"I built a very aggressive schedule with many tutors," he says. "I learned the key foundational concepts that allowed me to study and learn more efficiently. It was a difficult behavior change to make. I didn't sleep much for a few years. But I still use the routine I built at USD in life today. It's not cliché: I learned how to learn."
That mindset not only paid off academically, it also proved to be a valuable strategy for life after football — and USD.
Craig spent summers in San Diego to train with his Torero football brothers while working a series of part-time jobs. He parked cars at a resort, schlepped containers for a shipping company and unloaded trucks at Walmart.
It was that last job that captured Craig's imagination. In retail operations, he saw a way to apply what he'd learned in the classroom and the leadership skills he'd gained from being part of a team. Soon he had an internship with the outlet's operations/logistics unit.
"My engineering education helped me identify and solve problems efficiently," he says. "My football experience had taught me how to lead people and to work hard."
Craig's "learn how to learn" strategy was put to the test in 2006, when he accepted a position heading a retail store in China.
"I always used to say I could learn Chinese if I had to, never thinking in a million years that I would actually have to," he says with a laugh.
Craig used flash cards with pinyin (using the Latin alphabet to write Chinese) and pictures to learn the language, all the while managing a $100-million retail operation. After a year, conversational in Chinese if not fluent, Craig was promoted to assistant vice president.
After two years in China, Craig and his wife, Jessica, had welcomed their first daughter and were anxious be closer to family in the U.S. Craig essentially cold-called Meijer, a large retail chain based in Michigan. Soon thereafter, he was named the chain's director of store operations, and again fell back on his USD education to guide him. The ex-defensive lineman still brings the hurricane-force tenacity to his work that he showed earning his engineering degree.
"The engineering design process I learned at USD has helped me in every role I have had at Meijer," he says. "I lead 11,000 team members, and it's part of my job to put them in a position to succeed and grow their careers here. I love developing people to achieve success they never knew was possible."
Craig and his wife, Jessica, recently pledged $50,000 to endow an engineering scholarship in Dr. Rick Olson's name. To contribute to this scholarship, please visit www. sandiego.edu/engineering/connect/ give.php or write to elurkis@sandiego. edu.
By Timothy McKernan