Choa Kang Named Staff Engineering Spotlight Award Recipient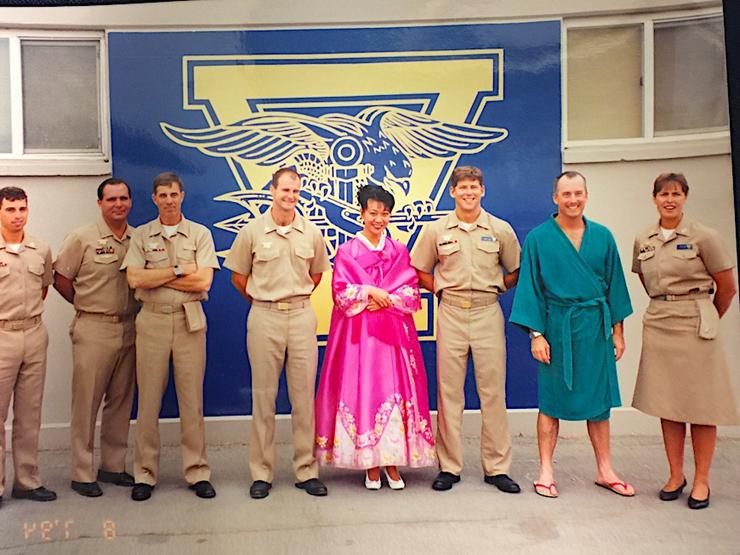 Can you imagine that the most beautiful joy that fills your soul comes from a language? Not just any language — the English language. You know deep down that speaking, reading and studying this language rocks you to the core and defines who you are. So much so, that nothing else seems to matter.
At the age of 18, a passion of the English language was so strong in one determined young woman, she decided that in order to truly appreciate the beauty of this beloved language that she must cross the ocean to live in a place where the words could flow freely and envelop her. All. The. Time.
Always a determined girl, Choa Kang's parents were not surprised by her decision. They were worried about her future and hopeful that she would decide to stay and study in Kwang Ju City, South Korea for college. However, they knew their daughter well and knew her determination was beyond their control.
Appearance-wise a party girl, Kang is a self-professed nerd. At a young age, she was always interested in current events, reading books and studying English. Kang would clip newspaper articles, glue them into a composition book and highlight passages for future reference.
Her thorough determination extended to her study of English as well. Nicknamed by her English teacher "English Kang," she was an unofficial teacher's assistant, teaching English to 60 high school peers. Her nickname was apropos. In an English-speaking competition at her school, she earned first place out of 600 students. In the following citywide English-speaking competition, she placed second. The peer who beat her had lived in the United States, and thus scored better on the accent portion of the competition. It was at that moment that Kang knew her future lie across the Pacific Ocean.
Kang started college in Korea. By the end of her freshman year, she had travelled to 10 countries. The summer after her freshman year she participated in a summer travel program that visited six European countries. Yet she was still determined to move to the United States for her love of the English language.
Her dad tried to convince her to stay in Korea to finish school, but she could not be persuaded. So with the consolation that Kang had a level head and a determination that could not be stopped, she left South Korea to go to college in New York.
It was a bullet year of learning, one in which she learned New York was not for her. But, English was her life and she was in the U.S.
It was at the American embassy in Korea that she had seen a San Diego State University brochure and was instantly drawn to San Diego. They offered international business with an emphasis in accounting, where Kang transferred and finally felt at home. She lived with her American family for three years — devout Christians who were loving and always supportive. They became her family and she immersed herself in American culture.
Kang received her BA in international business, and MBA in accounting and an MA in organizational psychology. She also holds a Certified Internal Controls Auditor designation.
One of her first jobs, and one that still is a most favorite, was teaching Navy SEALs. She learned the SEAL Team #5's focus was on Korea, and she was tasked to teach them all things Korean — language, culture, traditions, history, current events and politics. Her first class was such a success that the next day there was a line of students at 7 a.m. It started out as a pilot program, but lasted four and half years. She loved teaching about her culture and playing the role of ambassador between Korea and American relations.
Fast forward to 2013. Just one month after the inaugural dean of the Shiley-Marcos School of Engineering started, Kang was hired as a part-time budget manager. Just three weeks into the job it was clear she was needed full time.
In her four and a half years as budget manager, Kang has worked through a culture shift from the school having no budget manager to a very conscientious budget-wise team. She attributes the successful transition to her and Dean Chell Roberts' interest in faculty and staff input. Both Kang and Roberts believe that the school is a successful entity because of the sum of the parts — having genuinely involved and invested faculty and staff members.
And it is in Kang's nature to attribute success to those around her. Says Roberts of Kang, "Choa is always grateful to those around her and is consistently positive. Only Choa can give you bad news or say 'no' with a smile."
Kang made it clear from the beginning that she was not a 'no' person and didn't want the image of the new sheriff in town. She strives to be the inside resource and mediator between the school and Accounts Payable and several finance departments, to stay within the regulations of the university while achieving the goals of the faculty and staff of the school. And Dean Roberts attests this is happening thanks to Kang. "She keeps detailed spreadsheets and every single penny is placed correctly."
Like so many in the school of engineering, her initial role has grown and changed over her time here. She has become the go-to resource and has been successful at building relationships internally and externally. She seeks to create harmony and peace for a productive environment, She believes in 'saving face' when non-compliance issue arises and focus on solving the issue at hand through open and timely communication.
"We spend a lot of time at work and having a positive harmonious environment makes such a difference. Happy employees are productive employees," Kang continues with a smile. "I think of the Shiley-Marcos School of Engineering as my baby. The school is my family and I treat them that way."
Outside of work, Kang enjoys giving back. She feeds homeless children and teens through several organizations in San Diego and for several years has helped put on an annual gala to raise money for these impoverished youth.
She has a photographic memory for numbers and languages. Besides Korean and English, Choa has studied Japanese, Chinese and some Turkish. Her favorite hobbies are travel, reading, hiking, going to musicals, and learning new things. Not one to visit cold places, her favorite spots are warm. She explains, "The ocean is a great source of energy and healing power."
When asked if she ever regretted her decision to leave Korea and build her home in the U.S., she admits she experienced homesickness but she never felt regret.
She has a full life in San Diego. Although, when she left Korea, her dad told her that 'if she ever brings a blonde hair, blue-eyed boy home you're not my daughter.' When she did just that, her dad welcomed her future husband, Matt, into the family immediately. It is truly recognition of the respect her dad has for her and of her importance in her dad's life.
Kang's parents are her role models. Her dad is hard working (he is 86 years old and still working) and ethical and her mom is humble with elegant mannerisms. A Korean saying reflects the grace of her mother: The higher you go, the lower you put your head. Kang embodies the qualities of both. USD is lucky to have her as part of the Shiley-Marcos School of Engineering team.
Through it all, Kang has managed to live the dream she set out to accomplish. Now knowledgeable in four languages, including English, she believes that to laugh and to make people laugh is a joy — no matter what language. To sum it up, Kang's motto is to "be the reason someone smiles today. If I can't be someone's reason to smile, then be their reason to drink!"