Ross Dwelley '18 (ISyE) signs with San Francisco 49ers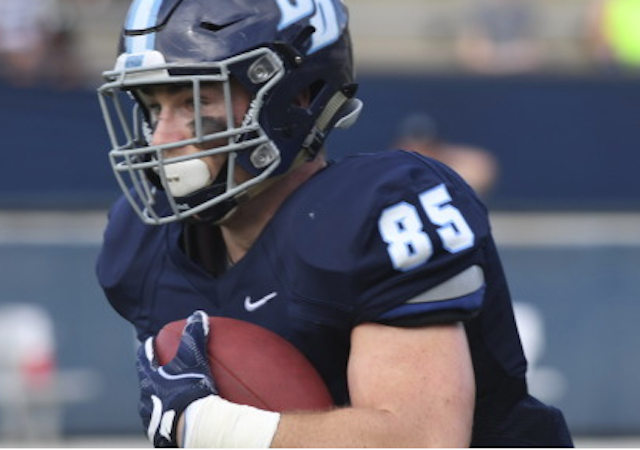 USD tight end Ross Dwelley's football career will continue as he signed an undrafted free agent contract with the San Francisco 49ers. This past season Dwelley was named to the All-Pioneer Football League First Team after hauling in 50 balls for 663 yards and 10 touchdowns.
"The 49ers got a good player and that they will be very happy with him," said USD head coach Dale Lindsey. "Ross is a guy that loves football and he will go to work for them. He was one of the main cogs that drove this program the past three years that reached new heights of winning double digit seasons. He was an impact player for us and always came up with the big plays during the game when we needed it. We knew every Saturday what we were going to get with him."
Dwelley, a 6'5", 240 lb. tight end from El Dorado Hills, California, finished his Torero career with 197 receptions for 2,305 yards and 26 touchdowns. His 197 receptions rank second all-time in the Torero record books. He ranks 5th in touchdowns and seventh in receiving yards. He was named All-PFL Second Team during his junior and sophomore campaigns.
From El Dorado Hills, California, Dwelley was part of four straight PFL Championship teams, including three squads that advanced to the NCAA Division I FCS Playoffs. The past two seasons the Toreros have gone undefeated in the PFL and won their first round playoff games (Cal Poly, NAU) before falling in the second round to FCS power North Dakota State. USD's combined record over the past four seasons is 39-10 (30-2 PFL).
Former Toreros to have played for the 49ers include quarterback Josh Johnson (2014, 2012) and defensive end Eric Bakhtiari (2012, 2008). This marks the second straight year for a Torero to sign on with an NFL team. Jamal Agnew was a fifth-round pick by the Detroit Lions in 2017 and ended up earning All-Pro honors in his rookie year as a return specialist.