Trek: The Incredible Journey of a Dream Realized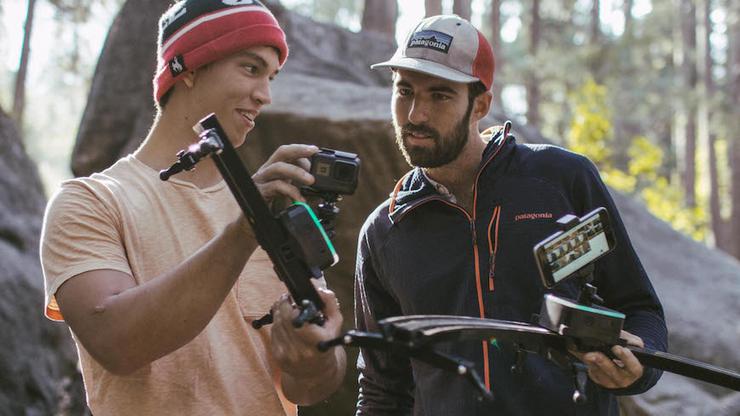 It's a misty morning in the mountains of Cuyamaca State Park. The sun is beginning to crest over the distant ridge and the temperature is crisp and alive with adventure. The trickling waterfall cascades over the massive boulders that line the water's journey to the glistening pools below, then spills into a meandering creek lined with lush vegetation.
Pristine. Glorious. Captivating. A moment in time that articulates movement and freedom — a moment destined to be captured ... yet a still image simply will not suffice.
Fast forward to 2015, where two entrepreneurial students from the University of San Diego are intrigued by surreal time lapse footage that looked like the camera was floating in air. Mechanical engineering majors and 'makers' at heart, Chris Szczur and Scott Matthews, decided to try to replicate the footage. What they discovered was that the shot required a camera slider. And the sliders on the market were designed for large DSLR and production style cameras. They were bulky, rigid and very expensive.
Both avid climbers who only had access to smartphones or their GoPro camera, Chris and Scott wanted something lightweight, portable and affordable. As Scott says, "You do not have to have photography experience or a fancy $1,000 camera to take compelling videos. The quality is all right there in the phone in your pocket. All you need then, are the right accessories to use it to its full potential."
And so the adventure begins.
Chris and Scott decided to design and build a slider to their specifications, just to see if it was possible. They took a manual camera slider and 'Frankensteined it', as professor Dr. Venkat Shastri described it. They attached a motor on one end and added brackets and 3D-printed mounts and spools for the movement mechanism.
Chris Brown, an electrical engineering major, stepped in to design the control board and added a power system using a 9V battery. Their critical function prototype, while rudimentary, was a success.
Buoyed by the confidence that the product they imagined was possible, Chris and Scott dedicated the next two years to perfecting their product. As a year-long assignment in their junior year entrepreneurship class, they went through the entire process of what it would take to launch a product, using their camera slider as their model. Through this exercise Chris and Scott thoroughly explored their product idea and business plan.
The summer before their senior year, Chris and Scott took internships — Chris with the Navy and Scott at Fisker Automotive. While working in the industry was a great experience, they both preferred the challenge of creating their own product. It became clear the two wanted to pursue their lifelong dream to launch a product that people would use and be excited about.
Encouraged to have their camera slider project accepted as a senior design project, Chris and Scott added Sarah May, Alex Benson, and Tyler Lagomarsino to their development team. Steve Saxer, manager of the machine shop, said it was clear this group was a step ahead of other senior design teams. "They took a different approach to their senior design projects than most. They had clear goals and were designing with production and aesthetics in mind."
The team took full advantage of the support provided by USD's Shiley-Marcos School of Engineering. With guidance from senior design advisors Dr. Danny Codd and Dr. Shastri, help in the Fabrication Lab and Donald's Garage from Sam Burt and Saxer, and the use of the extraordinary equipment and facilities made possible by an endowed gift by Darlene Shiley, in honor of her late husband Donald who created a prosthetic heart valve in his "garage," Chris and Scott dedicated their time to perfecting their product.
Senior Design Advisor Dr. Codd was impressed with the group's dedication. "It was cool to have a team that was so self-motivated. They worked endlessly testing and refining their prototype." Dr. Codd still uses their final technical report as a model for senior design students.
Chris and Scott's dedication, commitment and teamwork paid off. At the end of their senior design year, Chris, Scott and their team had successfully created a motorized camera slider that was portable, easy to use with control by an app, and would be affordable to consumers.
In an amicable split, Sarah, Alex and Tyler moved on to other jobs after graduation. Chris and Scott incorporated their company, Dyno Equipment, dubbed the camera slider Trek, and submitted a patent application for it.
They pitched Trek to angel investors at USD's annual Venture Vetting (V2) Pitch Competition. Although they were not selected as finalists, they were approached with an offer to invest shortly after the competition.
Dr. Shastri, head of the USD Engineering Entrepreneurship program, was impressed. "A third party saying you have value — that is success."
While impressive to have an investment offer, Dr. Shastri recommended that Chris and Scott talk to Tom Lupfer, president of Clarity Design, before moving forward. Clarity Design is a San Diego-based full-service product design and manufacturing firm that has sponsored several senior design projects and employs many USD engineering graduates. Lupfer teaches engineering programming classes at USD and is a member of engineering's Executive Advisory Board.
The introduction was pivotal. After discussions, and with an official handshake, Lupfer and the Dyno Equipment team came to an agreement, and with that, Chris and Scott had the benefit of the extensive engineering and manufacturing resources at Clarity Design.
Chris said they had a mindset shift through the partnership with Clarity. "We have someone who is putting their faith in us and helping us out and investing in us — we're all in. We have to do whatever it takes to be a success."
Like others who worked with Chris and Scott, Lupfer was impressed by their focus. "Their maturity and the depth and breadth of the thought they had given to this product was highly unusual for people of their age." Lupfer works with students on their Clarity Design senior projects and regularly hires SMSE graduates. Intimately familiar with the courses taught at the Shiley-Marcos School of Engineering, he knows students are well prepared for real-world engineering when they enter the workforce.
Chris Szczur agrees. "USD is the best place to start something. We had everything that we always needed — the best advisors, from Dr. Codd to Venkat, to all the teachers who helped us along the way. We had Sam and Steve in the machine shop constantly helping us machine our parts. All the resources here, such as the million-dollar machine shop, are unbelievable. The law school holds patent clinics. The business school holds the V2 and Social Innovation Challenges. The opportunities, support, and connections available by being associated with USD is incredible. We couldn't have done it without that support."
As their official launch neared, the two, at times, felt overwhelmed. Tom Lupfer reminded them, "This is exactly where you want to be."
On October 18, 2017, less than 48 hours after Dyno Equipment, Inc.'s soft launch of their flagship product, Trek, the team exceeded their 30-day funding goal of $50,000 and was listed as a team favorite on the Indiegogo site. An incredible journey, indeed.
They say people should pursue that which they are most passionate about — that you have to believe in yourself, in your dreams. Surround yourself with like-minded peers and mentors that believe in you. Once upon an idea ... that dream came true.