Engineering Spotlight Award Recipient, Thomas Schubert, PhD, Blends the Best of Both Worlds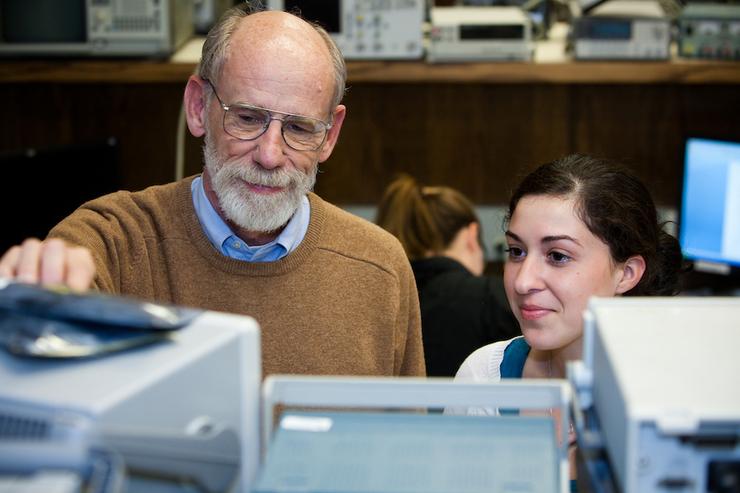 From its humble beginnings, the Shiley-Marcos School of Engineering has been evolving steadily along a visionary and illustrious journey over time — a path steered by passion and innovation, much like the creation of a musical composition. And one of the founding faculty members of the engineering program, Dr. Thomas Schubert, a gifted performing artist himself, has played an instrumental role in the unfolding of this journey over his 30-year career at USD.
Thomas Schubert was born in Chicago, Ill., and moved to Arcadia, Calif., at the tender age of 15 months. He started college at the U.S. Naval Academy, went on to Mira Costa Community College in Oceanside, Calif., and transferred to the University of California, Irvine (UCI) in his junior year. Schubert was in the first BS in engineering class at UCI and later became the first triple-degree engineering conferee (BS, MS and PhD).
After graduating from UCI, he worked for Hughes Aircraft in El Segundo, Calif., for the Space and Communication group, building weather and communication satellites. Four years later, he made a bold move to pursue his musical talent and moved with his wife to Portland, Ore., where he "made a bad living as a musician," serving as principal bassoon in the Salem Symphony and in the Woodwind Conspiracy, a quintet. His wife was a clarinetist and together they performed nearly 60 children's concerts every year.
Over the years, his passion for music has been woven into the fabric of his professional engineering career, dotting a trail from California to Oregon and back. He toggled back and forth between teaching engineering students at Portland State University and the University of Portland and playing his music professionally — until he landed full time at USD in 1987.
As the second engineering faculty member at the University of San Diego, Schubert arrived in the fall of 1987 — one year after USD's first engineering faculty member, Tom Kanneman, had established the program: a unique, stand-alone electrical engineering BS/BA degree.
"We started out of the College of Arts and Sciences with electrical engineering and that was a wonderful experience," reflects Schubert. "There were seven or eight second-year students who started the program and we graduated five in that initial 1991 class."
The classes were small and intimate but the students' ambitions were boundless. The new faculty members quickly realized that the young engineers needed something more and they set out to add another program, industrial and systems engineering, to build the emerging department. The dean of the College of Arts and Sciences believed adding another program was a good idea, but the college wasn't ready for another engineering program. To keep the momentum moving forward, the engineering department moved to the School of Business in 1996.
When it came time to add a third program, Schubert, then director of engineering programs, reached out to faculty member John Ronchetto of the School of Business and persuaded him to commission three of his graduate marketing students to conduct marketing research to support their search for the new engineering program.
"The graduate students took on the project and talked to businesses in the area as well as deans of similar universities," says Schubert. "After conducting their research and producing a final report, with mechanical and civil engineering coming out on top, mechanical engineering ultimately materialized as the victor." Mechanical engineering was added in 2003.
Then in 2013, with a transformational gift from Darlene Marcos-Shiley, the engineering department spun off from the School of Business to form USD's Shiley-Marcos School of Engineering.
Over the years, the programs grew and Schubert's career flourished. He started at USD as an associate professor of electrical engineering and worked his way up to full professor of electrical engineering in 1993. He served on the University Senate for many years to represent the College of Arts and Sciences, School of Business and the School of Engineering. And 10 years prior to the engineering department becoming a full-fledged school, he served as director of engineering programs for six years.
Schubert recently co-authored four textbooks with Dr. Ernest Kim under the overall title, Fundamentals of Electronics. "It was a lot of work and we really got a chance to crystalize our thoughts about the subject material. They are really good books."
He is most proud of his 2012 ASEE Robert G. Quinn award, which is an international award specifically given as recognition for outstanding contributions in providing and promoting excellence in experimentation and laboratory instruction. He also received the USD Trio McNair Scholars Faculty Mentor of the Year (2012) and was awarded a University Professorship (2002), which is the highest honor a USD faculty member can receive.
Today, we honor Dr. Schubert as the Engineering Spotlight Award recipient in recognition of his three decades of dedicated service and for the positive impact he has made throughout his career. And on October 10, 2017, Dr. Schubert will be honored at the USD Service Award luncheon for his 30 years of service.
When asked what is the most satisfying aspect of his work, Schubert responds resolutely, "It's the kids! I love the kids — the classes. I just enjoy interacting with them a ton." He continues, with a smile, "I like working in smaller groups with students, and study abroad is a pile of fun. It's just me and the kids, and when things go well, they really go well."
Though Schubert loves to travel and is an avid cyclist, he is most passionate about his music. "Music is my favorite," he exclaims. "Mostly I play bassoon and I have recently ventured off into the saxophone and clarinet."
Dr. Schubert had a musically productive summer in 2017 when he played in the show, "How to Succeed in a Business without Really Trying," in a pit band at Kit Carson Park in Escondido; was principal bassoon at the Oregon Coast Music Festival, played contrabassoon for "The Legend of Zelda" show in San Diego; and performed as principal bassoon one night at the San Diego Symphony Bayside Summer Nights.
With 25 years under his belt as principal bassoon for the La Jolla Symphony and 30 years teaching at USD, Dr. Thomas Schubert has truly managed to navigate the best of both worlds.
Contact: