Rhonda Harley Named Staff Engineering Spotlight Award Recipient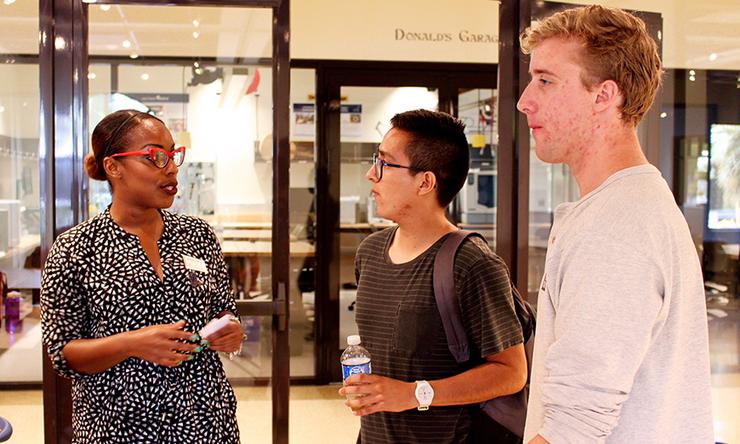 Dy•nam•ic: A force that stimulates change or progress within a system or process.
To come to know Rhonda Harley, STEM career counselor for the Shiley-Marcos School of Engineering, to truly understand her essence requires a myriad of effervescent descriptives. Vivacious. Dedicated. Passionate. Dynamic. Simply put, Rhonda Harley lives life out loud. And she shares this contagious momentum with everyone with whom she connects.
A California native, born in Torrance, Calif., and raised in Diamond Bar, Harley attended Cal State Fullerton where she studied and earned her undergraduate degree in Communications with an emphasis on Radio, TV and Film. With a flair for the arts and armed with incredible people skills, she was drawn to anything and everything involving music, performance and entertainment. Harley co-hosted an entertainment radio show on campus called "The Scoop." She credits her parents for embracing her outgoing personality and empowering her to be her true self in everything she does. After graduation, she pursued a career in the entertainment industry. She started as a personal assistant for a talent management firm and submerged herself into all things creative.
"I did voiceover work, radio commercials and served as a seat filler for numerous prestigious award shows," reflects Harley fondly.
Over time, she realized this industry was a good fit for her personality, but not exactly the right fit for her professionally. "I found myself loving the social aspect of the entertainment industry and I had a great supervisor but my heart wasn't fully in it," explains Harley. "I knew I needed to continue to find what makes me happy. I love working with people. I like seeing people succeed."
Harley transitioned into higher education working with science students, a complete turnaround from the entertainment industry. She spent two years at Colorado State University, earning an MS in Student Affairs in Higher Education, as well as completing an assistantship in the College of Natural Sciences as the leadership and diversity coordinator for the office of Undergraduate Retention Programs.
"It was a yin and yang scenario," says Harley. "The students' personalities were completely opposite of mine, and I was determined to draw them out and encourage them to maximize their collegiate experience."
It was at Colorado State that she started to support underrepresented students in the Science, Technology, Engineering, & Mathematics (STEM) disciplines.
"I wanted to help build a strong community for students so they could stick through such challenging disciplines," says a devoted Harley.
Harley went on to DePaul University in Chicago as a STEM program coordinator. There, she worked to support the recruitment and retention of all students within the STEM disciplines, with a particular focus on those who are women, racially diverse, financially disadvantaged, and/or first-generation college students.
"I was a first-generation college student myself and I wanted to share my experience with these students. I wasn't engaged at all when I attended college and because of that I don't truly remember my college experience," recalls Harley. "I didn't want students to have any regrets with their education."
Her primary role was the coordination and facilitation of the National Science Foundation (NSF) funded Chicago Initiative for Research and Recruitment in Undergraduate Science (CIRRUS) Scholars program. CIRRUS provided academic support and research opportunities for students in STEM disciplines at DePaul University, Harold Washington College and Truman College.
When the grant funding ended, Harley moved into the role of assistant director of research and student services.
"As the assistant director, my primary role and responsibility was to advise College of Science and Health (CSH) students on research and internship opportunities within and outside of DePaul University," she explains.
DePaul, a Catholic university, was not a Research I institution, and did not have a robust amount of research opportunities like its regional peer institutions. Harley's challenge was to hit the pavement and create opportunities so the students could be strong candidates for graduate school.
At both Colorado State and DePaul Harley held the role as chapter advisor to the Society for the Advancement of Chicano/Hispanic and Native Americans in Science (SACNAS) chapter. Most SACNAS chapter members are first generation, high ability, and underrepresented students with a true passion for research and professional development. She was working with a demographic with whom she could have a significant impact and this made her shine.
"Advising SACNAS chapters and engaging with the national organization was a 'game changer' for me professionally. Through advising these chapters, I have gained extensive experience working effectively with culturally diverse students through mentoring and fully supporting the academic pursuits of the membership," professes Harley.
Although Harley was content in her current role, she had always dreamed of living in San Diego. In late 2014, she jumped at the chance to support STEM students at the University of San Diego.
"This was very much a homecoming for me. Living in San Diego was always the dream of the dreams. Although I had worked with students in the hard sciences helping them pursue graduate school, I would now be assisting engineering and computer science students prepare for and ultimately find their dream jobs. It was a great opportunity for me," boasts Harley.
As a STEM career counselor, Harley serves as a liaison between STEM majors within the Shiley-Marcos School of Engineering, College of Arts and Sciences and the USD Career Development Center (CDev). She is responsible for developing, implementing, and evaluating a comprehensive career development program to meet the needs of STEM students and alumni.
More specifically, Harley works to provide career counseling to students and alumni in the areas of self-assessment, career exploration, decision making, internship and job search preparation, and graduate school and professional school planning.
"I thrive when students thrive. I value assisting students in goal setting, putting systems in place to help them prepare to be the best candidate for what they want to be in the future." Harley continues, "CDev has a lot of resources available to our students. Ultimately, my goal is to coach them on how to effectively network, to attend career fairs, events and conferences and to go on treks to take ownership of their professional development. When they graduate, I want them to enter the workforce feeling confident."
In her relatively short time at USD, she has made a significant impact on the students, the school of engineering and the university.
"Metrics shows 751 individual counseling appointments since my arrival," says Harley. "More relationships are being built, and student attendance at the engineering career fair totaled 215 this year, up from 117 before I started."
In addition, she was selected to be an Experiential Learning professional for the Second-Year Experience (SYE) program in Florence, Italy; she is increasing engagement with students by conducting more classroom presentations and one-on-one meetings through faculty referrals; she has significantly increased the number of engineering students utilizing the resources of the CDev office; she recently assisted over 25 USD students in attending the SACNAS National conference in Long Beach, Calif.; and she has supported student chapter members from the National Society for Black Engineers (NSBE), Society of Woman Engineers (SWE) and the Society of Hispanic Professional Engineers (SHPE) in preparation for their national conferences.
After taking a peek into the vivacious and devoted approach by which Rhonda drives her career and her students, we find that this consummate professional is, in fact, a high-impact catalyst for progress. The processes she employs when providing career development strategies exemplify a dynamic leader who brings out the brightest and best in our aspiring STEM students.
"I feel like a coach on the sidelines cheering them on. I love when students, through coaching and empowerment, develop their own individual professional development plan and acquire the skills and leadership experience needed to be the best candidate for their dream job, so that when they are running toward the goal line they are at peace and happy with their future. It is the collective moments where I can see when I make a difference in the lives of our students that bring me fulfillment."
In her spare time, Harley enjoys traveling, dancing, karaoke, taking hip-hop classes and attending concerts with her significant other. Her favorite artists include 'N Sync, Beyoncé, Janet Jackson, Jason Mraz and Justin Timberlake. She also enjoys participating in live studio audiences and has seen Oprah seven times!