Frank Jacobitz, PhD, Named Engineering Spotlight Award Recipient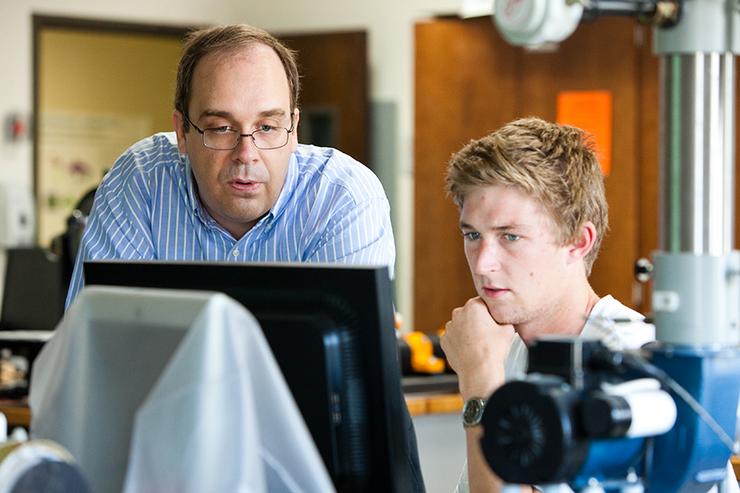 Blazing a trail of prestigious accolades and accomplishments, Dr. Frank Jacobitz has been making history at the University of San Diego since his arrival in 2003. He was USD's first Mechanical Engineering faculty member, serving as an associate professor for six years. In 2009, he was promoted to full professor. Along the way, Dr. Jacobitz was also USD's first Mechanical Engineering Coordinator, the equivalent to Department Chair — a term that remained in effect until the engineering department became the Shiley-Marcos School of Engineering.
Before joining USD, Dr. Jacobitz earned both his MS and PhD at UC San Diego. He worked as a grad student at UCSD for five years, and then was hired at UC Riverside where he spent the next five years working as an assistant professor of Mechanical Engineering.
In his move to USD, he was drawn to the balance the university offered.
"When you consider a career in academia, you prepare for scholarship work and not teaching. I realized that I really liked the teaching aspect," Jacobitz explains. "Though I was happy at UC Riverside because of the diversity and number of first-generation students, I was seeking a greater emphasis on teaching with a good balance of research and was able to find that at USD."
Connecting with students and creating a comprehensive learning environment is important to Dr. Jacobitz.
"Interaction with students, both teaching and project work, give me great satisfaction," Jacobitz says. "Right now I work with five groups of students on various projects and that is a lot of fun."
Dr. Jacobitz's student influence has a global reach. His interest in teaching abroad started with his last sabbatical in 2009-10 where he set up classes in Marseille, France to teach Topics in Fluid Mechanics, both in 2010 and 2013. He taught a course on Thermal Sciences in London in the summer of 2014 and will do so again in 2016. Dr. Jacobitz has recently applied to teach a course on Thermal Sciences in Cape Town, South Africa in the summer of 2017.
In 2014, USD had a program for faculty to travel to South Africa.
"That's when I started talking to colleagues and became involved in a trip to Uganda the following winter," he says. "On that second trip in January 2015, there was one student from engineering and other chemistry students working on a water filtration program. While traveling, I met a woman who was a victim of a landmine explosion."
The woman turned out to be one of USD's 2014 Women PeaceMakers, Margaret Arach Orech. As a direct result of this trip, he co-developed a multi-disciplinary humanitarian engineering project with colleagues and students in hopes of returning annually to design portable latrine aid devices for landmine survivors in Uganda.
As a testament to his dedication and passion for teaching, Dr. Jacobitz was awarded the Outstanding Research Undergraduate Mentor in 2014-15 and in 2015-16 he was honored with USD's 10th annual Outstanding Preceptor Award for superior performance in teaching and advising. Equally important to Jacobitz's teaching endeavors are the intellectual challenges of research and collaboration.
"You have to keep your skills sharp to compete and remain at the top of your field."
Dr. Jacobitz pursues research that focuses on numerical simulation of fluid flow. He most recently published the results of a study entitled, "Structure of sheared and rotating turbulence: Multiscale statistics of Lagrangian and Eulerian accelerations and passive scalar dynamics." The results of the study were presented at the University of Cambridge.
For a list of Dr. Jacobitz's student research publications, please visit: http://www.sandiego.edu/engineering/student-resources/research-and-publications/student-research.php.
Outside of the classroom, Dr. Jacobitz is well known for his work on simulations of stratified and rotating turbulence. He has been asked to serve as an expert witness to cover legal aspects within his field of study and has served as an industry consultant in the field of fluid flow. Additionally, as an active member of the Pacific Division of the American Association for the Advancement of Science since 2006, he was recently elected President of the Association.
Given his background, it's no surprise to discover that Dr. Jacobitz loves to travel and explore the world.
"I was born and raised in the university town of Göttingen, Germany where I earned my Diploma in Physics, a degree comparable to a joint BS/MS." He continues, "I have been to every continent except South America and Antarctica. I love small boat sailing and reading and I enjoy nearly every genre of music, from classical to rock and everything in between."
For his upcoming 2016-17 sabbatical, Dr. Jacobitz intends to continue his ongoing work in Marseille, France on hydrodynamic and magneto-hydrodynamic turbulence while also pursuing his humanitarian work in Uganda.