Garry Frocklage Named Inaugural Staff Spotlight Award Recipient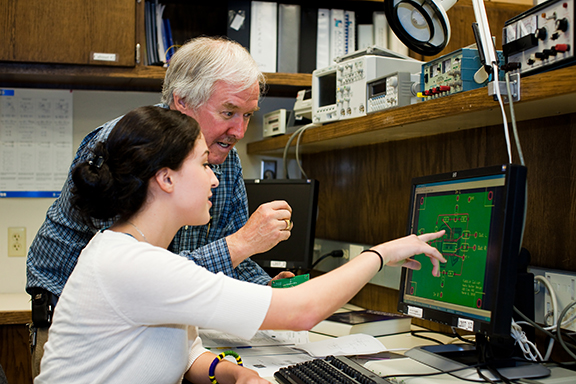 Spanning nearly three decades, Garry Frocklage has seen his share of change over his 27-year career at the University of San Diego. Since 1989, Garry, who is the school's electronics technician and a USD alumnus, has worked under four directors of the Department of Engineering in addition to the inaugural dean of the USD Shiley-Marcos School of Engineering.
Step back to 1979 when Garry lived in Williams Lake, a city in the Cariboo region of British Columbia, Canada. He had an Electronics Technician certificate from Vancouver Community College and was working at a Loran-C Master Slave Station that serviced the Pacific Coast from California to Alaska. Loran-C is a hyperbolic radio navigation system, which allows a receiver to determine its position by listening to low frequency radio signals transmitted by fixed land-based radio beacons. Garry decided to head south on a spiritual journey and landed in San Diego.
Ironically, the first person Garry met turned out to be his wife, though neither of them knew that at the time. There was a strong need for technicians in San Diego and Garry quickly found work. He proceeded to earn his AAS in Electronics Technology at Mesa College and applied for an Electronics Technician position at the University of San Diego. In July of 1989, Garry was the fourth employee hired into the engineering program.
"It was very close knit, much like family because of the small size of the department," says Frocklage.
At the time, the department had only 10 computers on network in the engineering lab. Garry was the first to set up networking on campus. Students typically did not have personal computers but did have access to the department lab. "In those days we even had to teach the students DOS!" exclaims Frocklage.
Garry elected to pursue his bachelor's degree in Electrical Engineering at USD and over the course of 10 years, he proceeded to take two classes per semester.
"While I was getting my degree," he says, "I worked weekends to build my family a 3,500 square foot custom home. Between my work, my class workload and the construction I was very stressed. It was a lot of work."
Garry studied and attended classes alongside the department's "Fab Five" Electrical Engineering graduates. Frocklage comments, "It was very exciting to see and interact with the first five graduating students and all of the students since then. I've seen a lot of history here."
Once Garry earned his BS/BA degree, he was offered a job at SPAWAR by one of the adjunct professors. Kathleen Kramer, director of USD's Engineering Department at the time, offered him a Lab Manager position and he elected to stay on at USD. Over the next decade and a half, Garry served as a Lab Manager, doing everything and anything to keep the department's technical devices and spaces operating smoothly. He designed and built labs, he repaired and maintained machines and equipment, and he supervised four staff members, in addition to overseeing all student workers.
In 2015, staff changes were made and Garry's position as Lab Manager was eliminated. Four months later, Garry was offered a position to return as an Electronics Technician.
"Being a technician is natural for me," claims Frocklage, "I love what the future holds for the school, the people and the students. It was easy to come back."
Garry is now involved in securing, coordinating, programming and debugging the micro controllers for the Arduino robotic kits for ENGR 101 and for the Raspberry Pi mini computers for ENGR 102/121. He also maintains the three Electrical Engineering labs, assists faculty and students and manages other various projects.
"If you don't enjoy your work, you are going to be in trouble. I love what I do."
Garry is very devoted to his spiritual practice, meditates daily and is a member of the Self-Realization Fellowship, a worldwide organization based out of Los Angeles. He is also passionate about gardening at his home, the same home he built with his own hands.
"I have 11 acres with 20 citrus trees, six avocado trees and a beautiful garden. I love gardening and getting on my tractor. It is beautiful up there to see the owls, deer, woodpeckers and other wildlife. I enjoy being in nature as I grew up in the Rocky Mountains of B.C. It is a more natural environment to live in."
When asked what has been the most satisfying aspect of his job over the years, Frocklage explains, "To be honest, what I enjoy most is meeting and helping students. They are from all over the world and I love learning about their cultures and why they come to USD. They are very fascinating and I learn a great deal from them."