Michael Morse, PhD, Named Inaugural Faculty Spotlight Award Recipient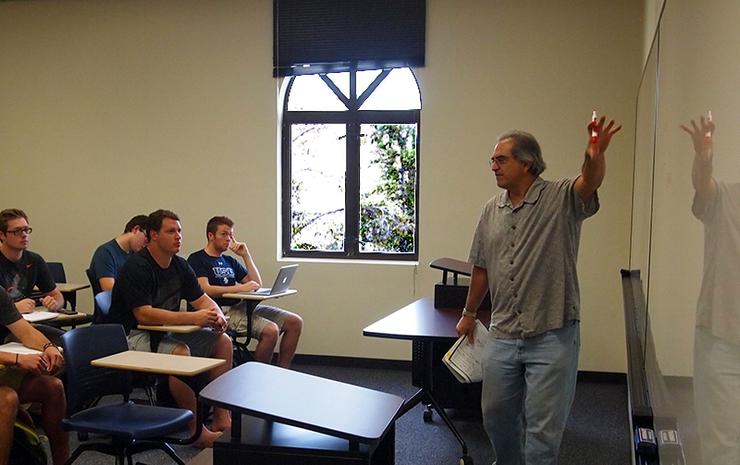 Dr. Michael S. Morse has spent the last quarter century teaching Electrical Engineering at the University of San Diego. He joined the faculty in 1990. For 31 of his 55 years he has been a PhD (Clemson University, 1985). In 1999, he also became an alumnus of USD when he completed his law degree. Although he does not practice, he is licensed in the state of California.
Dr. Morse will tell you in all sincerity that he has never had a day in his career when he did not want to show up and teach his classes. In 2003, after suffering a serious skiing accident, he was told to take the semester off to recover. With the help of students and faculty, he did not miss a class that semester. What he finds most satisfying about his work is having the opportunity to work with intelligent students who show incredible potential. Says Morse, "I love teaching and I absolutely love being in front of a classroom."
He has taught a broad range of courses but particularly enjoys classes that focus on the interface between people and technology. He seamlessly weaves his legal knowledge into his lectures, finding a logical association between engineering and law. Dr. Morse explains, "It is important for my students to understand the legal ramifications of their work. As engineers, they can change the world but they must be ethical and responsible along the way." To that end, he teaches an elective entitled "Forensic Engineering" where students explore what happens when engineers make mistakes.
Dr. Morse is very proud of his work beyond the classroom. For three decades he has focused on the ways humans interact with electricity, developing a very specific expertise in electric shock injury and electrical safety. He has served as an expert witness in hundreds of cases, in state and federal courts and a few cases internationally, helped hundreds of people understand their electrical injury, and been part of cases with recovery totaling conservatively well beyond $50 million. Early in his career he was retained by several states to consider 8th amendment questions regarding legal electrocution. As a result, he has become quite opposed to capital punishment.
He will tell you it is a rare day when he does not receive a call or an email from a lawyer, a physician, or an electric shock victim, inquiring about a multitude of aspects of electrical injury. His website receives over 500 hits per day (with 50 percent coming from international locations). During the course of a year, his articles are downloaded thousands of times.
The courts have recognized Dr. Morse for his expertise in rare symptomatology following electric shock, electrical accident reconstruction, burn pattern analysis and human factors associated with the way people interact with our electrical distribution system.
He has even been called upon by Hollywood to offer insight into shows where electrical injury is part of the plot. Recently, Dr. Morse consulted with the BBC on a show and was contacted by the National Geographic Channel. During his career he has been quoted in the New York Times (among many other papers), featured on CNN and even made an appearance on the History Channel. Recently, he was featured on a "Call Before You Dig" video explaining the dangers of contacting a power line.
Dr. Morse is most proud that he was one of the first researchers to identify a rare form of electrical injury (1993) that he has gone on to call diffuse electrical injury or DEI. While others have put their own title to the constellation of symptoms, Dr. Morse is often called upon to review DEI cases for litigation or contacted by victims of electric shock who thought that no one out there understood the symptoms they were experiencing.
"I've had a fun career and I really feel that I am having an impact on the lives of many," says Dr. Morse emphatically. Dr. Morse has no shortage of amusing stories. His favorite is how Jay Leno, formerly of the Tonight Show, read a headline about him and then made fun of him on the show. Leno has called Dr. Morse three times over the years, leaving answering machine messages each time.
Dr. Morse is incredibly passionate about how he spends his free time. He lived on a boat for 15 years in San Diego, has sailed his own boat to Hawaii and Alaska, and has had numerous other adventures at sea. Along the way, he has been asked to perform four weddings, one of which was for our very own alum Illya Ninichuck. "I love to perform weddings," says Dr. Morse. "You have a great seat and when it is all over, someone else is married." There is no question that Dr. Morse loves life and has had a lot of fun along the way.
Dr. Morse is the inaugural recipient of the USD Shiley-Marcos School of Engineering Faculty Spotlight award. We proudly honor him for the dedication he has shown to USD students, faculty and staff, for his research and sought-after expertise in the field of electrical injury, and for the countless lives he has positively impacted throughout his career.