Psychological Sciences Students Present Research at SFN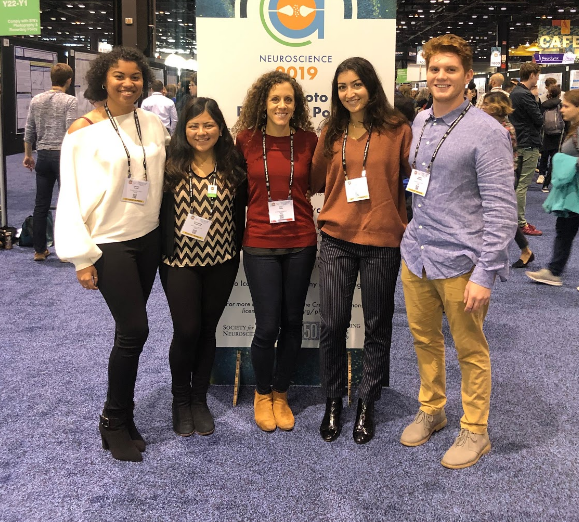 The Society for Neuroscience (SfN) is a professional society dedicated "to advancing the understanding of the brain and nervous system." SfN was founded in 1969 and has grown to be the largest neuroscience society in the world with more than 37,000 members. Some of SfN's year-round programming include the publishing of the highly regarded scientific journals, JNeurosci and eNeuro; science advocacy and public policy engagement projects; and other public outreach efforts in conjunction with organizations. SfN is committed to advancing scientific exchange, supporting the neuroscience community, educating and engaging the public, and advocating for neuroscience.
This year, four students working in Dr. Hale's lab were awarded the STAR grant and were able to present their research at the SfN Conference.
Alexandra Unapanta presented her research, "Characterizing the Performance of an Alzheimer's Disease Model Rat in the Traveling Salesperson Task (TSP)." This explored the idea that a transgenic rat with two genes, APP (amyloid precursor protein) and PS1 (presenilin 1), would experience cognitive decline with age that is comparable to humans. To do this, they had rats, with and without the gene, perform a spatial task called the Traveling Salesman Problem (TSP). The results indicated that the transgenic AD rats were generally more impaired on the TSP compared to the rats without the genes. The study also suggests an additional effect of gender on performance, with the effects being stronger in females than males.
Larissa Oliva's research, "Effects of Medial Entorhinal Cortex Lesions in Rats on the Traveling Salesman Problem," studies the role of the medial entorhinal cortex (MEC) in the Traveling Salesman Problem (TSP). Based on previous research, comparing the effects of MEC lesions to hippocampal lesions while rats are performing the task would clarify the contributions of those lesions to foraging behavior. Overall, Oliva's research led her to the conclusion that MEC lesion rats and hippocampal lesion rats showed similar impairments on the TSP measures.
Nina Tabrizi and Greer Marshall also examined hippocampal lesions in their research, "Effects of Hippocampus Lesions on Time Discrimination in Rats." To study the role of the hippocampus in processing time, they had created a novel tume duration discrimination task for rats to perform before and after the lesions. Their results suggested that rats with hippocampal lesions are significantly impaired at discriminating the duration of elapsed time.
McNair scholar and behavioral neuroscience major, Alexandra Unapanta was able to tell us about her experience with presenting her research at this esteemed conference.
What was it like presenting at SFN?
Presenting at SfN was a once-in-a-lifetime experience. As a senior at USD, getting to present my research at the largest neuroscience conference in the world was an amazing culmination to all the research I have done the past two years with Dr. Blaser. While it was nerve wracking at first to have professionals in the field come up to read my work and ask questions, it taught me so much about communicating effectively, owning my work, and accepting input and suggestions for future research. I was proud to represent USD and all the novel work being done in the psychological sciences department.
Why do you think it's important for students to attend these conferences and present their research?
Being a first-generation student, I never imagined that I would end up being so immersed in research here at USD. Even more, I still can't believe that I was accepted to present my work at a national level and engage with so many people in the neuroscience field all in the matter of four days. Coming back from SfN, and currently applying to Ph.D. programs in neuroscience, I can't stress how crucial it is to put yourself out there and network through conferences and presentations, no matter what level. As I presented my research, I was approached by several faculty and graduate students at schools I am currently interested in, and being able to talk about my interests and network with them was extremely empowering and has helped me solidify my career goals and research potential. Further, attending conferences allows you to see how diverse your field is, as well as hear about the most recent discoveries being made by researchers from all over the world. It helps bring prospective to all the information you learn in class, and gives you a bigger picture of why it is so important to advance the knowledge in your field!
What advice do you have for students who are interested in doing research?
When I switched my major to BN my sophomore year, I looked like a lost puppy walking around the first floor of Serra just trying to find an advisor. I heard about all the ways friends of mine had already gotten involved in research, and I was clueless as to how to join myself, let alone what I would want to study. My first piece of advice for anyone who is at this point is to reach out to programs offered at USD like OUR or McNair to help you figure out your research goals. I applied for the McNair Scholars program at the end of my sophomore year, and they helped me find the strength to reach out to potential mentors. That is how I met Dr. Blaser, and for the past two years we have worked together on several studies, and are currently working on completing my honors thesis project. If you had asked me two years ago if I ever saw myself as the lead on a study, I would've laughed. I had no lab skills and barely finished research methods when I first joined the animal lab. But that is the whole point of research! My next piece of advice is to get to know your mentor, be ready to collaborate with others, and be willing to learn and grow in whatever field of work you choose. As you get more comfortable with research and the lab environment, don't be afraid to contribute your ideas and ask questions because that is how studies grow. Own your strengths and skills, and never convince yourself that your ideas don't matter because they always do in research.