SOLES Alumnus Spotlight: Willie Blackmon '09 (MA), Higher Education Leadership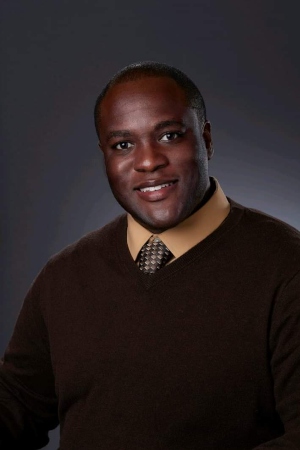 Tell us about your degree program and why you chose it.
So how I found USD...I graduated from undergrad and did social work for a little bit. But I soon realized that it wasn't for me. And I asked myself where I was happiest, and the answer was in higher education. So I started working as an academic advisor in the Jacob's School of Engineering at UCSD and I was living in La Mesa. And they told me that La Mesa was close to La Jolla. Lies! They got me. They totally lied so I would sign this lease! They told me it was about 20 minutes...no. So, I was looking for a new apartment while I was still at UCSD. I was driving around Mission Valley and then I go up and I see this beautiful school. And I said, "This is a school?" I had only heard of UCSD and SDSU. So I remember driving on campus and I was like, "Oh my gosh, I have to go to school here! I wonder if they have higher education". I looked online, and they did. I applied, I get in, and then I get a phone call asking if I want to interview for a grad assistantship. I told them I had a full time job, but they told me it would be a great opportunity and that I should really think about it. I told them I was commuting from La Mesa, and they told me I could live on campus! So I said okay. I put my apartment on Craigslist, moved on campus, I got an assistantship, and then I quit my job! Literally, everything was happening. I saw the school in June and I was starting in August. It was so accelerated, and I wasn't mentally ready, but everything around me was telling me I was ready.
It was amazing! There were amazing people in the admissions department. John Mosby (he's not at USD anymore) literally called me to congratulate me for being accepted. He told me I should really think about this program because "It's going to propel you in ways that you never imagined". And again, I went from being just a number, to being Willie. I did not get a personal phone call from UC Riverside. I was like, "Wow, these people are invested". So that's one thing that I definitely took away from USD, was the investment. The time, the energy, and the care that they put into me was what I needed in order for me to be successful.
Your cohort was the second cohort ever to participate in the Higher Education Leadership program at SOLES. Tell us about the program when you were a student.
In 2009, I was part of the second cohort to go through the higher education program, so it was very small and there were definitely some rough patches. And they were learning. But now, I'm so happy to see the growth and the intentionality behind it. And I'm not saying there wasn't intentionality in the beginning. It's just like, when anything is new, you go in with this great plan and then you learn what works and what doesn't work. Now I'm seeing that the students are really getting that holistic piece and that's the most important part.
Did SOLES have the SASC (Student Affairs/SOLES Collaborative) program when you were a student?
Yep, so there was. And there were two of us! So it was literally myself and another student, and then one faculty member and one student affairs member sitting in a room chatting about higher education issues, and how we navigate student development theory, and how we work with that. And so, you can imagine, only having two people in this space, where if one person is not talking, it means the other person has to say something. But, we actually worked really well together, making sure we not only navigated the conversation, but allowed room for there to be that silence because sometimes we just didn't know. And it was okay to just sit in that. And I know that that is still practiced there, which is nice, that they can just sit in silence and allow themselves to be vulnerable with their thoughts before actually speaking. This is something that I learned from USD, and something that I value, and I'm trying to give to my mentees right now: the ability to sit with vulnerability and allow yourself to process before acting.
Tell us a little bit about your journey since graduating from SOLES.
I did the Education Doctorate program out of Drexel. It's the education, administration, and leadership program. I was going to do the PhD program at SOLES, but there was just no way for me to stop working full time. I needed something that would give me the flexibility of working full time and still be able to take classes in a hybrid fashoin of night classes, and then flying out to Philadelphia once a quarter.
When I saw the position in the Academic Resource Center for an assistant director position at UC Riverside open, I said, "Oh my gosh, this is the office that gave me my academic voice. I have to go back". So I went in and I was the successful candidate to get this position to affect change and to show people that, just because you're on academic probation, it doesn't mean that you're going to be kicked out or that you're not going to be successful. So, from a 1.9 GPA to a doctorate degree, I feel like I've done pretty well.
What was your favorite place on campus and why?
It was Aromas. Is it still there? I love the Aromas coffee shop. I would go there to sit, read, and study. I loved the green tea frapuccino; that was my favorite drink. That was my favorite spot. The other spot that I loved on campus...well, I had three. Another spot was Manchester. I lived in Manchester and so I loved the study room that overlooked the football field, and I loved sitting in the study room at night because you can see the fireworks at Sea World. I would sit there every night at 7:45/8:00 p.m., look out and be like, "Wow, this is the life". And then also, there's a bench that's right outside that trail that comes up from the canyon, like right by Maher that overlooks the canyon. I used to sit there...it was just my reflective space. It was so close to the Student Leadership and Involvement Center, so I'd just walk out the back door, walk up there, and I'd sit there and just say to myself, "This is beautiful. I am here. Live in the moment". Because I just couldn't believe that I was there. It was really nice.
Who was your favorite SOLES professor and/or class?
I'm not going to say that 550 was my favorite class, because in the moment it was not. It's the space where we sit in a class together and it just starts with a question. But it's never really a prompted question, either. We would start with music, like a song, and then the song would end and the professor would sit down, cross her hands, and say, "So where do we begin?" And then there was silence. I can tell you, my anxiety levels were through the roof because I did not want to say anything at all when I walked into that space. But I did, after I got a little bit more comfortable. But it was never comfortable. I knew what to expect, but it was always just expect the unexpected, because you never knew what somebody was going to say. But I loved it, because now I value that. I can sit in meetings and I'm okay with silence. To sit amongst the flames and not feel the need to put it out. And there's a lot of people that are not okay with silence. They use this theory of "No longer on the dance floor". I can remove myself from the dance floor, make my way up the balcony, and look down and see the intricate parts and see people moving. Because when you're participating and you're on the dance floor, you can't see the others. So, I step back and allow myself to look at what's happening before I involve myself.
So I'm not going to say 550. I'm going to say Diversity in Higher Education. I loved it. It was amazing because it really looked at the essence of diversity, and what it meant for me. We did ethnographies: what it meant for me to be a black man in this space that I didn't feel was afforded to me, and how to navigate that. And the professor at the time was Dr. Athena Perrakis. She's no longer there but I love her. And my other favorite is Dr. Getz. She challenged me, and she challenged me a lot. Because there were moments where I felt like I couldn't do it, and she always knew that I could. She always expected more from me than I expected from myself. And we need people like that. I did not appreciate it in the moment, but now I'm like, "I get it. I get it". I value her and what she did for me. I look back and see that she saw what I did not see. And I value that. I think that's the growth: the ability to look at it after the fact, the ability to look back and say, "Oh, that's what she was doing!" I value that, and I miss that! There's that saying of, "if only I knew then what I know now". I would have been so much more appreciative. And I think my time at SOLES would have been easier. But I needed that in order to grow. And I say easier, not saying that the program was hard, but it was an adjustment for me coming from a public institution to a faith-based private institution. From classrooms of 600 to now 15-20, to a SOLES collaborative of two. I couldn't hide. And that was the hard part. There were times where I was just a number at my public institution and I had to create those moments where there was that small feel. But at SOLES, I was not a number. So when you are being approached for the first time, as you, in this space, and people are expecting you to perform, you get a little nervous. So I was a little nervous.
Dr. Joi Spencer is another reason I have been so successful. I didn't get the chance to work with her a lot, but I worked with her indirectly a lot. I worked with her through email. I do have to give her major kudos and credit because there would be no Dr. Blackmon if she had not helped me. I love her!
How have you remained connected with SOLES and USD since graduating?
In my cohort, there were 12-15 of us, and so I still talk to people who were in the program. And then I have a really strong relationship with the second year cohort, well the third year cohort, I guess I should say. So, while I was in my second year, that cohort came in and they were in their first year. It's nice to know that the network is still strong.
For the events in the Inland Empire, I get the emails but I do not attend. A lot of the times, it is undergrad alumni attending the events. I'd really love to see a SOLES grad alumni organization. I did go to the events initially. And when I did go, I realized that it was a lot of people that did all sorts of careers, because they only had done their undergrad at USD. So the experience was very different.
Tell us about being a mentor with SOLES through the Mentor Collective platform.
I absolutely love Linda Dews! She's the main reason I signed up for the Mentor Collective. She was like, "Hey Willie, you should really do this". So I was like, "It's Linda. Yes." Because she's another one that has been a champion pioneer for me.
I think that this mentor piece is so great. Not only is it the networking piece, but it's the ability to say that "you've been there, you know what I'm going through, we can talk about the action research, and you can give me insight from that student perspective, right?" Somebody who's been through it, gone through it, been successful. "How did you navigate it?" And that's what I really enjoy. For instance, working with one of my mentees, looking at her resume, I was like "Oh my gosh, you would be really great at this small liberal arts institution. I worked there. I loved my time there, I loved working there, you would be great there." So I put her in touch, and I got an email back saying, "Per your recommendation, we're going to interview her". Then, I get a text message from the folks at that school and they're like, "She's amazing. And we're super sad because we know she's going to be hard to get". So I had to let her know, "They want you. And other folks are going to want you, too". So it's just nice to have options, for them to have options. And it's nice to make those connections.
Having a mentor who went to the same school and experienced the same things as you makes a huge difference. For instance, I am in this black student affairs professionals group on Facebook, and they did a call for mentors. So I worked with a mentee that works at Texas Tech. I've never met him, we talk on the phone, we do Zoom, and we just talk about the general things, about what it is to be a professional, how you supervise someone, maybe transformational leadership, but he really doesn't have an essence of who I am. So it's very transaction based. Whereas I have literally had conversations with those who are in the SOLES program and it's not transactional as much as it is, again, transformational. I spoke to one of my mentees for an hour and twenty minutes about her action research and where she can take it, and she's like, "Oh my gosh, I'm going to cry". And I asked her why and she said, "Because you're actually validating what I've been saying". You know, we all need that validation. And we all need that piece where somebody says, "That's not going to work", but you realize that it's coming from a place of care. And I always say, "people don't care what you know, until they know that you care". The fact that I'm not getting paid for this...I'm reaching out, I'm initiating conversation, I'm trying to help them set up this holistic wellness piece...I feel like I've established a culture of care before they realized what I know.