Alumni Spotlight: Jessica Crance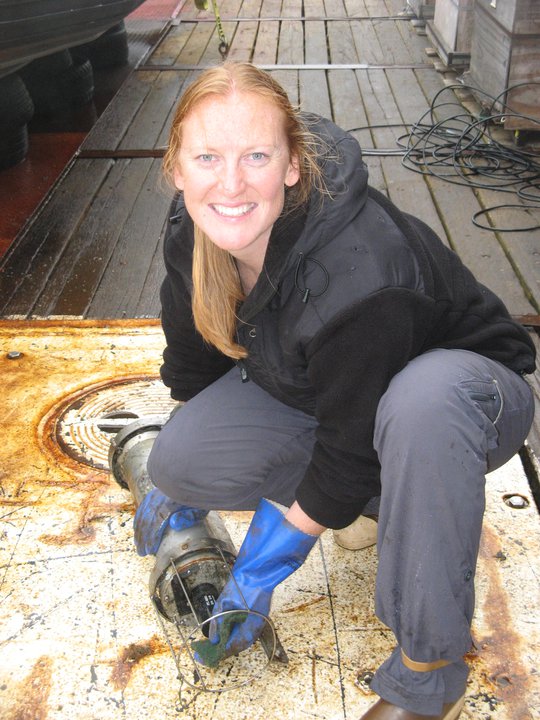 What year did you defend and what was your thesis title?
I defended in May of 2008, and my thesis focused on killer whale vocal development. I studied under Dr. Ann Bowles at the Hubbs-SeaWorld Research Institute. The title of my thesis was "Changes in killer whale, Orcinus orca, stereotyped call repertoires as a function of time and social association"
What is your hometown?
I was born and raised in Phoenix, AZ, and went to the University of Arizona for my undergraduate degree (B.S. in Biology).
Where are you now and what are you doing?
I am a Research Biologist at the Marine Mammal Laboratory at NOAA's Alaska Fisheries Science Center in Seattle, WA. My research focuses on bioacoustics of marine mammals, with an emphasis on population monitoring, spatio-temporal distribution, vocal behavior, and call characteristics of Arctic and sub-Arctic marine mammals in Alaskan waters. My work consists of summer field surveys, where in addition to the retrieval and deployment of our long-term bottom mounted acoustic recorders, we conduct passive acoustic and visual surveys for marine mammals, with a focus on the Critically Endangered North Pacific right whale. When not in the field, we are analyzing data from over 20 year-round recorders that have been deployed every year in Alaskan waters since 2007. We also collaborate with scientists from NOAA's Pacific Marine Environmental Laboratory to both correlate our marine mammal distribution data with oceanographic variables, but also to integrate passive acoustics into cutting edge technology like the autonomous Saildrone.
What was your favorite thing about the dept/USD?
The best part from my time at USD was hands down the life-long friendships and connections I made. Some of my best friends today were a result of my time at USD. They not only helped keep me sane and focused during my Masters work, but helped shape me into the person I am today.
How did your degree from the Marine Science Graduate Program help prepare you for what you are doing?
In addition to the scientific and analytical skills that I developed at USD that I use in my current job, the connections I've made and the networking that took place have led me to the position I am in today. My current supervisor was on my thesis committee, and we've been working together at MML for the past 9 years. I also still continue to collaborate with Ann who is a constant source of help, knowledge, and inspiration. I also have worked or interacted with former USD alums in my work (Sheyna Wisdom, Megan Slack, and Dave Vejar).
What advice do you have for current graduate students?
Set reasonable timelines and goals, and stick with them. Don't be afraid to ask for help when you need it, and make sure you have an outlet for the more frustrating times - whether that's surfing, hiking, reading... And most importantly, love what you do. It will be frustrating, exhausting, demanding, and so much more, so you have to really enjoy what you're doing. But it's worth it.