USD Athletics Roundup: Summer Baseball; Softball's Hill Plays for Philippines; Men's Soccer Golf Tournament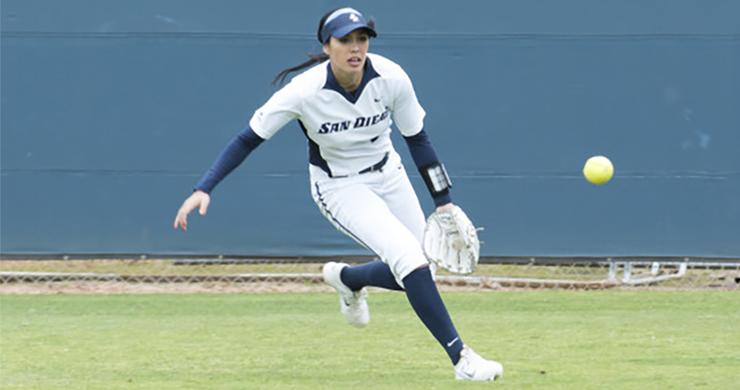 The 2017 spring college baseball season is over, but summer ball for several USD baseball players is getting underway across the country.
Five Toreros are playing in the Cape Cod League, regarded as one of the best summer ball programs. A trio of left-handed pitchers will represent the Toreros in Cape Cod: USA Collegiate National Team standout Nick Sprengel, Miles Sandum, and Chris Murphy. Jeff Houghtby, the shortstop of the team, and Daniel Gardner, an outfielder, are also playing in the Cape Cod League. All five Toreros in the Cape Cod League will compete against one another: Sprengel (Wareham), Sandum (Y-D Red Sox), Houghtby (Orleans), Murphy (Brewster), Gardner (Cotuit).

Four current Toreros head to the Northwoods League, highlighted by Jay Schuyler, who hit a team-high .352 in 2017. Third baseman Brhet Bewley and righthander Paul Richan will play for the Lacrosse Loggers while Schuyler and right-handed pitcher Nathan Walker will both play for the Waterloo Bucs.

Five Toreros will travel up north to play in the West Coast League. Three will play for the Victoria Harbourcats: outfielder Kevin Collard, infielder Noah Prewett, and right-handed pitcher Travis Kuhn. Outfielder Aaron Simpson will play for the Gresham Grey Wolves while righty Louis Crow will compete for the Corvallis Knights.

Other Toreros playing summer ball include: Chris Colarossi (Danville Dans, GBL), Cole Cardey (Danville Dans, GBL), Chris McCready (Anchorage Pilots, ABL), Geoff McCalley (Anchorage Pilots, ABL), Paul Kunst (Alaska Goldpanners, ABL), Doug Nimura (Marysville Gold Sox, GWL), Jordan Abushahla (Clarinda Iowa A's, Mink Baseball League), and Trevor Rosenberg (Front Royal, Valley Baseball League).
Softball Senior Hill to Play for Philippines National Team
Kailey Hill, who will be a senior on USD's softball team this coming season, has earned a spot on the Philippines Women's National Softball Team. From nearby Ramona, Calif., Hill joins the team which is set to clash against the world's elite in two different tournaments this month.
The RP Blu Girls, as they're known, will compete in the World Cup of Softball XI, in Oklahoma City, Okla., July 5-10.
The team will battle fourth-ranked USA on opening day, followed by sixth-ranked China, 11th-ranked Puerto Rico and top-ranked Japan all on July 7. The Philippines faces 19th-rated Venezuela and No. 7 Netherlands on July 8, and No. 3 Australia on July 9. The title game is July 10.
The Southeast Asian (SEA) Games champions will then play in the World Women's Softball Championships beginning July 15 in Surrey, B.C., Canada.
This past season at USD, Hill started all 45 games and helped the Toreros earn their first-ever postseason appearance in the NISC Postseason Championships. Hill batted .275 and belted 10 doubles, four home runs and 25 runs batted in.
Men's Soccer Golf Tournament Aug. 11
The University of San Diego head men's soccer coach Seamus McFadden invites you to participate in the 16th annual USD Men's Soccer Golf Tournament August 11 at the Rancho Bernardo Inn.
"The annual golf tournament is a great fundraising opportunity for our program," Coach McFadden said. The Toreros open their 2017 season in Indiana with matches against Notre Dame and Indiana and this tournament is a big reason why these types of trips are possible. "Funds from the tournament allow us to schedule matches against top-level universities around the country."
The golf tournament presents a unique opportunity for alumni and friends of the program to get together and give Coach McFadden well-wishes before he enters his final season as USD's head coach.
"My favorite part of the tournament is connecting and catching up with my old players," McFadden said.
Registration opens at 11:30 a.m. and will be followed by lunch before the golf gets underway at 1 p.m. with a shotgun start. A dinner and auction will follow the golf. It is $225 per individual ($900 for foursome), which includes golf, a prize, lunch and dinner. Another option is to only attend the dinner, which is $55. Register here.
For all USD Athletics news, scores and information, visit the website and follow USD sports on social media: Facebook, Twitter and Instagram.