Arts and Sciences
Spotlights
All Departments
Stephanie Misko Presents Research at SACNAS Conference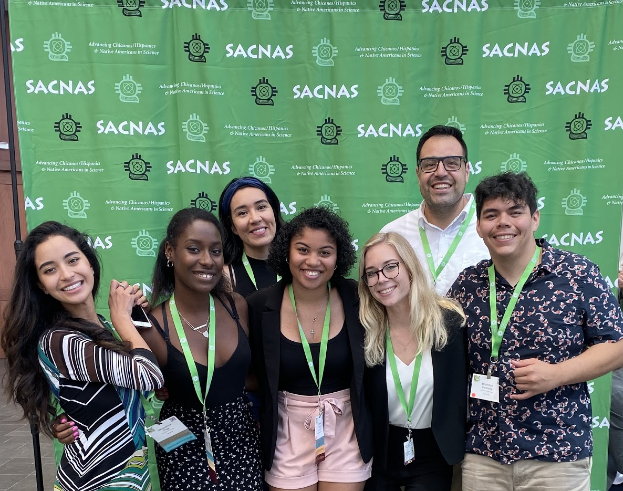 Stephanie Misko presented her current research, "Exploring the relationship between Instagram Appearance Anxiety and related constructs" at the 2019 annual SACNAS Diversity in STEM Conference in Honolulu, Hawaii. Her study intended to address the link between Instagram and social anxiety in female undergraduate students. Stephanie was able to reach out to the department to discuss her research and experiences.
Why are you interested in studying anxiety and how it relates to social media?
Social media users can filter their content and display a seemingly perfect and unrealistic version of their reality. Because of this, it is easy to make a lot of upward social comparisons on social media that are unattainable. I am interested in studying how this could lead to increased social appearance anxiety and social anxiety, which could impact a college student's daily life and interpersonal relationships.
How will you conduct the next steps of your research?
Once I make the final edits of my research paper, I hope to submit it for publication! For future research, I want to continue to explore how social media impacts those with body dysmorphic disorder.
What advice do you have for students interested in conducting independent research?
I think it is really important to pick a research topic that you are passionate about since independent research is mainly internally driven. Also, it is important to have patience and be kind to yourself because it is definitely a learning curve at first!
How has the McNair scholar program supported you with your research?
Without the support of the McNair Scholars Program, I would not have had the opportunity to stay in San Diego for the summer, design an independent research study, or present my research at SACNAS in Honolulu, Hawaii. Both Brenda and Ramiro create a supportive learning environment that helps prepare scholars to further their research careers in graduate school. I highly recommend other students to apply to the McNair Scholars Program because it is a great learning experience, and you will meet a lot of amazing people!