Arts and Sciences
Spotlights
All Departments
Alumni Spotlight: Anela Akiona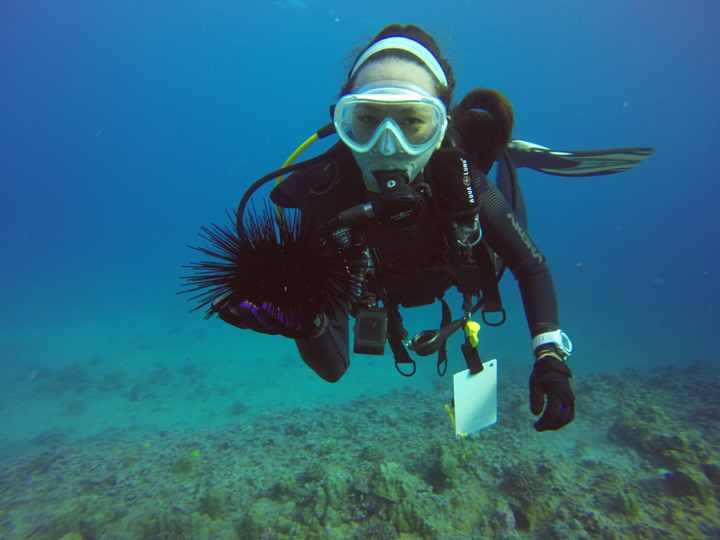 What year did you graduate and with what Major/Minor?
I graduated in 2014 with a major in Marine Science (Biology pathway) and a minor in Math.
What is your hometown?
Waimanalo, HI
Where are you now and what are you doing?
I'm currently wrapping up a Master's in Marine Biology at the University of Hawaii at Manoa investigating the population dynamics and diet of predatory fishes in a traditional Hawaiian fishpond. This Fall I will be returning to San Diego to start in the Marine Biology PhD program at Scripps Institution of Oceanography.
What was your favorite thing about the dept/USD?
The camaraderie of the MARS department was my favorite thing about USD. There was just so much mutual support between students and faculty. You can tell the Marine Science professors truly care about their students, and they really went above and beyond to ensure we not only understood the material but had fun at the same time. MARS students and faculty are intelligent, driven, and passionate, and it was such a wonderful environment to learn in.
How did your degree from Environmental and Ocean Science (or MARS/ENVI) help prepare you for what you are doing?
The rigorous MARS coursework laid a very strong foundation for my graduate education. Marine science is such an interdisciplinary field, and the program does an outstanding job of ensuring you understand the fundamentals. All the hands-on learning we did on field trips really helped me to retain course material, and it was great exposure to what life is really like as a marine biologist. While the program is incredibly challenging, and I often found myself envious of my friends in less time-consuming majors, studying marine science at USD was truly one of the best decisions I've ever made.
What advice do you have for current undergraduates?
Really get to know your professors! They want to see you succeed—not just in your classes, but also after you get your degree. I definitely would not be where I am without my professors' continued support and advice since graduating.
Get as much research experience as you can, as early as you can. There are lots of opportunities out there in every sort of field, which can pave the way for future research projects and collaborations.
And lastly, don't be afraid to fail. It's part of science and it's part of life. If you really want to accomplish something, learn from your mistakes and keep working at it until you get there.