Alix Naugler '17 On Her Way to Change the World with Data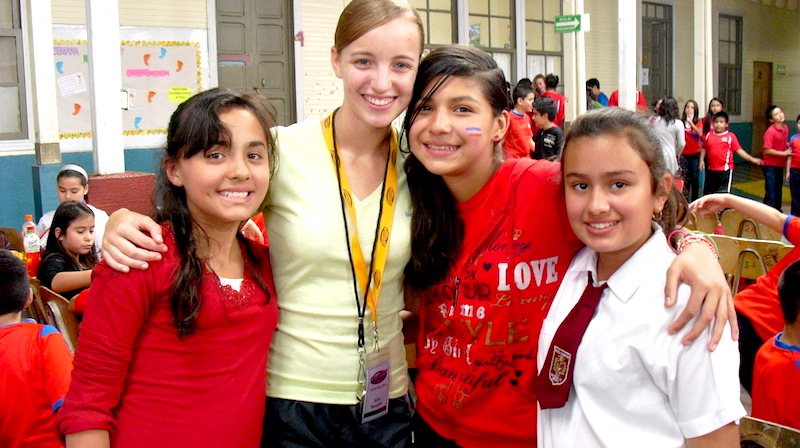 begin quote

I didn�t think something like this would be possible when I started at USD, but the support of Dr. Conroy and other faculty encouraged me to set the bar high.
After presenting a research paper she completed with a business professor at the University of San Diego, Alix Naugler '17 had an epiphany that this is what she wanted to do with her life — collect data and peoples' experiences to shape policies that can transform entire communities.
"I want to be passionate about what I'm doing. I want to love it. I want it to be an integral part of my identity in a positive way," says Alix.
A career based in data and service
Upon graduating with an international business degree from the USD School of Business, Alix sought a career that would combine her passion for service with a love for data. "Data is like my second language — it's my comfort zone," says Alix. "I often tell kids that I tutor that math is amazing! So much of the world can be explained through data and there are so many unanswered questions that could be answered with data."
It just so happens that Alix found her perfect fit as a research scientist at ICF International, a global advisory and digital services provider that prioritizes making a positive impact on the world and was featured in Forbes' 2020 Best Management Consulting Firms in America.
As a research scientist, Alix analyzes data to create evidence-based research that supports programs to help low-income populations rise up the economic and social ladders. Currently, her research centers on child welfare workforce development and how to help families become more self-sufficient by achieving food security and becoming financially stable so that they can send their children to school.
High impact research with USD School of Business professor
Coincidentally, the research that Alix conducts at her job today aligns with the research she co-authored with Associate Dean and Professor of Economics Stephen Conroy shortly after graduating. Together, they studied the motivating factors that drive people to immigrate to the U.S. from Mexico and how those change over time depending on the economic climate of the United States.
The issues examined in their paper hit close to home, literally. Growing up in Southern California just minutes from the U.S.-Mexico border, Alix frequently interacted with the local hispanic community using fluent Spanish, many of whom she met through her volunteer work in the Barrio Logan and Chula Vista neighborhoods. These interactions proved to be important preparation for the field work she conducted for the research project during which she interviewed people who had recently immigrated to the U.S.. By listening to each of their personal stories on why they immigrated and noting the obstacles they overcame to get here — and stay here — Alix was able to contribute a nuanced comprehension of why Mexicans choose to immigrate to the United States.
"My understanding is that our research is still used to influence policy that can help people who have immigrated to improve their lives, their safety, and help them feel more cared about," said Alix. "Having that kind of impact motivates me to continue in the field of research. And to be able to say that I was published at the age of 20 years old in a reputable academic journal still blows my mind. I didn't think something like this would be possible when I started at USD, but the support of Dr. Conroy and other faculty encouraged me to set the bar high."
Today, the research that Alix works on at ICF International continues to make a positive impact for underserved communities. "Indirectly, the research and analysis that I'm doing is helping government programs become more effective at providing services to individuals that will help them become more self-sufficient and improve their economic stability," said Alix.
Lifelong relationships blossom in Torero community
Since graduating in 2017, Alix has stayed connected with her mentor, Professor Conroy, and also keeps in touch with several of her former business professors. At times, she asks one for input on her career path and graduate school programs she might attend in the future. At other times, she asks if they can connect her to someone in their respective field — and they always happily oblige.
"Everyone I've met at USD, administrators and faculty, have had a genuine interest in helping students, even post-graduation," said Alix. "I talked to one of my professors last week and even though I'm no longer in their class, they were genuinely interested in what I'm doing now and how they can help. I know that professors are very busy, so to take the time to make an email introduction or to talk to me on the phone, that's huge!"
Since moving to Washington D.C., Alix has relied on her Torero community to help her build her professional network in the area. For that reason, among others, she highly encourages everyone at the USD School of Business to put effort into fostering their relationships with their professors and peers, even beyond graduation.
"I would not be where I am if I didn't leverage and maintain the relationships I found at USD. I would go back in the heartbeat. There are so many people who want to see you be successful, who want to see you pursue your passions and help you figure out a way to do it."
— Bridget Breitenberg, Gabrielle Horta
Map
5998 Alcalá Park
San Diego, CA 92110