Alumnus Michael Sieman '08 MSRE Gives Back to USD in the Classroom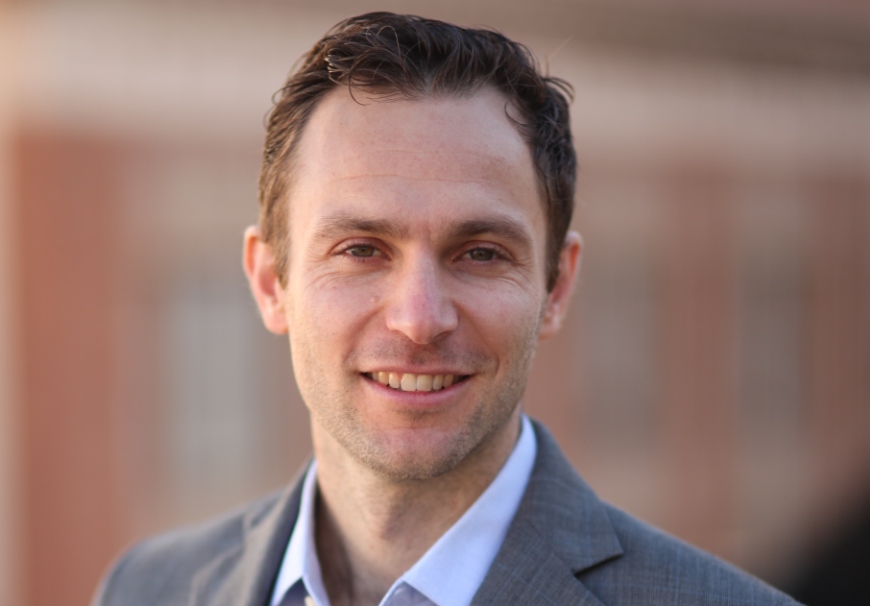 Michael Sieman '08 MSRE has spent a lot of time in the classroom as a student and as a professional within the real estate industry. With a bachelor's in business administration from the University of North Carolina, Chapel Hill (UNC Chapel Hill)) and two master's degrees (one in accounting from UNC Chapel Hill and one in real estate (Master of Science in Real Estate) from the University of San Diego (USD), Michael is taking his wealth of experience and expertise into the classroom to make a significant difference and impact on USD students—our next generation of real estate leaders.
Making a Big Move, Pivoting from Accounting to Real Estate
"During one of my first trips to San Diego, I remember running down the boardwalk in Mission Beach," says Michael. "Anybody that has run down that path knows that you can stare at the ocean the entire way. During those runs, I spent more time looking at the houses, dreaming about developing an oceanfront property than I did staring at the ocean. That's when I knew I had to get out of accounting and find a way into the real estate industry."
The transition from New York to San Diego wasn't an easy one for Michael, given the timing of his move in late 2006. After obtaining his undergraduate degree in 2003 from UNC Chapel Hill and a master's in accounting from the same university, he landed a great internship working for PwC in their New York City office upon graduation. After a few years at PwC, Michael accepted a position at a smaller firm focused on real estate clients. While it wasn't his dream position, Michael realized that he had a secure job, close to home and at a time when the economy was on the brink of a major recession. This position gave him insights into the field of real estate, which he quickly grew fond of.
"The lightbulb went off one day and I realized that the reason I liked my job had nothing to do with accounting and everything to do with real estate," says Michael. He started researching real estate programs across the country and was immediately drawn to USD's Master of Science in Real Estate (MSRE) program. Once the pieces of the puzzle started coming together for Michael, it became clear to him that moving across the country was the right decision in order to further advance his real estate career.
USD's MSRE Program Makes an Impact
While the San Diego weather certainly helped to influence Michael's decision to make the big move out to the West Coast, the MSRE program's class size and strong alumni network all played a role in his decision. However, what stood out the most to Michael was the program's world class faculty and professional team at the Burnham-Moores Center for Real Estate. "Dr. Miller is a walking real estate encyclopedia," says Michael.
Michael shared that he was impressed with the incredible amount of support he received from USD's MSRE alumni, who were working at various real estate companies in San Diego, throughout his time in the graduate program.
"Graduates from the [MSRE] program had made a clear, positive impact at Pacifica Companies," says Michael, which is where he received his first internship. "Pacifica continued to hire from USD and that stood out to me. Once hired, these alums were trying hard to give the same opportunity to USD students. That had an incredible impact on my life. I knew that when the time came, I wanted to give back and help students in the program as well."
That opportunity came a few years later when Michael was given the opportunity to come back to the classroom, but this time as an instructor for an Excel workshop. "Michael has the ideal McQuaig profile for teaching real estate proformas using Excel," says Jackie Greulich, associate director of real estate student and career services. Jackie administers, reviews and leverages the McQuaig assessments for students and alumni at the Burnham-Moores Center for Real Estate.
Making a Difference, Giving Back
"I approached the BMC with this idea to create an Excel workshop, focused on common real estate exercises like underwriting a deal, asset management tasks and waterfalls," says Michael. "They jumped on it and set everything up for me. I was then asked to teach a few of the continuing education courses as part of the real estate certificate program as well as teach a few sessions in the MSRE program. I've been really lucky to get to work with undergrads, grads and continuing ed students."
"I wondered how I could help make the students the best possible candidates when applying for a job," says Michael. "In my own hiring process, if I can find the student that is better prepared to help on day one, they move to the top of my list. I wanted to give that advantage to USD students."
"Michael has shared an abundance of real-life experiences in my CE courses," says Blake Wood, a student in the Income Analysis 101 and 102 courses (taught by Sieman), which are part of the Real Estate Finance, Investments and Development Certificate program at USD. Blake is a sales associate at NetWorth Realty. "I enjoyed learning how he organizes a spreadsheet, and I now have more tools for success when I am analyzing a deal," says Blake. "He always made time to answer each student's individual questions which made the learning process very personalized."
Michael quickly found himself feeling right at home in the classroom. As much as he enjoys working in real estate, he was excited to share his skills and experience with students even more to help make a difference. "I have spent my entire career in accounting and finance, and after taking the continuing education courses, I have a much better understanding of real estate finance," says Allison Pico, who also attended the Income Analysis 101 and 102 continuing education courses. Allison is the director of finance for Trump Card Holdings LLC.
One of Michael's favorite aspects of teaching is incorporating real-world real estate cases into the classroom which enhances applied learning. He shares a real estate deal with the students and walks them through the entire process so that students are able to build a sophisticated real estate model on their own. The end result is that students better understand the real estate transaction process and end up with a model they can employ in their position after graduation.
"This approach gives students the opportunity to shine in their first days as a new hire," says Michael. "I know that if their boss drops a deal on their desk, they will have the tools and know-how to underwrite it and add value to the company on day one. I'm really focused on helping the students better prepare themselves for a career in real estate, whether that's being a more valuable employee at a job they already have or helping them to be better prepared for an interview."
Michael encourages real estate alumni to engage with the USD real estate program and give back to current students. He shared that giving back to support the next generation of real estate students at your alma mater enhances the stature of the program. "There are so many ways to help and make an impact at USD if you have that desire," says Michael. "With unique schedules in the real estate field, you just have to find the ways to do so that fit your schedule and strengths."
In addition to his efforts in the classroom, Michael has played an integral role in shaping the Real Estate Alumni Association (REAA) advisory board. REAA now has more than 1,500 members, all of whom graduated from USD and are working in the real estate industry. Michael has had a hand in enhancing this network and enjoys watching it grow each year.
"I recall sitting in a REAA meeting where we talked about the need for bylaws for the association)," says Michael. "I had grown to enjoy traveling for work because flights are one of the few places where I could get a solid chunk of distraction-free work done, so one of my flights turned out to be a great way to get this task completed and help out."
More About Michael
Michael is currently a vice president at DiNapoli Capital Partners, a firm that invests in commercial real estate assets on behalf of institutional equity partners, opportunity funds and high net worth individuals. Prior to joining DiNapoli Capital Partners, he worked at Pacifica Companies where he was a director of acquisitions. In this capacity, Michael was responsible for the sourcing, underwriting and negotiation of real estate transactions. Prior to Pacifica Companies, Michael worked in public accounting, where he earned his CPA.
In his free time, Michael enjoys spending as much time outdoors as possible. "I've been learning to kiteboard over the past few years and I am getting better but it's a slow process," says Michael. "My work schedule has to align with wind conditions which is a pretty rare occurrence, so I'd love to dedicate an entire week to perfect my skills."
Michael's Advice for Students
When asked about what advice he would offer students that are thinking about real estate as a career, Michael stressed the importance of honing in and perfecting software regularly used in the real estate industry. He also stresses the importance of taking risks.
"Learn Excel, and learn it well," says Michael. "Equally important is not to be afraid to make a change or make your own path. When I left the accounting field, I definitely had second thoughts. People questioned what I was doing, and frankly, I wasn't entirely sure. I was leaving a field where it was easy to get a job and the income potential was great. It was risky. It was hard. But it turned out to be one of the best decisions of my life."
- Kimberly Malasky and Joe Bertocchini '01
Map
5998 Alcalá Park
San Diego, CA 92110