How an MBA Propelled Natalie Andrews '11 toward Capitol Hill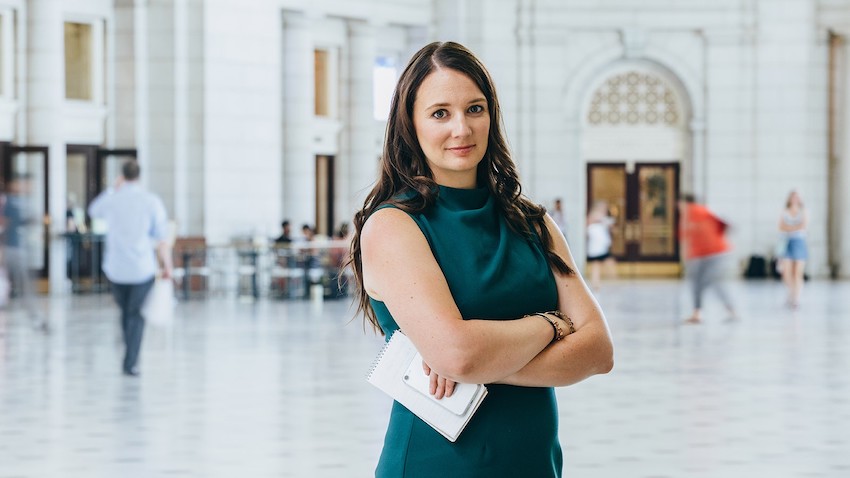 begin quote

After grad school at USD, I began to look at jobs differently. And when the Wall Street Journal came into view, I remember thinking "why not me?"
Working at the Wall Street Journal wasn't always on her radar. But once Natalie Andrews '11 started working on her MBA degree at the University of San Diego School of Business, she set her sights on one of the world's most influential and respected news organizations.
Andrews started her career working in journalism, her "first love." However, in 2009, reporting jobs were scarce as more and more newspapers shut down or downsized in response to the Great Recession.
"Trying to figure out my next career move, I began talking to people who had cool jobs in my opinion," says Andrews. "The universal thread was that they all had MBAs. They'd gone to business school, and as a result, had been able to move up in their careers and work in management."
Dreaming bigger with an MBA
Once she discovered that an MBA was the missing piece needed to advance her career, Andrews quickly learned that USD was where she needed to be to pursue her academic endeavor.
"I fell in love with the MBA program at the USD School of Business," says Andrews. "I loved the international opportunities to consult abroad during intersession, the friendly and knowledgable professors, and was inspired by the alumni who spoke at the informational session. The first time I stepped on campus, I was struck by how beautiful it was and realized that I could definitely picture myself here."
After graduating with her undergraduate degree, Andrews started working at a small daily newspaper, a respectable entry-level position. However, an MBA pushed her to dream bigger.
"The number one thing that grad school at USD did for me was make me more ambitious," says Andrews. "After earning my MBA, I began to look at jobs differently. And when the Wall Street Journal came into view, I remember thinking 'why not me?'"
Andrews confesses that her professors at the USD School of Business were instrumental in her new-found confidence. They pushed her, challenged her, encouraged her to think big.
"Being amongst people who actively encouraged you to think about your career in new ways opened my eyes to the possibilities ahead of me," expressed Andrews.
Covering Congress on the Hill
Before the COVID-19 pandemic, Natalie worked at the nation's iconic Capitol Building where she spoke with lawmakers every day and regularly attended press briefings with the Speaker of the House.
"The Capitol is incredible in terms of access – I get to talk to lawmakers as they walk by and have genuine conversations with them about policy, legislation and bills," says Andrews. "Although the job was a little intimidating at first, I learned quickly that lawmakers actually want to talk to reporters. In fact, I'll never forget John McCain coming in the subway and realizing it's now my job to talk to Senator McCain!"
(Natalie Andrews interviews Senator John McCain at Capitol Hill)
Reporting for the Wall Street Journal is an incredible opportunity to be front and center while witnessing political leaders making decisions that impact American citizens, affect foreign affairs and influence democratic institutions around the world. It can also be stressful, intense and fast-paced. And that rings especially true during the pandemic.
"The pandemic has been a hard story to cover as it really impacts every American," says Andrews. "I've received so many heartbreaking letters from readers saying that they've been unemployed for several months. They ask me about things like if I know the timing of a second stimulus check since their unemployment is running out. People are seeking out information and watching Congress in a different way than they have in the past."
Another phenomenon that Andrews has observed firsthand is how party politics plays out during a time when the United States is described as being more divided than ever.
"In the same week that Congress passed the United States-Mexico-Canada Agreement (USMCA), which required thoughtful bipartisanship, the House of Representatives also moved to vote on articles of impeachment," says Andrews. "It was particularly intense because you could see lawmakers coming together in a bipartisan way and then retreat to their party line. This was a somber, heavy time. And I can say that lawmakers did not take the vote lightly."
MBA lessons that last a lifetime
"When I look back at my favorite memories of USD, I think first of my study abroad class with Professor Carsten Zimmerman and Professor Craig Barkacs. That was the best experience of all," shares Andrews.
MBA students at the USD School of Business have the opportunity to participate in a consulting project at an international site during the January intersession (these projects will take place virtually this year). Andrews and her classmates did their consulting project for WD-40 in Shanghai and Hong Kong which she describes as an "incredibly immersive experience."
She also fondly recalls Professor Barkacs' popular negotiations class, which teaches students the fundamentals of negotiating contracts, business deals and more. "Every undergrad student should take a class on how to negotiate your salary," she says.
An MBA program that teaches both hard and soft skills is one that provides value long beyond graduation. Andrews credits an entrepreneurship class with getting her out of her comfort zone and her leadership classes with helping her understand relationships in business.
"My classes with Professor Phil Hunsaker were definitely the ones I loved the most – analyzing people and relationships to see how they come together in business is fascinating," she says. "I use these skills in my job today. When you think about it, Congress is all about relationships and negotiations."
It's been nine years since Andrews graduated with her MBA degree from the USD School of Business. Since then, she's taken the lessons she's learned and forged a nontraditional business career reporting on policies and issues that impact business practices every day.
Her advice for business students, both past and present? "Read the Wall Street Journal every day!"
— Bridget Breitenberg, Gabrielle Horta
Map
5998 Alcalá Park
San Diego, CA 92110