Professor Linda Barkacs: A Ray of Light in the Courtroom and the Classroom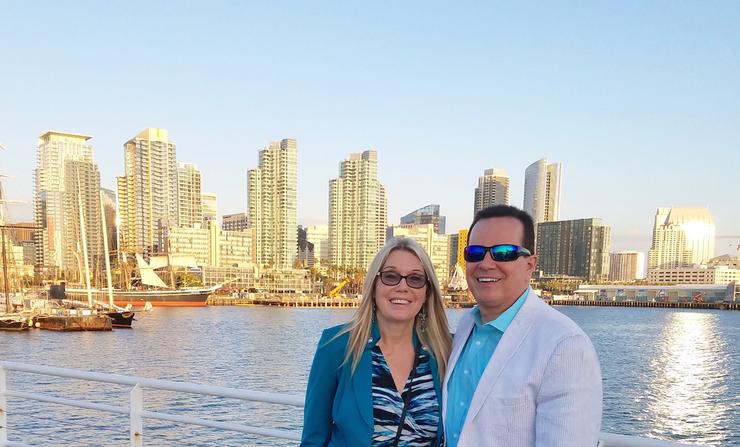 begin quote

I love the energy that Professor Barkacs brings to the classroom -- you can literally feel the enthusiasm she has not only for law but for teaching as well.
For over 20 years, Professor of Business Law Linda Barkacs has been a staple at the University of San Diego School of Business. She is known for illuminating the classroom with her radiant aura while teaching tough lessons based on her courtroom experiences. You're likely to catch her walking around campus alongside her partner in crime, husband, and Professor of Business Law Craig Barkacs.
Always chasing a challenge, Linda Barkacs' foray into law began when she enrolled in law school to escape "corporate America." One day, "I heard a female attorney talk about this new area of law called employment law, incorporating issues of discrimination and harassment. I knew at that moment it was what I wanted to do," says Barkacs.
In 1997, the same year she started teaching at USD, Linda opened her own law firm with her husband, specializing in business and civil litigation, as well as employment law. The firm was also a place where several USD undergraduate and law students found their first employment opportunities, whether through internships or full-time positions after graduating. "Many have become lifelong friends," shares Linda. The Torero community is like an extended family and Barkacs treats her students as such, evidenced by the meaningful relationships she has developed with them.
"I love the energy that Professor Barkacs brings to the classroom -- you can literally feel the enthusiasm she has not only for law but for teaching as well," says Emma McEvoy (Accounting '20), a current student in Linda's business law class.
Going above and beyond her commitments to the classroom, Linda serves as faculty co-chair of the USD School of Business Strategic Planning Implementation Committee, which is working to achieve the goals outlined in the school's strategic plan and aligned with USD's Envisioning 2024 strategic plan. Her teaching has also been acknowledged through various awards, including being named the USD School of Business' 2015 Professor of the Year. Linda stays up-to-date on law topics by co-authoring the best-selling textbook, Dynamic Business Law, now in its fifth edition. She also looks forward to finishing a book on negotiation that she is writing jointly with her husband, our other beloved Professor Barkacs.
In the midst of all of her accomplishments, Linda still recalls one of the most challenging trials she worked on which came about early on in her career. "My husband and I spent three years litigating a sexual discrimination/harassment/retaliation case against the Oceanside Police Department. Our law firm fronted all the expenses and worked on a contingency basis (if we won and collected, we got paid; if we lost, we didn't get paid or even reimbursed for expenses). At one point it looked like the judge would rule against us and we wouldn't even make it to trial. In the end, we prevailed – we received a $1.2 million verdict plus an additional large award of attorney fees."
When she's not on campus, Linda is roaming the downtown neighborhoods of Little Italy, the Gaslamp District, and East Village, and trying out new restaurants with Mr. Barkacs. If you haven't had the pleasure of taking a class with Linda, this is one lesson she believes everyone should apply in their lives.
"Negotiation is a life skill – get good at it and it improves your personal and professional life. No matter what deal you have negotiated, it is almost always beneficial to ask 'Can you do any better?' The answer is usually 'yes!' Never be afraid to ask."
Map
5998 Alcalá Park
San Diego, CA 92110