Jennifer Gee '17 Featured as 30 under 30 in 'Inside Supply Management'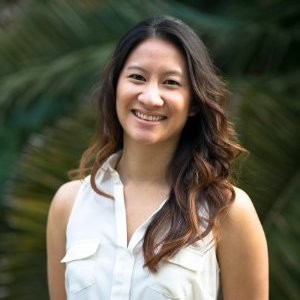 begin quote

What excites me most about supply chain work is that it's a changing environment. We're always finding ways to improve our capabilities and better support the mission.
Recently, USD School of Business alumna, Jennifer Gee, was featured as a '30 under 30' supply chain professional in the industry magazine, Inside Supply Management. Read her story below as it appears in the publication.
Fast Facts:
Started figure skating at age 3 and competed domestically and internationally through college with U.S. Figure Skating.

Will be featured in a summer 2019 TV documentary showcasing the aerospace industry in Southern California.

Her fiance, Eric Goss, is an engineer at Northrop Grumman.

Is an active mentor for newly hired employees, speaks at career insights events at USD and connects with college students through the ISM network to help them understand what real-world supply chain management is like.
A Career in Supply Chain Management
When Jennifer Gee started at the University of San Diego, she wasn't 100 percent sure what direction her future would take.
"I always knew I wanted to be in a leadership role in a business field, but I didn't know exactly what I wanted to do," she says.
It was an Institute of Supply Management (ISM) event at USD that put her on the supply management path. Curious to learn more about the field, Gee took a few classes-- and got hooked. After graduating with a bachelor of business administration degree and master's degree in supply chain management, Gee landed her first job in a procurement buying function with aerospace and defense company Northrop Grumman Corporation.
But it was her next role, which took her to Redondo Beach, California, that was a turning point in her career. She worked in advance planning and learned about the back end of the business, up-front planning and how to create implementable schedules to support advanced manufacturing.
"The role was critical in letting me see the global supply chain from start to finish," she says. The goal was to speed up production, and as part of the advance planning team, Gee worked hard to help the production ramp-up effort.
"Northrop Grumman's integrated assembly line is manufacturing an F-35 center fuselage every 36 hours- that's really fast when it comes to military aircraft production," says Gee. "It's been fascinating to be part of the program during our ramp-up in production. It's definitely a career high for me to be part of such an important program like the F-35, helping bring fifth-generation technology to the warfighter."
Based on her work supporting the F-35 joint strike fighter, Gee was featured in a Northrop Grumman video that provided a lens into the global supply chain side of the company's integrated assembly line -- a state-of-the-art manufacturing facility that leverages such technologies as robotics, autonomous systems, virtual 3-D and predictive automation.
"What excites me most about supply chain work is that it's a changing environment. We're always finding ways to improve our capabilities and better support the mission," she says. "This industry is also very special to me because the mission - we're in the business of delivering quality products on time to our customers and warfighters."
Map
5998 Alcalá Park
San Diego, CA 92110