Sudeeptha Jothiprakash '16 : A Head in the Cloud at Amazon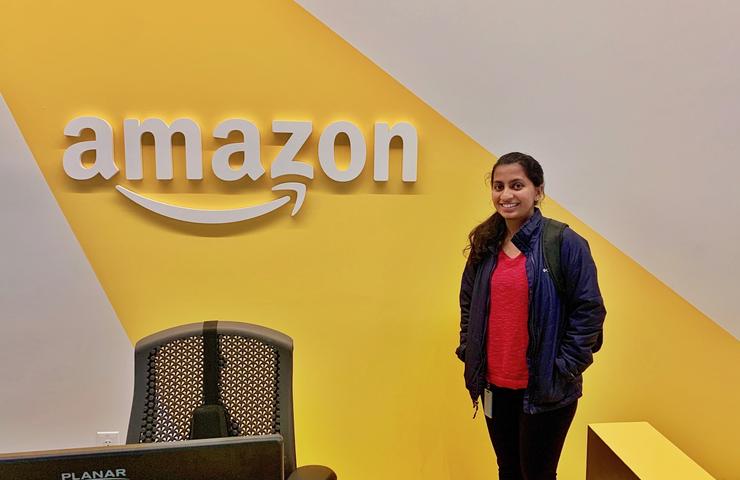 begin quote

Besides the business skills that we gained from the classes, USD's emphasis on developing socially responsible leaders and decision makers is something I still execute in my day-to-day life at Amazon.
After witnessing disappointing business practices at a research and development company in India, Sudeeptha Jothiprakash '16 was intrigued by the University of San Diego School of Business' emphasis on developing socially responsible business leaders and decision-makers. She pursued an MBA from USD School of Business knowing it would set her along the right path to making better business decisions in her career.
Knowing that her values aligned with those of USD, the choice to study here was an easy one for Jothiprakash. Also, as she interacted with MBA candidates from across the world in search of the right program, she learned that many universities did not offer a great student to professor ratio.
"I didn't want to be just another student lost in the crowd," says Jothiprakash. "With USD's smaller class sizes, I could see that it was possible to build a close one-to-one relationship between my professors and peers."
Once Jothiprakash accepted her admission into our MBA program, she quickly immersed herself in the USD community. She became the President of Net Impact Club, External Development Manager at Management Consulting Association, participated in the ACG Case Competition and APICS Supply Chain Case Competition, and also completed a consulting project for ICEC.
The small class sizes paid off as the relationships she developed with her classmates are ones that will last a lifetime. Some of her peers from USD are now her coworkers and that sense of community is something that she has enjoyed throughout her two-year program and beyond.
With the assistance of USD School of Business' Graduate Career Services, Jothiprakash secured a three-month summer MBA internship as a senior project manager intern at the online retail giant, Amazon, which turned into a full-time position in the fall. Applying what she had learned from her USD classes to her role as senior project manager has been instrumental in her success at Amazon.
Some of Jothiprakash's favorite courses throughout her MBA program were corporate finance, business cycles and forecasting and decision science.
"All three classes were instrumental in my success here at Amazon," says Jothiprakash. "Particularly, some of the modeling we did in my decision science and corporate finance classes were very useful in how effectively I could build my case on real-world business problems."
As a senior product manager at Amazon, Jothiprakash's day-to-day tasks revolve around dealing with ambiguity on customer requests, defining product specs, creating pricing strategies, creating Go-To-Market plans and launching products with effective positioning. One unexpected factor of her position at Amazon is the emphasis on effective communication specifically through writing.
"Writing well is one of the key skills required to be successful at Amazon," says Jothiprakash. "We do not do presentations and work only on six-page documents to bring any idea to life. To write well and write the 'Amazon way,' was something I had to get acquainted with."
Working for Amazon is a dream come true for Jothiprakash. The excitement that comes from working for a company that is growing exponentially every day is unmatched. Amazon Web Services are pioneers in the cloud world which provides a very lucrative path forward for product managers like Jothiprakash.
Her success can be attributed to her personal drive, her perseverance, and her innovative ideas. Attaining her MBA from the USD School of Business gave her the opportunity to get exposed to new ideas and know-how in the business realm, while helping her become the ethical leader she always aspired to be.
"My MBA with USD was influential in gaining the right skills required to flourish at Amazon," says Jothiprakash. "Besides the business skills that we gained from the classes, USD's emphasis on developing socially responsible leaders and decision makers is something I still execute in my day-to-day life at Amazon."
Map
5998 Alcalá Park
San Diego, CA 92110